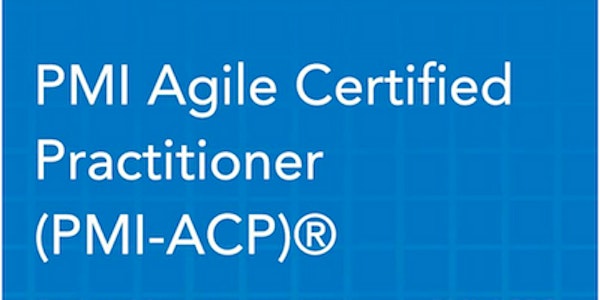 PMI-ACP Certification Training In Oshkosh, WI
PMI-ACP (Agile Certified Practitioner) Certification course from PMI is conducted by experienced Agile expert instructors
When and where
Location
Oshkosh, WI Regus Business Centre/Hotel Oshkosh, WI 54901
Refund Policy
Contact the organizer to request a refund.
About this event
PMI-ACP Certification:
PMI-ACP Certification training program is aligned with the PMI® guidelines and is designed to help you clear your PMI-ACP Certification exam at the first attempt. Additionally, this course will empower you to become a versatile agile professional with the knowledge of Scrum, Kanban, Lean, extreme programming (XP) and test-driven development (TDD).
PMI Agile Certified Practitioner (PMI-ACP) certification is the world's fastest growing agile certification. This course covers the entire recommended content for this certification. The adoption for agile practices is increasing by each passing day as the organizations around the world have understood the value of implementing agile approach. This recognition of agile has resulted in more demand for the professionals who are well enabled to adopt the agile transition. This preparatory course enables the professionals to demonstrate the agile professional skillset to your peers, stakeholder and employers.
Our training program will not only help you in passing the certification exam, but our instructors will assist you enhance the skills you would need to manage, execute and deliver projects successfully. PMI ACP® application process is easy to complete, and we recommend our participants to start the filling the application immediately after the enrolment and if you need any assistance our instructor will assist during the class or get in touch with our support team.
Contact us at +1 302.689.8082 | Email: info@instil-learning.com
Key Features:
• 3 Day Bootcamp (In-Person or Live Online)
• Lifetime access to PMI® Approved Courseware
• Live Practice sessions & simulation tests
• End-of-Chapter Quizzes & additional courseware
• 21 Contact Hours Certificate
• Dedicated Learning Consultant for PMI® application
Take away from this course:
• Complete understanding of the processes of Agile Project management.
• Learn about the Professional Responsibilities concerning Agile Project Management.
• Learn about the key Agile Project management processes of Product Backlog, Sprint Planning, Sprint Reviews and Retrospectives, along with other factors such as Prioritization using different techniques
• Learn about the Agile Project phases, Agile life cycle and Stakeholders, Key Agile Management skills and the social-economic-environmental influences.
• Ascertain their level of readiness for taking the PMI ACP® Examination
• Get guidelines on filling up the PMI ACP® Application form
Course Agenda: PMI-ACP (Agile Certified Practitioner) 3 day Training
Lesson 1:- PMI-ACP® Course Preview
Lesson 2:- Introduction to Agile
Lesson 3:- Agile Methodologies
Lesson 4:- Communication
Lesson 5:- Agile Planning, Monitoring, and Adopting: Part 1
Lesson 6:- Agile Planning, Monitoring, and Adopting: Part 2
Lesson 7:- Agile Planning, Monitoring, and Adopting: Part 3
Lesson 8:- Agile Estimation: Part 1
Lesson 9:- Agile Estimation: Part 2
Lesson 10:- Agile Analysis and Design
Lesson 11:- Agile Quality
Lesson 12:- Soft Skills Negotiation
Lesson 13:- Value - Based Prioritization
Lesson 15:- Agile Metrics
Lesson 16:- Agile Value Stream Analysis
Lesson 17:- Knowledge and Skills: Part 1
Lesson 18:- Knowledge and Skills: Part 2
Lesson 19:- Knowledge and Skills: Part 3
Lesson 20:- Knowledge and Skills: Part 4
Please contact for more information:
Email: support@instil-learning.com
Tel: + 1 (302) 689-8082