PM Summit 2015 Ankara (7 PDU) http://pmiturkey.org/summit/ankara/
When and where
Location
Tobb Ekonomi Ve Teknoloji Üniversitesi Söğütözü, Ankara 06520 Turkey
Refund Policy
Contact the organizer to request a refund.
Description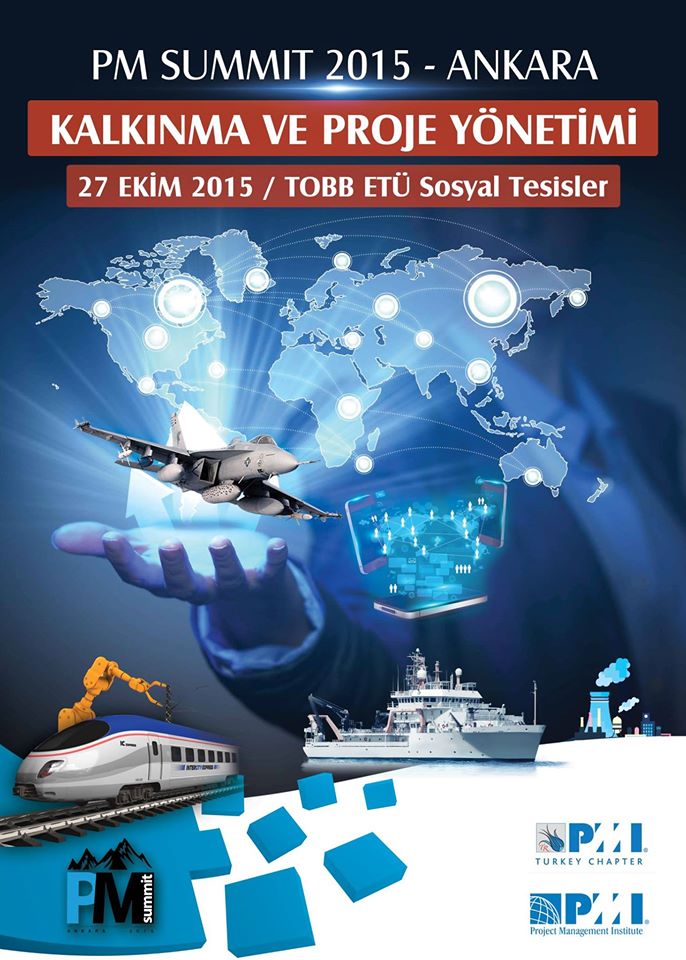 Değerli Üyelerimiz ve Takipçilerimiz,
Her yıl Proje Yönetim profesyonellerini bir araya getiren etkinliğimiz; PM SummitAnkara Proje Yönetim Zirvesi bu sene 27 Ekim 2015 tarihlerinde TOBB Ekonomi ve Teknoloji Üniversitesi Sosyal Tesislerinde düzenlenecektir.
Etkinlik Tarihi: 27 Ekim Salı
PM SUMMIT'e kimler katılmalı ?
Proje profesyonelleri ve işi projelere dokunan herkes;
•Portföy, Program ve Proje Yönetim uygulayıcıları;
•Program Yönetim Ofisi Yöneticileri,
•Proje Yönetim Yazılımları Tedarikçileri;
•Devlet veya özel sektör Yönetim kurulu üyeleri,
•Genel Müdürler,
•C düzey yöneticiler
•Sivil Toplum Kuruluşları ve Kar Amacı Gütmeyen Organizasyonlar
•Danışmanlar; Akademisyenler; Öğrenciler
PM SUMMIT ANKARA'nın bu yılki teması nedir?
Her yıl dönemin proje yönetim alanındaki beklenti ve trendlere uygun bir temayı konu alan Proje Yönetim Zirvesi, bu yıl "Kalkınma ve Proje Yönetimi" teması ile katılımcıların karşısına çıkacak.
Zirvede Ulaştırma, Finans, Sağlık, Bilişim, Savunma, İnşaat ve Enerji Sektörlerinden değerli konuşmacılar aşağıdaki tema alt başlıklarında sunumlar gerçekleştirecek olup, bunun yanı sıra Bilgi Teknolojileri Proje Yönetiminde Trend bir konu olan AgileScrum ve Etkili İletişim konularında ana salon oturumlarıyla eş zamanlı workshop oturumları gerçekleştirilecektir.
Kalkınma Programı ve Sürdürülebilir Büyüme

Paydaş İş Birliği (PPP Projeleri)

Proje Program Portföy Yönetimi

Çevresel, Sosyal, Ekonomik ve Kültürel Faktörler

İnsan Kaynağı Yönetimi

Proje Başarı Hikayeleri-Öğrenilmiş Dersler

İletişim ve Problem Yönetimi
Not: Lütfen 5 ve üzeri katılımlarda indirim fırsatlarından yararlanmak için summit06@pmi.org.tr ile iletişime geçiniz.
Not: PMP ve diğer PMI sertifikalarına sahip olanlar zirve sonunda 7 PDU kazanmaya hak kazanacaklardır.