Description
ONLINE REGISTRATION IS NOW CLOSED!
BUT WE WILL BE ACCEPTING WALK-INS AT THE DOOR.
About #PLUS2LA
The Planning and Land-Use Strategies Summit (PLUS²) is an annual conference curated by LURN, a community development nonprofit organization based in Los Angeles.
PLUS² is a dynamic convening of top leaders, thinkers and change makers who will come together to dream up an actionable vision for the communities we work in. PLUS² offers a fast and lively presentation format, which will engage the audience and challenge leaders to think differently about how they approach their work.


---


PLUS²: The Inclusive City
This year's theme is The Inclusive City. On June 28th, we will learn from leaders who are forging an inclusive city by addressing the lack of affordable housing, the acceleration of gentrification and displacement, the increase of income inequality, climate change, and food insecurity.
Our cities are at a crossroads. As they grow and become powerful economic engines, the results of this growth is being concentrated in the hands of a select few.
How do we build a more inclusive city? One that provides affordable housing options for its most vulnerable, living wage jobs for its constituents, and public spaces that support healthy living?
What is the role of urban planners, architects, real estate developers, funders in developing a city that accommodates a diversity of needs and leaves no one behind?
In 20 minute sessions, speakers and panelists will share their ideas for how an "inclusive city" can meet the needs of all its residents, especially the most marginalized.
Click here for last year's recap video of PLUS²: The Resilient City.
---


Schedule
8:00 am | Registration with Coffee, Breakfast Bars, & Fruit

9:00 am | Welcome
Mornings Sessions:
9:30 am – All Money In: Building Black Wealth
Paul Hudson, Co-Founder of Seed Collaborative
Tunua Thrash, Executive Director of LA LISC
Moderated by Rudy Espinoza, Executive Director of LURN
10:25 am – Preserving Our Diversity: Santa Monica's Experiment with Universal Basic Income

Andy Agle, Director of Housing & Economic Development for the City of Santa Monica
11:00 am – Uplifting Inglewood: Building Champions for Housing
Dr. D'Artagnan Scorza, Founder & Executive Director of Social Justice Learning Institute
11:45 am | Lunch & Special Announcement
Afternoon Sessions:
1:00 pm – Confronting Cultural Criminalization and Inequalities in Art Access
Amir Whitaker Policy Attorney at ACLU of Southern California
1:25 pm – Organizing for Change: The Success of the LA Street Vendor Campaign
Carla De Paz, Director of Community Organizing of ELACC

Councilman Curren D. Price Jr., City of Los Angeles Council District 9

Doug Smith, Staff Attorney at Public Counsel

Moderated by Clare Fox, Executive Director of LAFPC
2:25 pm – From Debtors' Prisons to Debtors' Unions: The Power of Debt in the Unequal City
Hannah Appel, Assistant Professor of Anthropology and Global Studies at UCLA
2:50 pm – All Aboard: How Transit-Oriented Communities Can Unlock Affordable Homes and Strong Neighborhood Economies
Asiyahola Sankara, Organizing and Outreach Program Manager of Alliance for Community Transit- LA

Chanchanit Martorell, Executive Director of Thai CDC
Jessica Meaney, Executive Director of Investing in Place

Vince Bertoni, Planning Director for the City of Los Angeles

Moderated by Thomas Yee, Initiative Officer of LA Thrives
3:45 pm – Protecting the Community Investment: Keeping Homes Affordable in Perpetuity
Devika Goetschius, Executive Director of Housing Land Trust of Sonoma County
4:30 pm | Closing Remarks & Cocktail Hour (featuring LURN's Semi'a Fund loan clients from Thai CDC)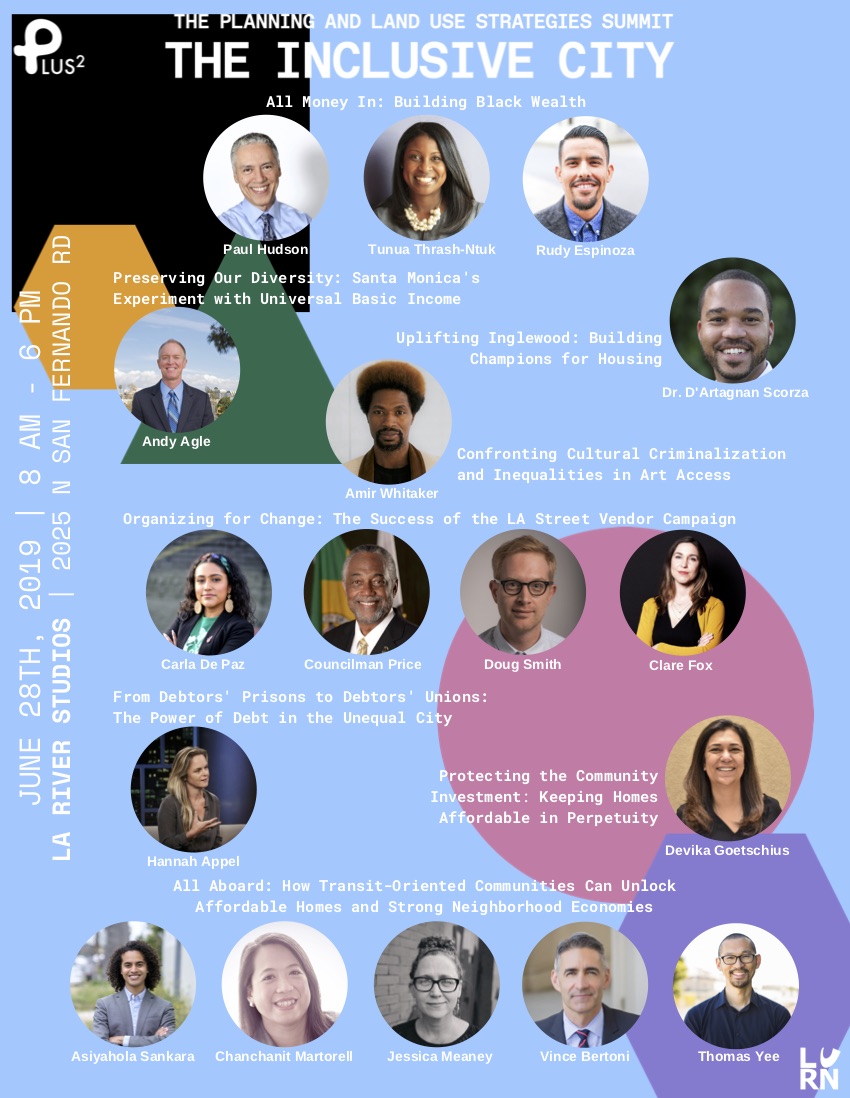 ---


Sponsors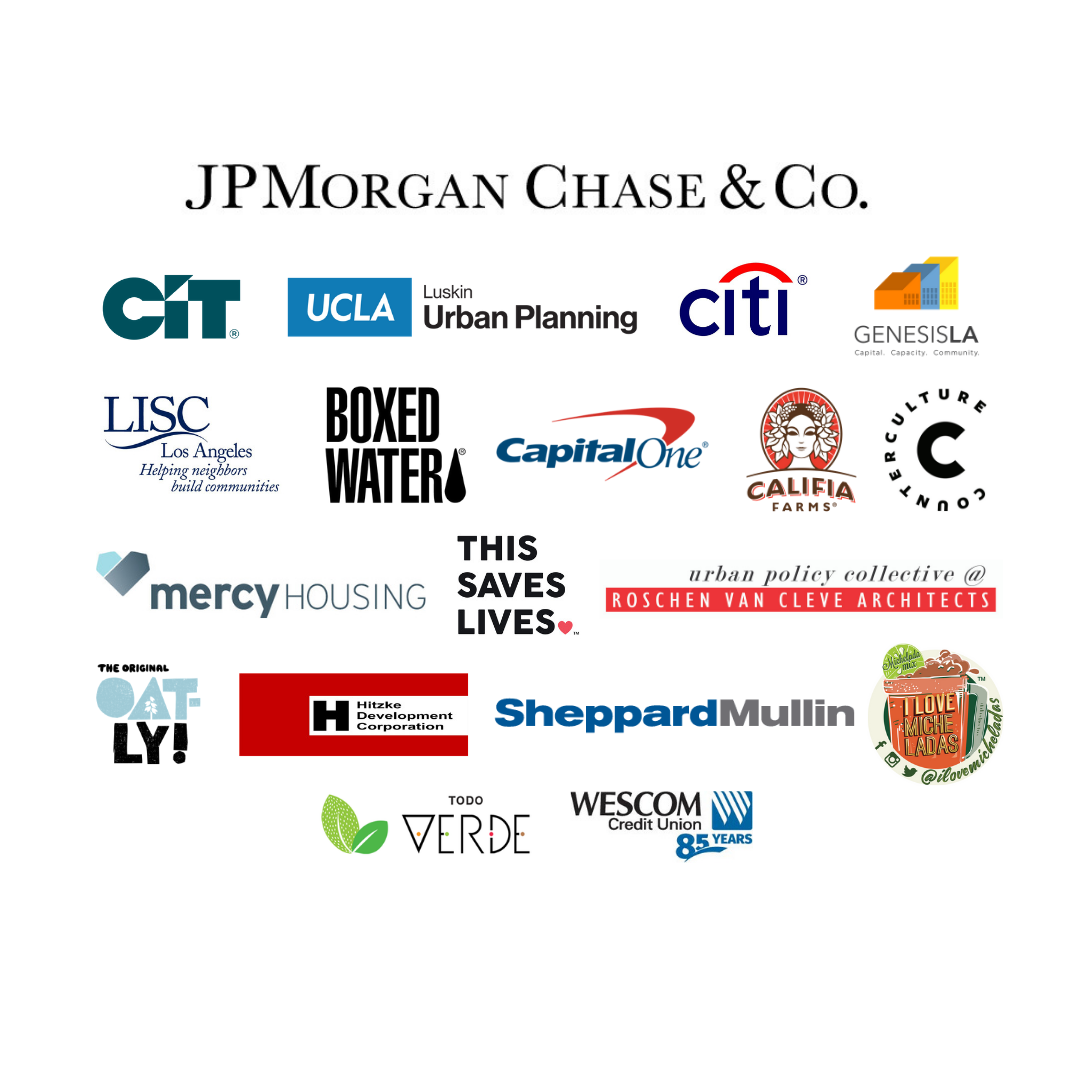 If you would like to sponsor PLUS² please reach out to Julie@LURNetwork.org for more information!
---
Questions?
If you have any questions about the agenda, donations, tickets or anything else, please send an email to julie@LURNetwork.org. No one will be turned away for lack of funds.
Check our Facebook Event page here to let everyone know you're coming!

#PLUS2LA