Description
Plus Size Yoga, Saturday mornings with Lea Ann.
This is one of several weekly classes offered in different studios in Houston. You can buy a drop in class ticket or a class pack that you can use at all locations.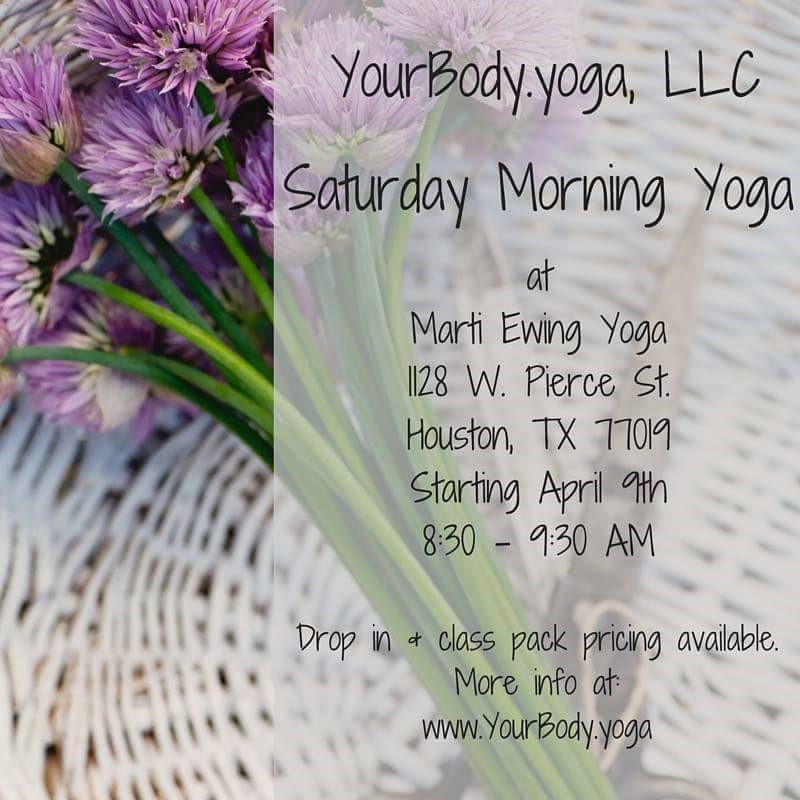 YourBody Yoga, LLC is excited to have Saturday morning yoga classes at Marti Ewing Yoga Studio!
Active and gentle yoga designed to wake you up and get you ready for the weekend. Asanas (poses) flow at a pace that you can stay in your breath while exploring how to create each pose in a way that benefits you and enhances flexibility, strength and endurance.
Classes will combine pranayama (breathing exercises), sankulpa (affirmation to create intention), asanas (physical poses), light meditation and savasana (restoration).
 Our full schedule is here.. Go to www.YourBody.yoga for more information.

Drink water.

Yoga mats are available to rent or bring your own.

Stretchy, comfortable clothing - no expensive gear needed!

Do not wear constricting or tight clothing.

No underwire bras!

In consideration of other students and atmosphere of the class, the door closes 2-3 minutes before class time and is locked. There is no door attendee for most classes.
If you already have a class pack with YourBody Yoga you may use that with no need to purchase an additional ticket - they are good for all regular YourBody Yoga classes in all locations.  You may also buy an eight class pack here on Eventbrite. An eight class pack is good for six months.
If purchasing a single drop-in ticket it is good for the week or the purchase. Non-refundable. If you are not able to attend at that time let us know via our contact page at least 2 hours ahead of class and provide your ticket # and you have a 1x reschedule option. If you use a drop in pass and decide you want a class pack & purchase it the day you attend class, we will upgrade you for the difference at the pass price listed here. 
Any questions please reach out and we will assist you.
IMPORTANT INFORMATION: All tickets and passes are non-refundable, good for all regular classes. Unforseen events can create a need to cancel a class and we try very hard to update our Yoga Trail calendar ASAP.  New students must arrive 15 minutes early, or made previous arrangements to sign the release waiver.  No late entries to class, in order to keep the integrity of the class for the other students (most classes do not have a door attendant). NO CELL PHONES. Phones must be turned off and are not allowed on the practice floor.
CLASS PACK INFORMATION: Class runs, or times a class is available at a certain studio or time slot, the description and teacher can vary or change permanently. The class pack is good for all regularly scheduled classes for 6 months. Class pack students also have an option for discounted private and yoga therapy classes.