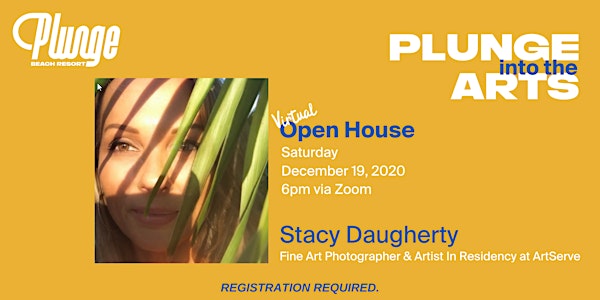 Plunge Into The Arts with Stacy Daugherty
Stacy Daugherty, Fine Art Photographer & Artist in Residency at Artserve will be on location at Plunge for this month's Plunge Into The Arts
About this event
Stacy Daugherty is a fine art photographer specializing in macro photography of nature and wildlife. She creates imagery that invites people to experience hope, peace and transformation. Her brand, "Artography" is the blending, recognition and realization of Art within Photography.
Daugherty's extreme close up imagery provides a perspective that is oftentimes overlooked in our busy lives, prompting the viewer to slow down, immerse and consider new possibilities. Her work inspires powerful realizations by intermingling nature with mind, body and spirit. This is part of her creative process; it is here that she's in her Zen.
Born in Fort Lauderdale, FL she spent most of her time outdoors as a child, developing a deep curiosity and love for tropical flora and its components. "I've always been drawn to tiny details; I'm curious by-and about-nature. This genre gives me a feeling of discovery...of finding myself in an unseen world" Daugherty adds.
Her photography career began over a decade ago, with portrait and commercial clients at the forefront, with some creative shooting on the side. It was during these times of exploration that she found her niche in macro photography. Fast forward to 2019 as Daugherty shifted into full time artistry as a Fine Art Photographer, simultaneously becoming a Resident Artist at ArtServe, one of the nation's original arts incubators, located in Fort Lauderdale, FL.
Daugherty's works have been honored and showcased in several juried group exhibits, and her first solo exhibit entitled, "View" is now on display at The Greater Fort Lauderdale Chamber of Commerce. Her latest installation entitled "Solo" is part of a current exhibition, "The Salon: Explorations of Change" located inside the Gallery at ArtServe.
Ongoing collections can be explored in her studio by appointment. Fully customizable works of art for private collectors, corporate, yachting and hotel industries are offered. As Daugherty describes, "The Collaboration Experience is tailored to clients who desire a more personalized product, incorporating factors such as lifestyle, interests, mood, space and design preferences. The process and resulting artwork are truly personal and unique."
Join us via Zoom to hear from the artist firsthand as she walks us through each of the pieces on display in Plunge's lobby art gallery.
REGISTRATION REQUIRED. All registered attendees will receive a secure link to the Zoom Meeting prior to the event start. Video & audio participation is encouraged!