Description
The launch of sustainability innovation program is an insightful evening with the brilliant SAEED AMIDI, CEO at PLUG AND PLAY TECH CENTER, the leading global platform for startups and corporations and Rainer Sternfield CEO of Planet OS. Saeed, called "Silicon Valley's Hottest Matchmaker" by Inc. magazine, brings sound VC experience as early stage investor in Lending Club, VentureBeat, Zephyr, PayPal, Dropbox, Zoosk, Nature Box, Credit Sesame, Skytree, and SoundHound.
Panel discussion features Florian Kolb, Managing Director at RWE ventures leading M&A deals worth more than $10 Billion and Danny Kennedy, Managing Director of California Clean Energy Fund, Co-Founder of Sungevity and Powerhouse incubator and author of the book Rooftop Revolution.
There will be 10 startup presentations followed by closing remarks given by Dr. Richard Sears, consulting professor in the Department of Energy Resources Engineering, Stanford University. Dr. Sears is also Committee Chair and Advisory Board member at National Academies. Prior to that he was a visiting scientist at MIT and was labelled a 'Gamechanger' at LeadingEnergyNow.
Come with a stack of business cards to learn and network with entrepreneurs, investors and over 50 corporations including Saudi Aramco, Exxon Mobil, Mercedes Benz, and etc.
Contact Wade: wade@pnptc.com for more information.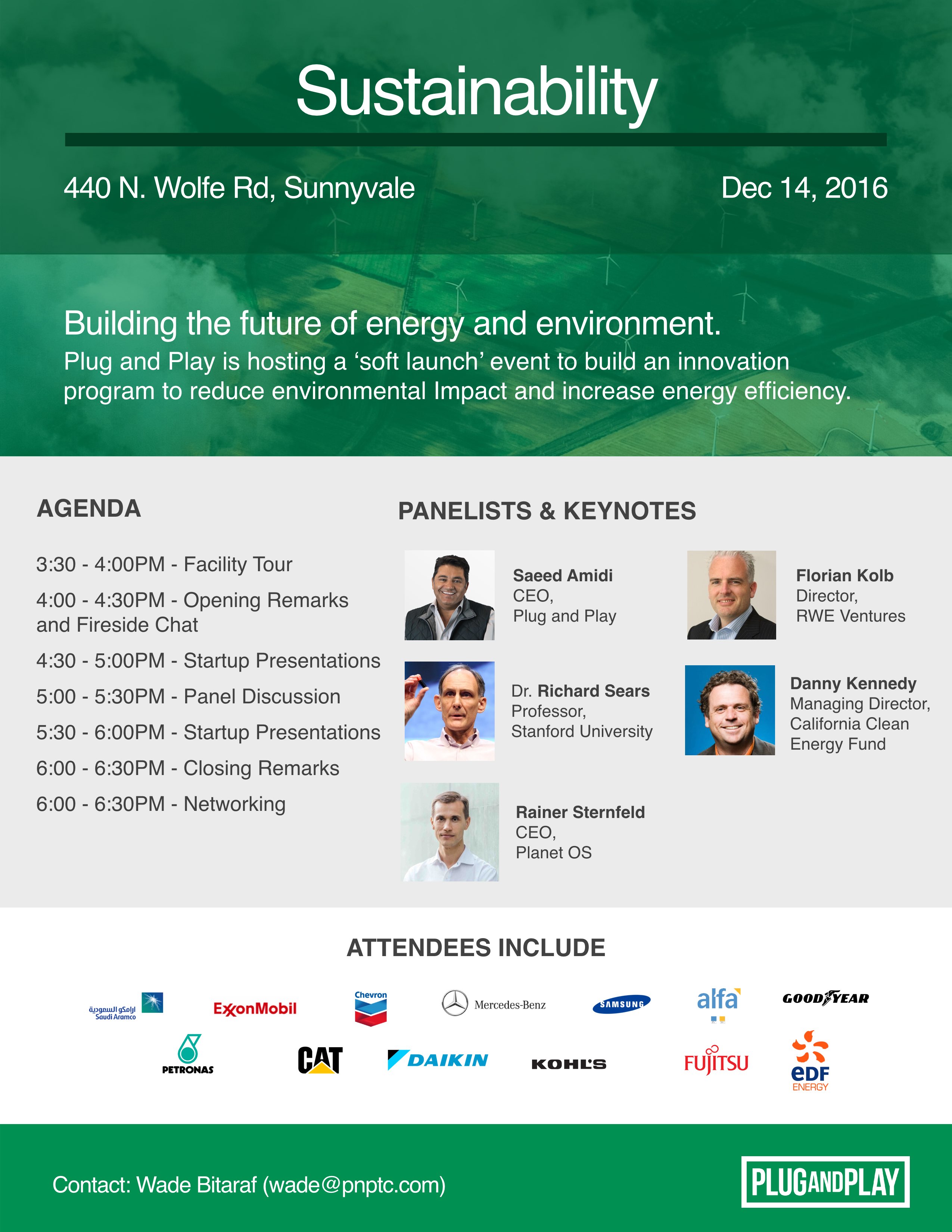 Plug and Play is an international startup investment fund and ecosystem, headquartered in Sunnyvale and seed investor in PayPal, Dropbox, Lending Club. Plug and Play has corporate accelerator programs with Ericsson, Deutsche Bank, Mercedes-Benz, ExxonMobil, State Farm, Volkswagen, Bosch, Tesco, and Johnson & Johnson. Every year, we review 4,000 startups, invest in over 100, and run industry-specific accelerator programs in Health, Media, Fintech, Internet of Things, New Materials, Fintech, Brand & Retail, and Hosptiality. We provide investments alongside 180 leading Silicon Valley VC partners, and help 150 corporate members to license, pilot, and co-invest.