Location
Botanic Sanctuary Antwerp
26 Leopoldstraat
2000 Antwerpen
Belgium
Plug and Play Maritime invites YOU to join our Batch 1 Expo Day in Antwerp. Are you ready?
About this event
EXPO Day is all about bringing the whole innovation ecosystem together and sharing the latest trends, insights and ideas with each other.
Discover what our corporate partners and startups have been working on and witness impressive pilot project presentations shaping the future of the maritime industry. We'll cover it all on June 2nd and we're looking forward to welcoming you there.
Want to be at the forefront of open innovation? Apply for your tickets now, please keep in mind that tickets are limited (first come first serve basis)!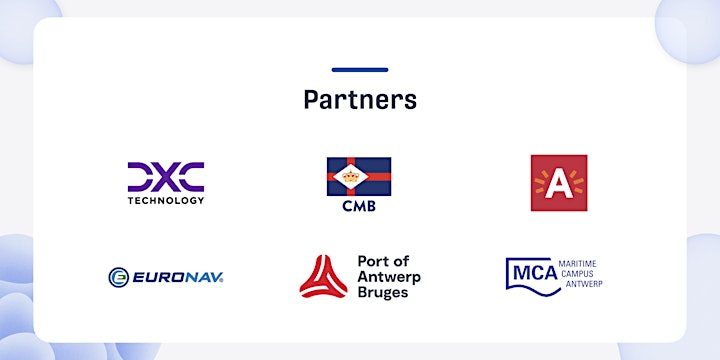 PROGRAM OF THE DAY
1:00 - 2:00 PM Open doors & Tech Fair (in person only)
2:00 - 2:15 PM Welcome & Opening Remarks
David Neef & Sallar Faridi - Co-Directors, Plug and Play Maritime
Erica Caluwaerts - Alderman for Economy & Innovation, City of Antwerp
2:15 - 2:35 PM Smart Shipping in the Maritime Industry
Rudi Vander Eyken - Head of IT & Innovation, Euronav
2:35 - 2:55 PM Keynote: Why startups will unlock a sustainable ocean
Steffen Knodt - Head of Sustainable Ocean Business Centre, Fraunhofer IGD
2:55 - 3:05 PM Trends in Maritime
Cédric Vermeulen - Ventures Analyst, Plug and Play Maritime
3:05 - 3:15 PM Business Case on Data Sharing
3:15 - 4:00 PM Break & Tech Fair (in person only)
4:00 - 4:15 PM Three things we need to decarbonise shipping by 2030
Alexander Saverys - CEO, Compagnie Maritime Belge
4:15 - 4:25 PM Startup Panel Talk
Moderated by Steffen Knodt - Head of Sustainable Ocean Business Centre, Fraunhofer IGD
4:25 - 4:35 PM The future of Autonomous Shipping
Piet Opstaele - Innovation Enablement Manager, Port of Antwerp-Bruges
4:35 - 4:50 PM New Partners Announcement
4:50 - 5:05 PM Closing Remarks & Graduation Ceremony Startups
5:00 - 8:00 PM Networking, drinks & bites (in person only)
More than an event
Expo Day isn't just about listening to speakers; it's about creating an innovation community. You will get access to a global network of startups and corporate partners from all across the industry.