Description
Join us for a roundtable discussion on global open innovation with top diplomats and representatives from Australia, Japan, Korea, and Taiwan. The evening will put a spotlight on the latest startup and innovation initiatives taking place in these dynamic Asia-Pacific economies. Startup pitches and a networking reception will follow!
Agenda
4:00 – 4:30 Registration
4:30 – 4:50 Opening Remarks
4:50 – 5:20 Panel Discussion
5:20 – 5:40 Partner Feature: Kaohsiung City
5:40 – 6:10 Startup Pitches
6:10 – 7:00 Networking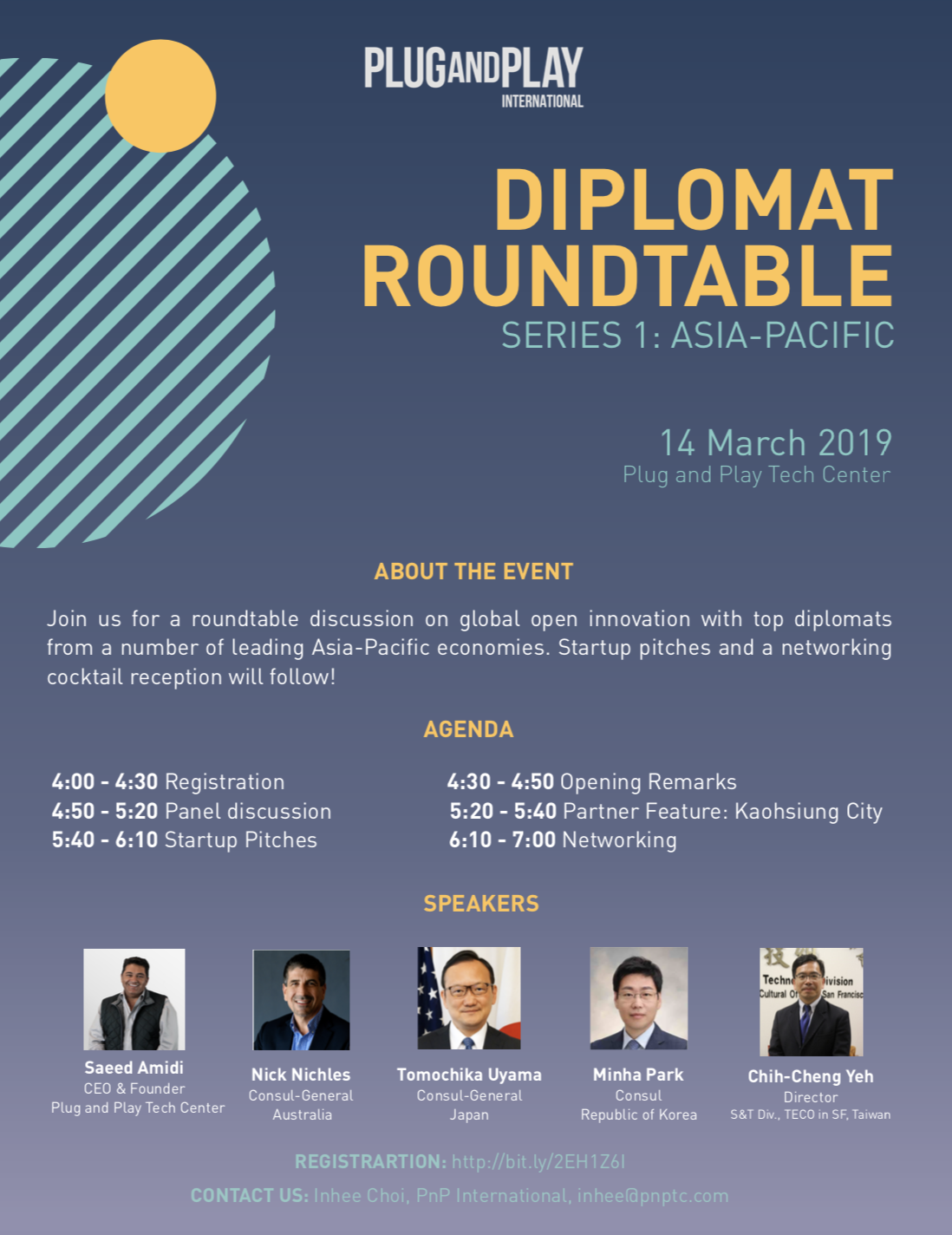 About the Speakers: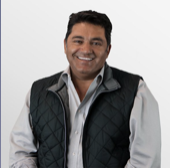 Saeed Amidi, CEO & Founder, Plug and Play Tech Center
Saeed co-founded the Amidi Group in 1980, a conglomerate of privately-held business enterprises consisting of several domestic and international entities with significant manufacturing, distribution, trading, retail, and real estate holdings. Saeed has been a technology investor since 1998 and co-founded Amidzad with Pejman and Rahim in 1999. He has been closely involved with many new emerging growth companies, including 3 investments with over $1B valuation: Paypal (acquired by eBay), Lending Club (IPO, Dec 2014) and DropBox.

Saeed founded Plug & Play, the ultimate startup ecosystem, in 2006. Since then, the Plug & Play portfolio has raised over $4B and created thousands of job opportunities in the tech sector. His Plug & Play vision conceived a multi-national corporate platform for Fortune 1000 Companies which gives corporations and investors access to the most innovative startup ideas, ranging from pre-seed all the way to public companies. Currently, he co-invests with more than 300 corporations from various industries including Finance, Brand & Retail, IoT, Health, Travel & Hospitality, and Insurance.

Nick Nichles, Consul-General, Australia

Nick Nichles is the Australian Consul-General and Senior Trade and Investment Commissioner in San Francisco. Prior to arriving in San Francisco in February 2019, Nick served as the Chief Operating Officer for Austrade in Sydney. Nick joined Austrade in 2012 as General Manager – Marketing, Online and Business Practice. Prior to joining Austrade, he was the CEO of NSW Lotteries Corporation and led the state-owned corporation through privatisation and its eventual sale to Tatts Group. Nick has also held C-level commercial and marketing roles at McDonalds Australia and Foxtel.
Nick is a committee member of The Buttery Foundation, which raises funds for the renowned The Buttery, a not-for-profit rehabilitation clinic. Nick holds a Bachelor of Business from the Queensland University of Technology, a Graduate Diploma of Marketing from the University of Technology Sydney, is a Graduate of the Australian Institute of Company Directors and lectured at UTS' Graduate School of Business in its MBA program.

Tomochika Uyama, Consul-General, Japan
Consul General Tomochika Uyama began his career with the Ministry of Foreign Affairs of Japan in 1986 and has been involved in the diplomatic service for over 30 years. His assignments overseas have included postings in Egypt, the Philippines, the Republic of Korea, and the Permanent Mission of Japan to the International Organizations in Geneva. His domestic assignments in Tokyo have included positions at the Economic Affairs Bureau, Latin American and Caribbean Affairs Bureau, and in the Ministry of International Trade and Industry. He has served as the Consul General of Japan in San Francisco since February 2018. In this role, he has enjoyed a diverse portfolio that has included efforts to strengthen Japan's ties with local communities such as Japanese- and Asian-Americans in Northern California.

Minha Park, Consul, Republic of Korea
Minha Park has served as the Consulate of the Republic of Korea in San Francisco since February of 2017, contributing toward Korea's development in the fields of science, technology, and economy. Prior to his appointment, he was a director of International Cooperation Division and Telecommunication Planning and Regulation Division at Ministry of Science and ICT for 4 years. Before joining Ministry of Science and ICT, Mr. Park held various positions in government of Korea, Office of the President, Ministry of Foreign Affairs and Trade, Korea Communications Commission, and Ministry of Information and Communication.

Chih-Cheng Yeh, Director, S&T Div., TECO in SF, Taiwan
Mr. Chih-cheng (Tom) Yeh received his second MS degree in Space Engineering, Cranfield University, UK in 2000. From 2001 to 2004, he was the Science & Technology Officer for Science and Technology Division, Taipei Economic and Cultural Office in San Francisco. With three years of overseas experience, he was recruited to the Ministry of Economic Affairs as the Minister Mei-YuehHo's Special Assistant (2004-2006). In 2006-2010, Mr. Yeh was promoted to be the Section Chief, Deputy Director of Industrial Development Bureau(IDB), Ministry of Economic Affairs. With 6 years of industrial development experience, he returned to the National Science Council as Deputy Director General, then Director General to in charge of Science and Technology Planning (2010-2016). With his industrial development and R/D management experience, he has been appointed to take the position as the Director to the Science and Technology Division, Taipei Economic and Cultural Office in San Francisco, also known as the liaison office for Ministry of Science and Technology, Taiwan, in San Francisco.
About Plug and Play International
Plug and Play's International Program bridges the gap between countries around the world and Silicon Valley. We work with international government agencies, technology incubators, and universities, to source, identify, and accelerate the most promising startups from various global ecosystems.
* For questions, please contact Inhee Choi, inhee@pnptc.com *