Description
About the event:
Join us in learning how the patient experience is being revolutionized through innovation.
The convergence of new technologies, value-based payments, and shifting consumer preferences are driving healthcare providers and payers to embrace new strategies for engaging and caring for patients. From on-demand services, digital diagnostics, and real-time monitoring, health industry leaders are successfully leveraging startups to create novel health experiences that deliver higher quality care at lower cost.
How might corporations identify the most important priorities for innovation?

How might innovators embrace the possibilities of technology while balancing the needs and expectations of patients?

What best practices are industry leaders embracing for evaluating and translating new ideas into action?

How are innovators navigating healthcare's unique cultural, regulatory, and stakeholder landscape?
The event is co-hosted by Plug and Play's Insurtech and Health verticals, and is divided into three content blocks, including On-demand Health, Workflow Automation, and Managing Health Data, each with a panel discussion and startup presentations related to the topic.
About the content blocks:
On-Demand Health
Millennials and Generation Z are accessing healthcare based on convenience and flexibility. Contrary to baby boomers and Gen X, 45% of Millennials and Gen Z claim they don't have a primary care physician. Rather, the younger generation is opting for on-demand health experiences, including walk-in clinics, mobile apps, and telemedicine. For payers, employers, and policy-makers, shifting consumer behaviors present unique challenges and opportunities. Where might on-demand solutions generate the most value? What landmines should corporations and startups be aware of?
Workflow Automation
Automation is increasingly top of mind as large organizations strive to improve efficiency and customer experience. How might workflow automation and robotic process automation (RPA) empower patients, create efficiencies, and streamline the patient journey? When is the human element necessary? Innovative automation startups will share their solutions.
Managing Health Data
Enabling the seamless flow of information between payers, providers, patients, and policy-makers is possibly the greatest opportunity for value creation across the healthcare industry. Learn how leading innovators are forging coalitions and bridging the technical, organizational, and regulatory gaps for making real-time precision medicine a reality.
09:30—10:30 am: Registration
10:30-10:40 am: Opening Remarks
10:40-11:00 am: Keynote: Enabling Value-Based Care in Health Care with an Intelligent Enterprise Strategy
11:00-11:30 am: Panel: On-demand Health
11:35-12 pm: Startup Presentations
12:00-1:00 pm: Lunch & Tour
01:00-01:35 pm: Panel Discussion: Workflow Automation
01:35-02:00 pm: Startup Presentations
02:15–02:50 pm: Panel Discussion: Managing Health Data
02:50-3:10 pm: Startup Presentations
03:15-03:25 pm: Closing Remarks
03:20-05:00 pm: Networking & Reception
Speakers: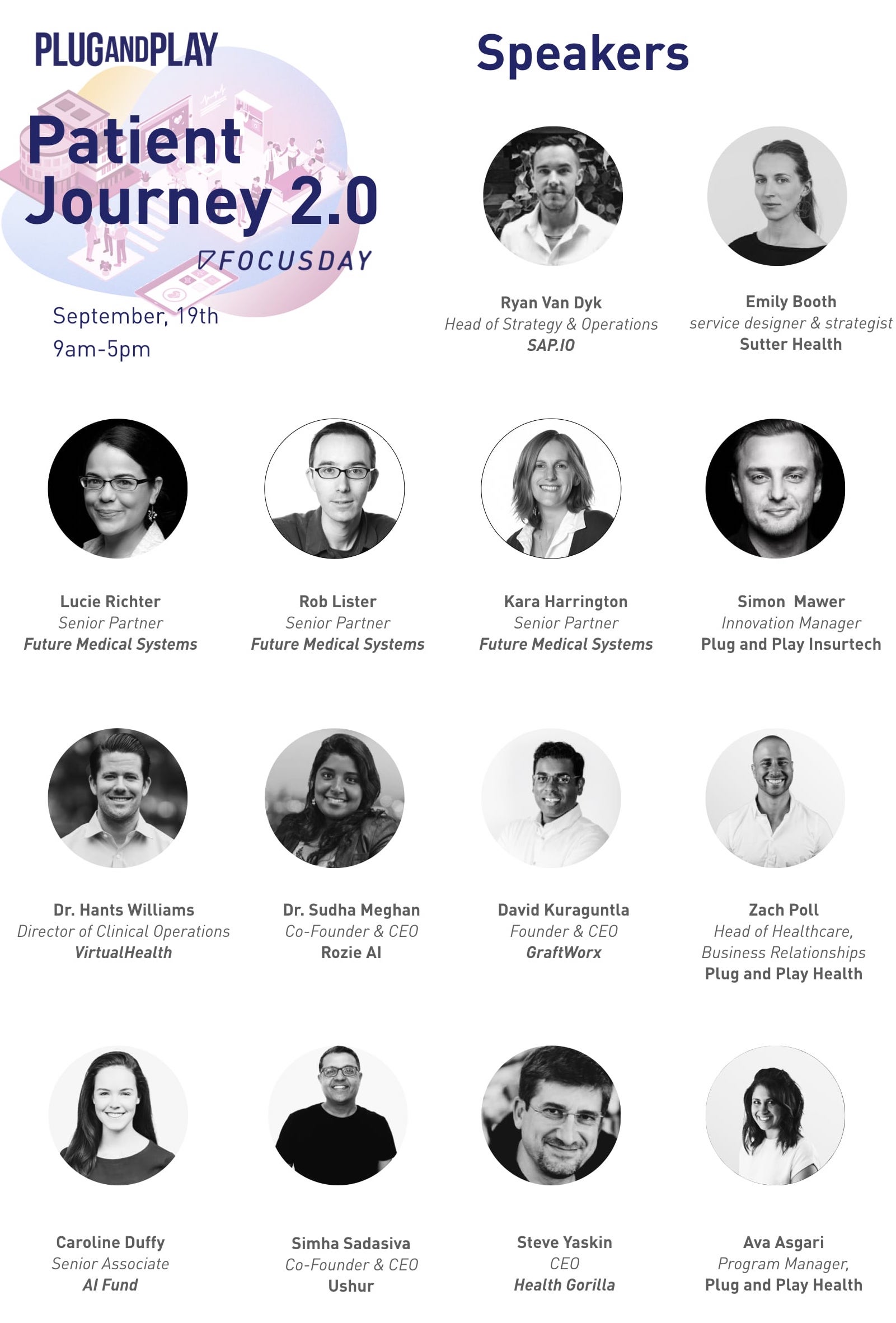 Ryan is Head of Strategy and Operations for SAP.iO Fund & Foundries, SAP's strategic business unit investing in and accelerating startups that deliver value to SAP's customers as they undergo Digital Transformations to become Intelligent Enterprises in the Experience Economy. In this role, he supports the current Enterprise Health SAP.iO Foundry accelerator program in New York and is liaison to SAP Health, SAP's healthcare industry solution portfolio team helpings our healthcare customers to deliver cost-effective, higher-quality care to patients around the world. Prior to taking on this role, Ryan obtained his MBA from Harvard Business school, led investments out of the SAP.iO Fund (including SAP.iO's investment into healthcare startup Medal), and was a consultant at McKinsey & Company where he served healthcare payors and providers on topics ranging from cybersecurity to organizational change.
As a service designer and strategist on Sutter Health's Design and Innovation Team, Emily harnesses the power of design to create friction-free healthcare that is simple, engaging and human. She leads strategic projects to understand the patient and provider journeys, while creating meaningful experiences across the physical, digital and human touchpoints. Trained in mechanical engineering and interaction design, Emily uses her diverse background to solve complex challenges and create impact at scale.
Lucie leads healthcare innovation with deep system insights into population health management for risk-bearing organizations as well as the human needs and behaviors of patients and providers. With a background in anthropology and systems-oriented design, she excels at crafting solutions where each touchpoint delivers a meaningful experience while driving business success. During her time at IDEO and since, Lucie has led multidisciplinary design teams for Johns Hopkins Hospital, Proteus Digital Health, The California HealthCare Foundation and Epocrates.
Rob's experience as a business leader at AT&T and IDEO informs his strategic and operational approach to health care innovation. Rob joined IDEO as a mechanical engineer and left as a designer: specializing in drug delivery and medical devices, he collaborated with companies including Eli Lilly, 3M Health Care, Janssen Biotech and Sonosite. Rob also established and led IDEO's global Medical Products group. In 2011, Rob joined AT&T to help establish their new international innovation center, The Foundry

, serving as Director of Design.

Kara has years of experience designing products and interactions aligned with the social dynamics of complex and critical health care environments, such as the OR and chronic disease management. Her passion for people drives her with laser-beam focus to what is meaningful to real users, keeping them always at the center of design development.Trained in industrial design, during her time at IDEO Kara created award-winning and patent-pending healthcare experiences for companies such as Medtronic, Life Technologies, Palo Alto Medical Foundation, and Stanford Hospital and Clinics.
Simon Mawer serves as Innovation Manager for Insurtech and SmartHealth for Plug and Play, where he works with corporate leaders and startups to craft and catalyze enterprise-wide transformation. Prior to Plug and Play, Simon led frontline clinical innovation teams at Stanford Health Care, and design strategy consulting for payer, provider, and policy-maker clients across the U.S. and U.K.

Dr. Hants Williams is a registered public health nurse, published scientist, and founder. He describes himself as a 'full-stack' healthcare professional - meaning he has developed the functional skills of a clinical researcher, data scientist, software developer, and healthcare policy advocate. These skills allow Dr. Williams to quickly test the acceptability, feasibility, and efficacy of new care pathways, digital therapeutics, and other novel innovations focused on enhancing delivery and implementation of affordable care for all.
Dr. Sudha Meghan is a medical doctor and business strategist with a research background in neuroscience and behavioral economics. RozieAi is a firm dedicated to creating care experiences that remember an individual across their care journeys, and apply this memory to deliver proactive advisory and services. The company's vision is to help organizations deliver personalized care and patient advocacy programs in a scalable manner. As the Chief Executive Officer, Sudha leads the commercial operations of RozieAi and guides the technology vision. She also manages RozieAi's innovation consulting practice, helping clients identify the nuances of current challenges and create a roadmap for growth.
Caroline Duffy is a Senior Associate at AI Fund. Caroline previously worked at Pelion Venture Partners, where she focused on early stage investments in enterprise technology and SaaS businesses, and developed the firm's investment thesis on AI. Before VC, Caroline worked in management consulting. Her clients were primarily Fortune 500 software, internet, and e-commerce companies. Caroline received her MBA from Stanford GSB, and her BA cum laude from Dartmouth College.
Steve Yaskin, visionary/serial entrepreneur, combining 15 years in founding and advising start-ups in Health Tech, data management, AI, and applied data analytics. Board Member and Advisor to several companies, from conception idea to growth stages. Member of Patient Privacy and Clinical Data Access stirring committees at the SequioaProject, CommonWell, and CareQuality national interoperability Networks as well as an active contributor to policies of the Office of National Coordinator for Health, Department of Health and Human Services.
David was preparing to begin a surgical residency when he was confronted with the need for the Graftworx device. He and his team are currently developing a novel, non-invasive remote monitoring platform for chronic kidney disease, dialysis, and congestive heart failure patients. He leads the company as a co-founder and CEO.
Startups:
Meru Health
Jessie Health
Life 365
Ovid BP
Illuminate Health
RexPay
Medrics
Automation Hero
Connect MD
Lazarus
Healthy Health
Medsender
Healthy Health
CloudMex
Flock
Past Event Attendees:
Aflac, Aon, Brown & Brown, CSAA, Dai-ichi Life, Delta Dental, EMC Insurance, Genentech, Great West Life, Markel, Matrix Absence Management, MetLife, Mercer, Munich Re, Novarica, NRI, Pacific Resources, SOMPO Digital Lab, State Fund, Sumitomo Life, Sun Life Financial, Sun Life / Maxwell Health, Symetra, Tokio Marine, Trustmark, Unum, Willis Towers Watson, Samsung fire & Marine Insurance, MS&AD Ventures, Sequoia Consulting Group, CentreGold Capital, Confihealth Ventures Labs, VentureLiaison, GE Ventures, SGH Capital, Tuck Social Venture Fund, etc.
More event info will be announced soon.
Past Event Photos