Plug and Play: Beyond Insurance-The Future of Property and Casualty
Description
Theme: Beyond Insurance: The Future of Property and Casualty
Join us as we explore how Insurtech goes beyond insurance industry and the future of property & casualty. The event will be divided into three content blocks as below, each with a panel discussion or fireside chat and startup pitches related to the topic.
Insurtech and Mobility

New ways to measure risk (telematics) and new forms of risk (new modes of transportation) have strengthened the link between Insurtech and Mobility. We will examine solutions in this space while exploring thematic interests of our corporate partners, especially those with auto insurance products.
Insurtech and Real Estate

The explosion of IoT in residential and commercial sites means that startups and technology previously captured by our Real Estate ecosystem now have imminent Insurtech applicability. We will learn about how these changes are impacting the insurance industry and our corporate partners, with particular attention on companies with residential and commercial insurance products.
Insurtech and Retail

The rise of e-commerce and the digitalization of insurance distribution signals a paradigm shift in how insurance is sold (e.g. offline to online) and the micro-scale of new products (e.g. warranties). We will examine the impact of this digitalization and explore how our partners can leverage these changes to optimize interactions with end users.
Preliminary Agenda:
9:30-10:30 Check-in
10:30-10:35 Opening Remarks
10:30-11:00 Keynote/Fireside Chat
11:00-11:35 Mobility: Panel discussion/Fireside Chat

11:35-12:00 Mobility: Startup pitches
12:00-1:00 Lunch & Networking
1:00-1:35 Real Estate: Panel discussion/Fireside Chat
1:35-2:00 Real Estate: Startup pitches
2:00-2:10 Break
2:10-2:45 Retail: Panel discussion/Fireside Chat
2:45-3:10 Retail: Startup pitches
3:10-5:00 Reception & Networking
*The agenda is subject to change*
Confirmed startups:

Tractable

Owl Cameras

In the Car

Koffie Labs

Preact

Notion

Capella Space

Cyberfortress

Cherry Home

OnSiteIQ

Dowsure
Agentero
Ushur
Attending Corporates:
AAA Insurance
AF Group
Aon
Arrowhead/Brown & Brown
AXIS Capital
Dai-ichi-Life
FICO
Fujitsu Laboratories of America
Guidewire Software
Kajima Corporation
Markel MS&AD Ventures Inc.
Munich Re
RAC
Renault-Nissan-Mitsubishi
Samsung
Samsung Fire & Marine
SOMPO Digital Lab
State Farm Insurance
Tokio Marine
Toyota
Travelers
USAA
Willis Towers Watson
Yellowwoods
and many more...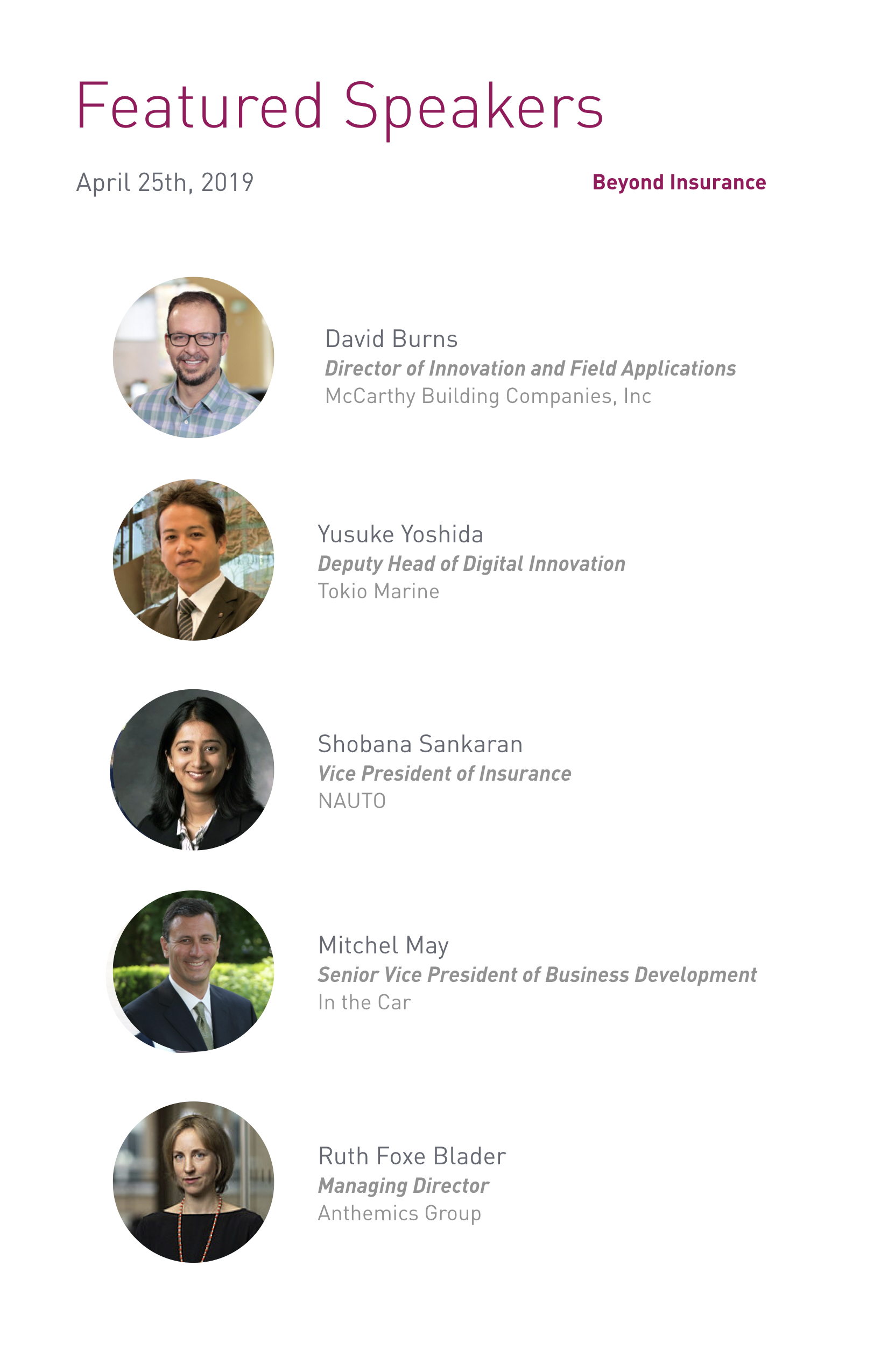 Organizer of Plug and Play: Beyond Insurance-The Future of Property and Casualty
Contact us: insurtechevents@pnptc.com
Plug and Play Insurtech
Established in 2016, Plug and Play Insurtech is one of Plug and Play's largest industry-specific programs. Alongside its headquarters in Silicon Valley, this platform runs programs in five global locations including Beijing, Munich, New York, Singapore, and Tokyo. The program currently has over 70 corporate participants including Farmers Insurance, Allianz, Nationwide, SOMPO Digital Lab, and Travelers, and has worked with hundreds of international Insurtech startups to date. For more information, visit http://plugandplaytechcenter.com/insurance/.
Plug and Play
Plug and Play is a global innovation platform. Headquartered in Silicon Valley, the company has built accelerator programs, corporate innovation services and an in-house VC to make technological advancement progress faster than ever before. Since inception in 2006, its programs have expanded worldwide to include a presence in 28 locations globally, giving start-ups the necessary resources to succeed in Silicon Valley and beyond. With over 6,000 start-ups and 220 official corporate partners, Plug and Play has created the ultimate start-up ecosystem in many industries and provides active investments with 200 leading Silicon Valley VCs, and hosts more than 700 networking events per year. Companies in its community have raised over $7 billion in funding, with successful portfolio exits including Danger, Dropbox, Lending Club, PayPal, SoundHound and Zoosk. For more information, visit www.plugandplaytechcenter.com.