Description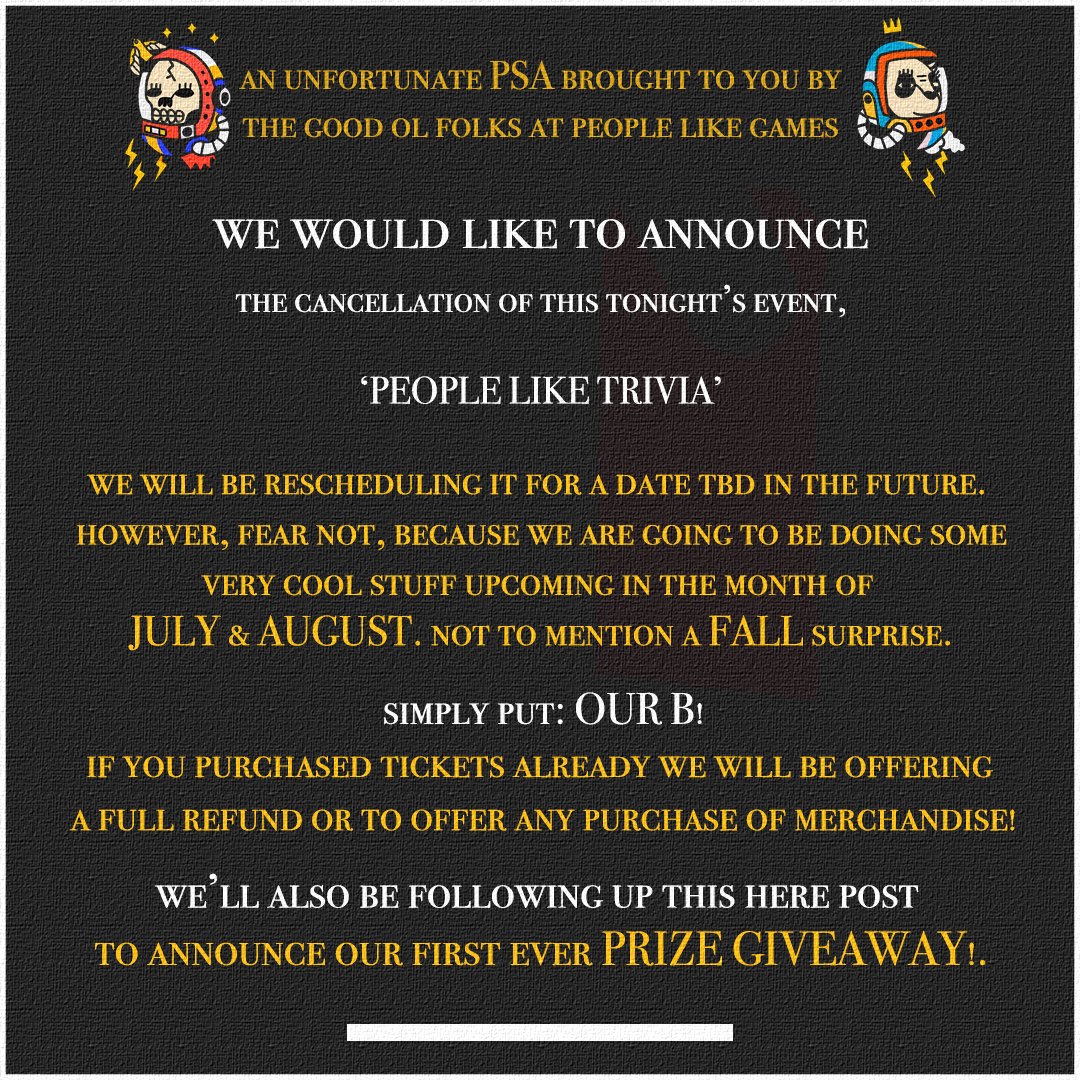 A SMALL UPDATE:
a small announcement regarding tonight's People Like Trivia event. | TLDR: sadly, due to some technical difficulties we must cancel our inaugural trivia night. But, we got a cool contest coming later today to make up for it. & June 30 Summer Smash is still live!
---
PEOPLE LIKE TRIVIA: A Living Room Style Gaming Trivia Competition
---
How it works:
We will have approximately 4-6 teams (ideally 5) and 5 rounds rounds of questions. Work with your teammates to get the most questions right. The winner of the competition will get a cool prize that will be able to be shared amongst the group.
The evening will consist of plenty wine and a little food spread to accompany, with the first hour of the night spent socializing and getting to know fellow attendees. Then we'll get teams seated in designated areas and set-up. Then we'll be begin the trivia game (which we'll have interactive questions on the projector!)
[This event is 21+]
---
Topics:
VIDEO GAMES. GAMING. ESPORTS. & OTHER THINGS OF A GAMING NATURE. more or less. anything rleated to it
---
Extra Notes:
- Some light food and beverages will be supplied. But feel free to bring your own!
- Coming alone? No problem! Part of the fun is meeting new friends. We will put you on a team
- Top prize will be announced this weekend (June 8-9)
**The max number of entries available is 25 so be sure to sign up sooner than later!**
---
For more information you can contact the PLG squad at team@peoplelikegames.com or check out our instagram account @peoplelikegames & twitter. Also be sure to follow our gracious host, Industry Makers over at @industrymakers.