Pleroma Network Pastors and Leadership Conference 2014

Multiple Dates
Event Details
Pleroma Network is an association for Pastors, Five-fold ministry, Leaders, Entrepreneurs and World Changers! This year annual international conference is designed to inspire and equip you for leadership, ministry and the marketplace to change the world for Christ!

SCHEDULE OF EVENTS
Session I:
Thursday 2-4PM
"Laws of Leadership" Pastor Faith Abraham
"Understanding the Power of Influence" Pastor Denise Adams
Session II:
Thursday 7-10PM
"World Leaders of the World" Apostle Uyi Abraham
"Telling Your Story" Pastor Marquis Boone
Session III:
Friday 9:30-12PM
"Power of Mentorship" Pastor David Olubowale
"The Seed of Impact" Pastor Tyonna Lewis
"Starting a Revival" Pastor Seye Omole
Session IV:
Friday 1-3PM
"Power of Praise & Worship" Apostle Denise Clark
"Discipleship & Influence" Pastor Faith Abraham
Session V:
Friday 7-10PM
"Influential Dynamics" Pastor Faith Abraham
"STAR Path" Apostle Uyi Abraham
"Successful Church Growth Strategies" Pastor Phillip Mitchell
Session VI:
Saturday 7-10PM
"Business & Technology in the Church" Pastor Seye Omole
"How to Start a $1M Business" Apostle Uyi Abraham
Organizer
Pleroma Network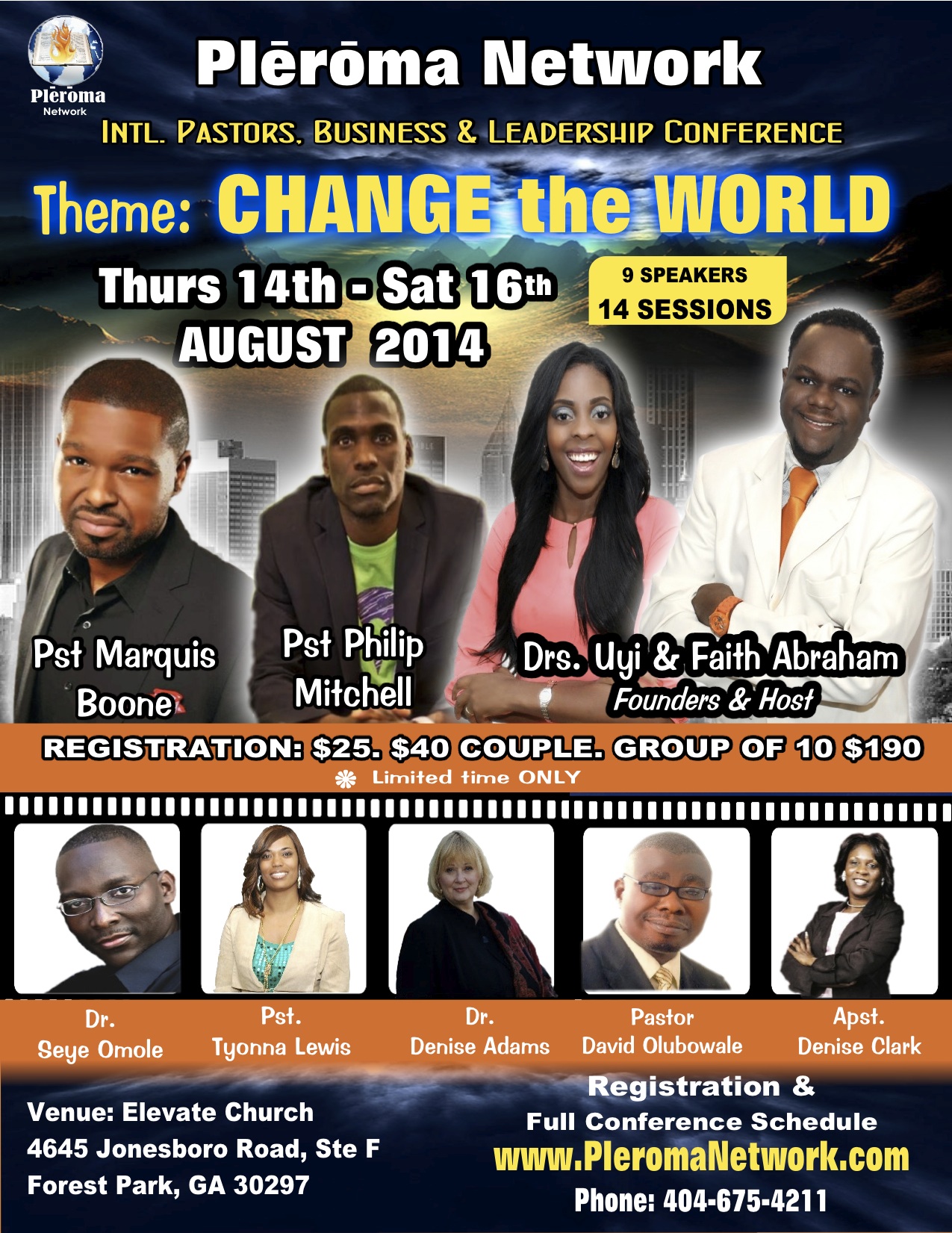 About Plērōma Network
 It is an apostolic network and ministerial association founded by Drs. Uyi & Faith Abraham. The purpose of this association is to provide godly relationships, accountability, equipping and training for those called of God around the world. Our vision is to reach out to all nations of the earth in order to provide leadership and training to churches and their leadership. You will have everything that you will need to carry out the fullness of your calling as a man or woman of God.
Why the name Plērōma?


Ephesians 3:19 "And to know the love of Christ, which passeth knowledge, that ye might be filled with all the fulness of God. Plērōma is the Greek word for FULLNESS. Pronounced as plā'-rō-mä, means the fullness of God. Some more meanings of the word Plērōma in the Greek: that which is (has been) filled; as that which is filled with the presence, power, agency, riches of God and of Christ; completeness of God.
Plērōma was chosen as the name for this association of leaders because of what the word represents - FULLNESS. We want to help those that are called into the 5 fold and other ministries in the body of Christ to walk in the fullness of their callings in Christ. Very few ministers and leaders in the body of Christ are walking in the fullness of your calling and ministry. Through this association we want to destroy the yokes and lacks that plagues many ministers and ministries.

What is Plērōma?
Plērōma is not a denomination. It is an association of like minded leaders who are called to make an impact, change destinies, transform lives and demonstrate the Teaching, Healing and Prophetic anointing that was on Jesus to their world. We do provide covering and leadership to those who request for that. But no one will ever be cajoled, manipulated or pressured to be covered or discipled by this Association. In other words you can be a part of Plērōma because you believe in its purpose, mission and benefits not be covered by us. God wants you to live in the fullness of your calling.
Can I benefit from this?
If you know that you are called of God to carry out a vision that will help to transform lives for Christ then you can benefit from this association. Personal ministry, church ministry and global ministry will be equipped through the association. This includes those who are called to be Apostles, Pastors, Evangelists, Prophets, Teachers, Entrepreneurs, Business people, Musicians, Singers, Intercessors, helps ministries and those who feel called to leadership.
Can I become ordained through the Plērōma Network?
Yes. The association is interested in ordaining those who are called, ready and prepared to carry out the great commission of Jesus Christ to their designated "Judea and Samaria". Being ordained by PMA allows for those who are ordained to have accountability, spiritual covering, resources and funding that they need for their ministry calling. We will not withhold these benefits regardless of gender or age. The PMA ethics handbook outlines the qualifications for ordinations.
Pleroma Network Pastors and Leadership Conference 2014