Description
PLEIN AIR PAINTING CLASS - "Full Day of Painting, Lunch & Wine"
We offer two different kinds of painting classes: "Show Up & Paint", a painting class with light instruction and then you're left to paint, and a "Full Day Painting, Lunch & Wine" class. This registration page is for our "Full Day Painting, Lunch & Wine" class.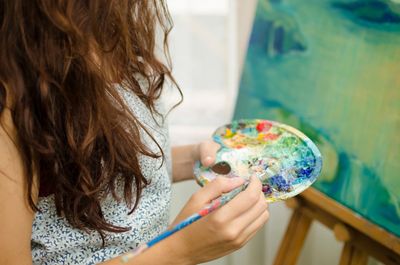 The Instructors will take students through a basic painting strategy and they will also be available throughout the day for additional instruction.
The day will begin with a morning instruction. Next, students will get to pick their location on the property. Students receive an easel, canvas, paint, and paint brushes. Then it's time to paint! Instructors will make their rounds to see how everyone is doing and to offer any additional instruction. There will be an optional wine reception where we will enjoy each other's art while we sip on La Borgata wine from 2-3pm.
LOCATION
Pleasants Valley is teaming with wild turkey, peacock, deer, hawks, geese, ducks, and rabbits.
One exit off Interstate 80, in-between San Francisco and Sacramento, right in the beautiful heart of Solano County, painters of all levels will enjoy the day of light instruction and all-day painting outside. The winery itself is in a small valley teaming with wildlife and an impressive variety of trees. There is also a small pond on the property that attracts Mallard Ducks and Canada Geese. The deer, wild turkey, wild peacock and other critters make you feel like you're miles from civilization.
"La Borgata" is Italian and it means, "a small, rural town based on agriculture."
Some of the trees on the property include olive trees, lemon trees (for their signature La Borgata Limoncello), almond trees, walnut trees, Deodoro Pine, Chinese Pistashe, Sycamore, Mulberry, Apricot, Oak and Avocado.
SUPPLIES
Included in your enrollment fee is everything you need to show up and paint!
Easel

Canvas

Paint (water-soluble oil)

Brushes


About the instructors
David Brian Lewis is an American artist living in Vacaville, California. He studied art, design, and metal working for jewelry at Arizona State University where he received his BA Degree in Studio Art. After moving to Napa, California in 1998, David became involved in the arts community working as the assistant to the curator at the American Center for Wine, Food, and the Arts (Copia) and the Arts Council of Napa Valley. While in Napa, David continued to expand his art repertoire to include ceramics and painting.
Kristina Young is a dual US-Canadian citizen and artist living in Napa, California. She studied painting, illustration, book arts, graphic design and art history at the University of British Columbia (Vancouver), California College of the Arts (San Francisco) and received her BFA in painting from Richmond College in London, UK.
Since 2000, she has worked as a community arts advocate and consultant for Arts Council Napa Valley, the City of Napa Art Walk Program as well as arts educator.
She is currently the lead artist and manager of the Napa Quake Mosaic, a public art installation commemorating the 2014 Napa Earthquake. She also serves as Chair of the Public Art Steering Committee for the City of Napa, Napa County Arts & Culture Advisory Committee Member and founding member of Napa's new Rail Arts District (RAD Napa).