Plein Air Paint-Out Session | Anne U. White Area

Wednesday, July 9, 2014 from 7:00 AM to 10:00 AM
Event Details
Painting Session
Join an artist painting session led by local artists Anne Gifford and Kathleen Lanzoni at the former Anne U. White trail. 18 years and older are welcome. Be prepared to hike on and around boulders since the trail no longer exists and to bring walking poles if you have them. This session is meant for those applying to the Outdoor Creations - A 2014 Boulder County Juried Art Show.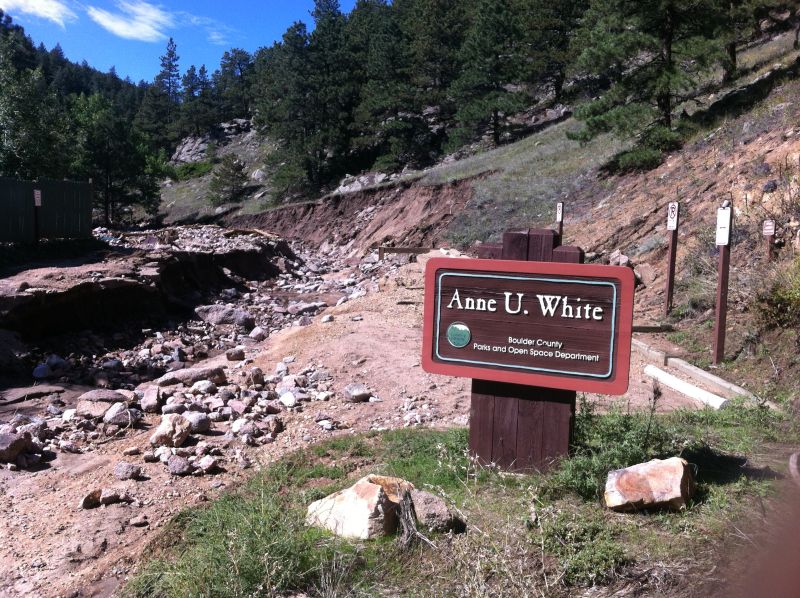 Anne U. White Area
Outdoor Creations - A 2014 Boulder County Juried Art Show
Boulder County Parks and Open Space is holding its second Plein Air art exhibit from October 10 through November 7, 2014. Selected work will be exhibited at the Great Frame Up - Longmont during this time. The "Paint-Out" period will take place between June 1 and August 10, 2014. The deadline for submissions is August 14, 2014. Learn more at BoulderCountyOpenSpace.org/paintout.
About The Leaders
Anne Gifford
Anne began her career as a silkscreen artist. After 25 years of printmaking, she now works with watercolor where she builds successive layers of color to create her vibrant, rich, and detailed paintings.  She has lived in Boulder since 1976 and finds inspiration in the natural beauty of Colorado. On her many walks and hikes throughout the area, Anne is always on the lookout for new imagery. Light, shadows, rocks, water, mountains, canyons, wildlife and whimsy are all part of Anne's subject matter and she brings her own unique vision to her work.
"When I create a landscape sometimes I feel as though I am recording the natural beauty surrounding us for future generations. I hope my viewer will experience the happiness I felt as I created it."
She is an award winning artist and the seven time poster artist for the Bolder Boulder 10K Memorial Day Race, one of the largest road races in the United States. Many of her paintings are also available as giclee prints, which she makes in her South Boulder studio using archival inks that will not fade for 100 years.
Anne additionally enjoys teaching watercolor classes to the elderly at the East Boulder Senior Center and the Meridian Retirement Community.The artwork of Anne Gifford can be seen year round at the Boulder Arts and Crafts Gallery, 1421 Pearl Street, Boulder, Colorado.
Kathleen Lanzoni
Kathleen was formally trained at the Art Institute of Boston, receiving a certificate of completion, and at the Massachusetts College of Art, receiving a BFA. She is an award winning artists, a signature member of the Colorado Watercolor Society and the Western Colorado Watercolor Society. She has been commissioned by several Hospitals and schools and private collectors to paint murals and original watercolors to enhance the atmosphere for the patients and students. Kathleen is currently exhibiting at Creations Art and Gifts in Lafayette, CO and Touch of Colorado in Lakewood, CO. She has paintings in several private collections and has ongoing exhibits in local spas, restaurants and Art Fairs. Kathleen grew up in Montreal and California, and for over 22 years has enjoyed the endless subjects to paint that living in Boulder, Colorado offers.
Kathleen paints with watercolors, acrylics and oils and greatly enjoys the mental and physical process of painting. Her subject matters explore an element of life, whether it is in landscape, architecture or still life. She revels in the exciting challenge of using light, movement, and balance to create a strong composition and to create the mood that will enhance the visual experience.
While painting plein air, she strives to capture not only the scene in front of her, but the atmosphere of the day, the smells, and the sounds. Kathleen takes this feeling with her to the studio or on a mural location, to recreate a quality image to share with others.
When & Where

Anne U White Trail
Pinto Dr
Boulder, CO 80304


Wednesday, July 9, 2014 from 7:00 AM to 10:00 AM
Add to my calendar
Organizer
Boulder County Parks & Open Space
Plein Air Paint-Out Session | Anne U. White Area