"PLEASURES" a Sophisticated Bitch/Kingdick Spring/Summer '21 Fashion Show
About this Event
"𝑷𝑳𝑬𝑨𝑺𝑼𝑹𝑬𝑺" 𝗮 𝗦𝗼𝗽𝗵𝗶𝘀𝘁𝗶𝗰𝗮𝘁𝗲𝗱 𝗕𝗶𝘁𝗰𝗵/𝗞𝗶𝗻𝗴𝗱𝗶𝗰𝗸 𝗦𝗽𝗿𝗶𝗻𝗴/𝗦𝘂𝗺𝗺𝗲𝗿 '𝟮𝟭 𝗙𝗮𝘀𝗵𝗶𝗼𝗻 𝗦𝗵𝗼𝘄 :: Hosted by RTB Event Group & Pop Sundays at Brellas
𝐏𝐎𝐏 𝐒𝐮𝐧𝐝𝐚𝐲𝐬 - From the creative minds behind Raising the Steaks and RTB Event Group we're thrilled to present...Sυɳԃαყ POP!
More About 𝐏𝐎𝐏 𝐒𝐮𝐧𝐝𝐚𝐲𝐬 - www.facebook.com/events/436719244081361
𝙎𝙤𝙥𝙝𝙞𝙨𝙩𝙞𝙘𝙖𝙩𝙚𝙙 𝘽𝙞𝙩𝙘𝙝/𝙆𝙞𝙣𝙜𝙙𝙞𝙘𝙠 are proud to present their S/S 2021 Fashion Show, come out to POP Sundays at Brellas, the newest feminine brunch and day party spot in Houston where we will have 30 models walking the runway in our latest designs, which are always sexy, edgy, fun, pretty and just plain BADASS.....as always everyone is welcome to come out and party, drink and see a sexy ass fashion show! 𝐒𝐡𝐨𝐰 𝐓𝐢𝐦𝐞 - 𝟓:𝟑𝟎𝐩𝐦
𝐎𝐰𝐧𝐞𝐫 𝐉𝐞𝐟𝐟 𝐓𝐚𝐩𝐥𝐢𝐧: "𝙳𝚁𝙴𝚂𝚂𝙸𝙽𝙶 𝙱𝙴𝙰𝚄𝚃𝙸𝙵𝚄𝙻 𝙶𝙸𝚁𝙻𝚂 𝙸𝙽 𝚂𝙾𝙿𝙷𝙸𝚂𝚃𝙸𝙲𝙰𝚃𝙴𝙳 𝙱𝙸𝚃𝙲𝙷 𝙸𝚂 𝙼𝚈 𝙶𝙾𝙰𝙻 𝙸𝙽 𝙻𝙸𝙵𝙴"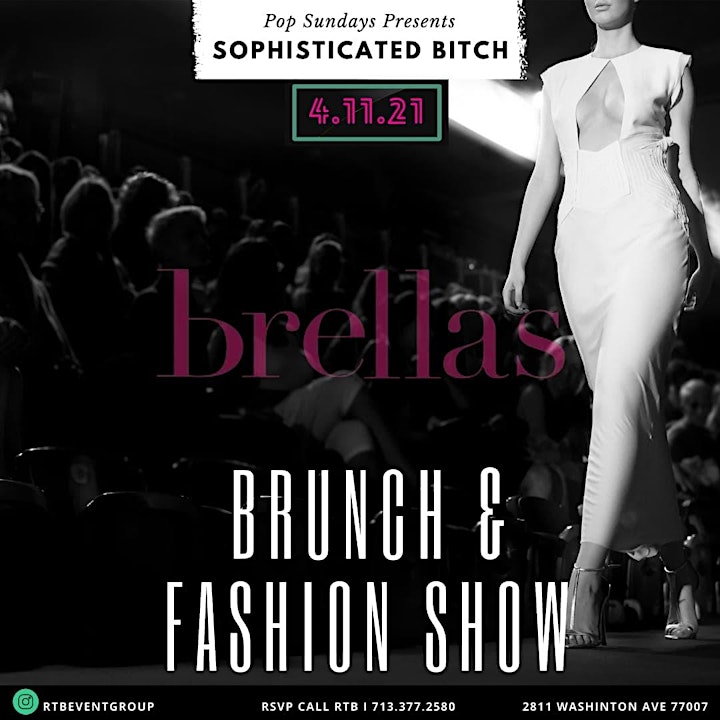 Brellas
2811 Washington Ave
Houston, TX 77007
Text 713.518.2132 for Reservations
#sundaypop #whatmakesyoupop
#sundayfunday #partyonthepatio
#placeofparty #sophisticatedbitch