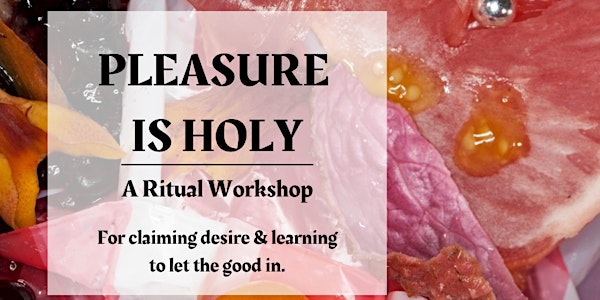 PLEASURE IS HOLY - A Ritual Workshop
A Ritual Workshop - For claiming your desires & learning to let the good in.
Refund Policy
Refunds up to 1 day before event
Eventbrite's fee is nonrefundable.
About this event
This space will be focused on connecting to land, body, other & spirit in ritual. PLEASURE IS HOLY - Emotions are Portals is the last part of a 3 part series. The series builds upon itself, however you do not have to come to all three to see benefit.
Pleasure has the power to connect us to one another. Yet, so many of us were taught to not show our pleasure in a myriad of ways. Pleasure is a human right that has been shut away to be felt only behind closed doors. Our emotions are a powerful connective force, yet many of us may struggle to find community around them. In this group, we will be entering into a ritualized space in order to explore the depths of our pleasure -- allowing what is ready to be transmuted or made aware of to do so without force or obligation.
This group is for you if you:
Are interested in cultivating reverence for pleasure as a foundational practice
If you grew up with cultural or familial messaging negating the importance of pleasure
Often find yourself disconnecting when experiencing pleasurable emotions/sensations
Would like ritual/somatic tools for being with pleasure
_________________________________________________
Single Tickets are $35.00
ALL WORKSHOPS ARE VIRTUAL.
- Pleasure is Holy (August 18th 5PST)
_________________________________________________
Teacher Bio:
Madison Nees is a human, counselor, guide, and facilitator. My practice focuses on the intersection of ecology, ritual and somatics. I have worked in the addiction and trauma treatment industry since 2015. My own journey includes healing from substance use, anorexia nervosa, loss of culture and self. When I began my journey, I did not understand that the pull to somatics was a call of my ancestors. I was being pulled to heal all the things my mother could not and ultimately lost her life avoiding. I was being pulled to feel the things my Grandmother had no language for.
My body knew the language however, and it spoke in illness, pains, aches and rage. It also spoke the language of held grief and aloneness. During this process, I discovered gifts hidden beneath these repressed emotions. These gifts were the sensations. The gifts were the rivers ofgrief leading me home to myself. They were also the intuition and creativity of my lineage. I always tried to "do" something with the emotions but my healing progressed the more I simply sat with them. Instead of trying to push them away, I wondered what would happen if I let them grow. They grew into my practice today.