EARLYBIRD applied. A $75.00 discount is available.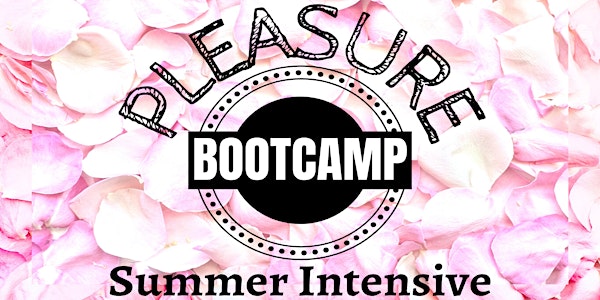 Pleasure Bootcamp Summer Intensive
Pleasure is our Birthright. We can integrate simple hacks and practices to majorly improve the quality of life. Ready for a change? Join us!
Date and time
July 17 · 10am - August 18 · 11am PDT
Refund Policy
Contact the organizer to request a refund.
Eventbrite's fee is nonrefundable.
About this event
32 days 1 hour

Mobile eTicket
Join the first Pleasure Bootcamp Summer Intensive!
A take-back-your-life infusion of self-love tools that empower you to live the life you want... and feel good about it!
This Pleasure Immersion is packed full of practical tools that help you shift from a life run by an Inner Critic to a life in the moment, in the body, where we can become more present, relaxed, and receptive!
Participants gain access to an expanded capacity for Pleasure.
This is a radical act in our society, a desperately needed transformation, because Pleasure is everyone's birthright, yet so few know how to experience it.
The Summer Intensive includes:
2 one-on-one Coaching sessions
10 Embodiment Classes (live and recorded)
10 Cohort Meetings (live and recorded)
Daily, ongoing support
Journaling Prompts
Body awareness reminders
Embodiment exercises
The intention of this course is to help participants
Reclaim the birthright of pleasure in every aspect of life!
Retrain the body so it can relax and receive
Receive the miracle of life
For millennia, those in religious, political, and cultural power have controlled the masses through a large-scale manipulation of human consciousness. This has produced a culture of confused and overwhelmed humans who are plagued with an Inner Critic. We are raised to be humble and "selfless," and to feel shame and guilt about our very existence.
In today's world, the ancestral inheritance of unprocessed trauma continues through most family lineages. On a societal level, we can easily see the manipulation still thriving in the capitalist mainstream that has us all believing we need lots of money and every product on the market to better ourselves.
...Is there a way out? HECK YES THERE IS!
We can learn to turn our focus inwards, to live inside our bodies, and to give ourselves the radical gift of ongoing, 24/7 PLEASURE!
What is Pleasure?
Pleasure is the opposite of pain (although we can find pleasure within pain!).
Pleasure is presence, mindfulness.
Pleasure is self-love and self-acceptance.
Pleasure is the ability to relax the internal space of our bodies (and minds).
Pleasure is slowing down, tasting our food, walking in a new way, breathing to connect with the body.
Pleasure is saying NO to the Inner Critic, giving it a swift kick in the pants (or better yet, an upgrade to COACH), and getting the negativity out of our psyches.
Pleasure is an experience, NOT an emotion.
Pleasure is a practice, a mindset, a lifestyle, that requires NO extra time and NO extra money! It's an inside job, and there's only one person who can get us there: OURSELVES!
Pleasure is NOT exclusive to sexuality. Pleasure is NOT for sale. Pleasure is NOT outside of us. It is in us, with us, and FOR us. Pleasure is ours for the taking, if only we will choose it.
In Pleasure Bootcamp, participants transform their relationship with the Inner Critic and consciously practice accessing the deep medicine of self-love through the simple—but easy to miss or forget—choice of continually orienting to Pleasure.
This course guides participants to:
Understand Pleasure and gain access to more of it
Improve our relationships to food
Develop a deeply loving and honoring relationship with our bodies
Come down out of the head, and start living inside the body
Find Pleasure even in the most challenging emotions
Unlock our deep creativity and connection to life and spirit
Come immerse yourself for an entire month in this life-affirming, body-affirming, joy-producing, pleasure-inducing, manifestation of your higher self training!
Curious? Schedule a discovery call with Amy: amypalatnick@gmail.com
Prerequisite: before Pleasure Bootcamp begins, all participants are required to do the Inner Critic workshop: https://youtu.be/xPvfOVEBnTA (recorded)
***DO NOT SKIP the actual making of your inner critic! You will be introducing it (including its name) in the first class!
LIVE Zoom CLASSES
July 17-August 18
1.25 hour classes, 4 days/week (M/Tu/Th/F)
10-11:15am PST
(All classes will also be recorded)
Plus, each participant gets two 1/2 hour coaching sessions!
Let's make your dreams come true!
What people are saying about Pleasure Bootcamp:
"Pleasure Bootcamp changed my life. I received such deep openings to natural pleasures and genius recipes of well-being that I now gift to myself every day... sensuous, soulful ways of walking, breathing, moving, eating, being with feelings. Ahhhhhh so grateful. HIGHLY RECOMMEND"
"Yesterday I felt a huge shift, and I'm  sure it's related to all the awareness I've developed during Pleasure Bootcamp. I am now walking tall, shimmying my chest and shoulders, smiling and laughing at everything! Thank you so much!"
"So much in today's Pleasure Bootcamp message is deeply helpful, meaningful and appreciated!"
"It was so great. I'll advertise it as much as possible. The month went by so fast! I got so much out of it, and I fully recommend it!"
"Wow...fantastic. Seriously it was amazing, I loved the first session. I didn't know what to expect but had a strong intuition, which is why I decided last minute to come on board and I'm so glad I did!"
"I tend to think that there's never enough time, and I saw with this course how much that belief is not true. Pleasure is something we can work into everything that we do, it's just about remembering to do it. That's gold. So many of us have patterns we've been living in our whole lives, it just takes some practice to shift them. I'm so grateful when I can remember to come back to it."
"I really enjoyed the daily videos. I love your style and presentation. You're so authentic and relaxed."
"You've put together something really great where people can learn at their own pace, and go deeper as they're ready."
"I skipped another class to be here, and I'm so glad I did. It was totally worth it."
"I loved how available Amy was to us, all month long."
"I would say to new people: Get ready. This is going to be intense, and it's going to be great."
"You made it all work. The class was really well-managed."
"I felt privileged to meet the amazing people in this class."
"This class, and this group, helped me feel comfortable bringing all parts of myself, and realizing that I didn't need to feel 'happy' to experience pleasure. What a gift!"
"I learned that I can nurture myself in the in-between moments, which can fundamentally change my whole life!"
"I really liked the part of this class where you talked about how pleasure can be found in anything, even things we usually think of as negative. I discovered that pleasure is the free-flow of energy. When energy is flowing freely, there is pleasure. If I can open to grief and surrender, there is pleasure in the grief. It's about removing the ideas and the resistance. Even crying and screaming and wailing—we get to love so deeply, and so powerfully."
"My inner critic transformed into my cheerleader! If I can lean in towards the messy, scared parts of myself, that is where the gold is, the highest potential for my growth. My inner critic reminds me to really look at that part of myself, that's where the medicine is. The things we think of as struggles have so much power."
"I wish I had some constructive feedback for you, Amy, but I don't think I do. Your delivery was such a gift, the way you are able to offer what's moving through you in such a present way. Your grounded and centered way is so rare. You teach by transmission, it's really refreshing. The class was really well organized; you did such a beautiful job."
The FREE Inner Critic Workshop is a prerequisite for the Bootcamp. Set aside 1.5 hours and grab some art supplies (literally, anything will do). If you need help or guidance, email Amy: amypalatnick@gmail.com
DO NOT SKIP the actual making the critic part! The critic needs to be 3-D, and in making it, keep going until you actually feel that it is done. You will be introducing your Critic (and sharing its name) to the cohort in the first class.