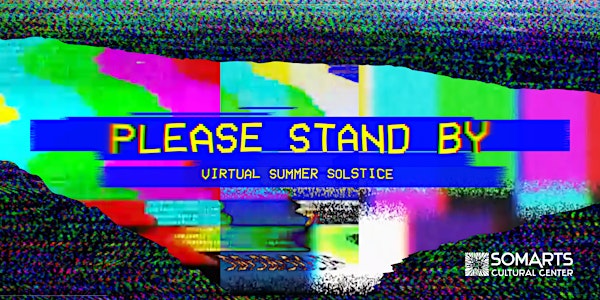 Please Stand By Virtual Summer Solstice
✨⚡️STREAM THE EVENT BY VISITING TWITCH.TV/SOMARTS✨⚡️
Refund Policy
Contact the organizer to request a refund.
About this event
✨⚡️STREAM PLEASE STAND BY: VIRTUAL SUMMER SOLSTICE ON SATURDAY, JUNE 20, 6:30PM! ✨⚡️
SOMArts' Please Stand By: Virtual Summer Solstice affirms that the fight for a more just and equitable future doesn't stop when we are sheltering in place. This pandemic has revealed the systemic failures that continue to disproportionately impact communities of color. Now, we are witnessing people across the world protest for George Floyd, Breonna Taylor, Tony McDade, Nina Pop, Ahmaud Arbery, and countless other Black lives violently stolen by the police and white supremacy.
In lieu of fundraising for SOMArts, attendees are encouraged to donate directly to the Please Stand By performers throughout the program, and any funds donated to SOMArts during the event  will be distributed  to:  Black Lives Matter and Transgender Gender-Variant & Intersex Justice Project.
Hosted by SF nightlife personalities Yves Saint Croissant and LOL McFiercen, this virtual event features the midnight monsters of Creature, Oakland collective MACRO WAVES, and multidisciplinary artist Lukaza Branfman-Verissimo. DJ collective and mutual aid resource network We Are The Ones will be spinning a genre-defying set. Headlining from Los Angeles is Sister Mantos, whose psychedelic blend of Latin beats, funk rhythms, and punk attitude imagine utopias free of war and oppression.
ACCESSIBILITY
SOMArts will be providing ASL interpretation and closed captions throughout the evening program
STREAMING LINK
PERFORMERS
Sister Mantos
Creature
MACRO WAVES
Lukaza Branfman-Verissimo
DJ
We Are The Ones
HOSTS
LOL McFiercen
Yves Saint Croissant
SPONSORS
Thank you to Facebook Art Department for sponsoring #PleaseStandBy Virtual Summer Solstice