Description
Please Google Ukraine written and performed by Artem Yatsunov
Directed by

Patrice Miller
Ukrainian-born, Jersey-raised, Brooklyn-based nomad Artem Yatsunov visits his homeland after the break out of the Ukrainian Civil War. Along the way he meets civilians and rebels, mothers and sons, human animals and teenage monsters, all of whom skew his "Americanized" view of foreign wars. This is the kinda true, slightly inaccurate, mostly made up and generally genuine story of highway hijackings, uncontrollable revolutions, broken families, and vodka. Previously seen at One Catches Light Festival X Oye Group & Exponential Festival, Manhattan Early College Academy, and American AF Festival.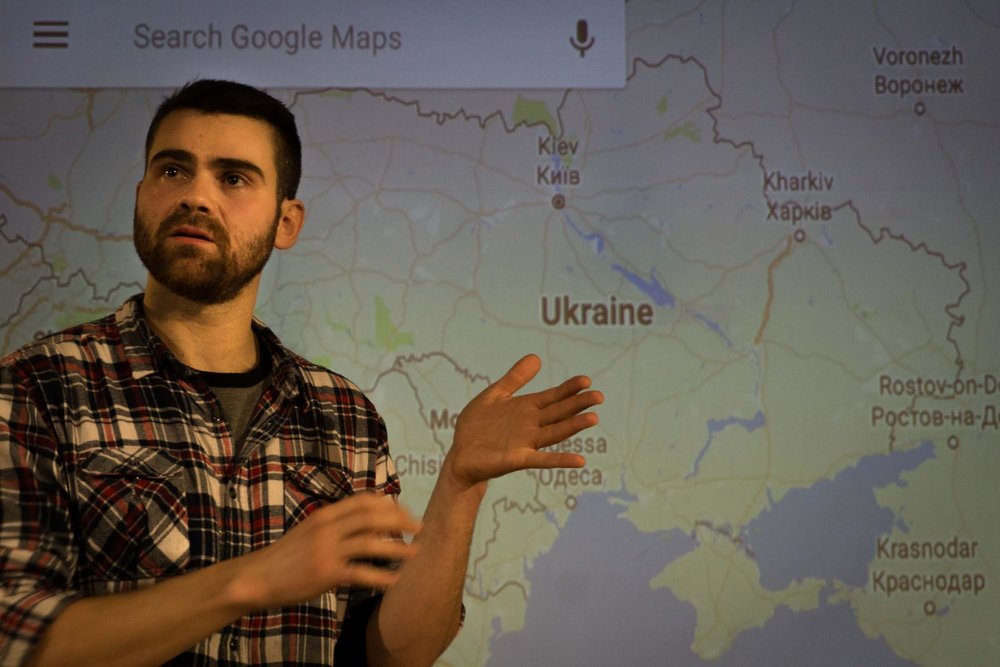 Photo Credit:

Aaron Radiosilence Jaker
Artem Yatsunov - Writer/Performer
Artem Yatsunov is a Ukrainian-born, Jersey-raised, Brooklyn-based theatre director, storyteller, writer and educator, creating theatrical experiences since the mid-2000's for both theatre fans and "people who mistakenly think they don't like plays." Frequent collaborators: The Oye Group, NY, and StrangeDog Theatre, NJ. Teaching residencies: Two River Theater, Creative Arts Team, Town Hall, Stella Adler Studios, School For Excellence at Bronx Morris Campus; Writopia Labs NYC, Luna Stage Theater, and the Playwrights Theater of NJ. Artem is the writer/performer of Please Google Ukraine which has played at JACK, New Ohio Theater, Manhattan Early College Academy HS, and upcoming: The Tank, June 2018. Various Directing credits: Oye For My Dear Brooklyn (Abrons Arts Center/Under The Radar/The Performing Garage), Last Night At The Palladium (Associate Dir; 3LD), Growing Into My Beard (Tank, JACK, Minnesota Fringe, Philly FringeArts,, Horse Trade), Basic Help (Frigid Festival), Tilt The Unlit Candle (Luna Stage), Omnivores (Playwrights Theater of NJ). Artem holds a BFA in Theater from Montclair State University.
Patrice Miller - Director
Director-choreographer Patrice Miller is best known for her interdisciplinary performance making. Most recently, she directed This Joint is Jumpin at The Other Palace, London. Some of her critically acclaimed collaborations include directing Mad Jenny's Love und Greed (Pangea; Dixon Place), choreographing Paul Auster's City of Glass (dir. Edward Einhorn, New Ohio), choreographing Vaclav Havel's The Pig, or Valcav Havel's Hunt for a Pig (dir. Henry Akona/3-Legged Dog), and co-creating with Edward Einhorn Money Lab which featured her dance-theater piece Dead Cat Bounce (The Brick, HERE Arts Center). Her installation work includes a number of projects with the Institute of Psychogeographic Adventure including work for The Brooklyn Museum, Prelude/CUNY Grad Center, and SUNY Stonybrook; Steve Valk and Michael Klein's COIL piece Excavation: Martha Graham Company at Westbeth; couture-fashion installations for NYC Fashionweek 2008 and 2009. She was the director of performance for 571 Projects Arts Gallery and will next be a PASS Artist in Residence at Snug Harbor Cultural Arts Center.
---
Please Google Ukraine is apart of the 13th Annual The ONE Festival. Each time slot will have two shows. Below you will find the date and show this play will be performing with.
Monday April 23rd: BRAVE LORD written and performed by Eric Perez Dominque
Friday April 27th: BURNT AT THE STEAK written and performed by Carolann Valentino
Sunday April 29th: HOME written and performed by Nancy Ma
NO REFUNDS/NO EXCHANGES