Description
Playing Lean Facilitator Training
Teaching Lean Startup can be challenging. That's why we made Playing Lean in the first place! With an entertaining game to drive learning, the process is more engaging and the lessons last for longer.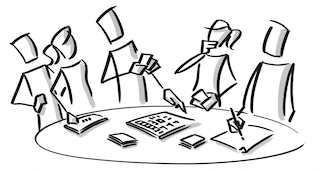 Train the trainer
Our goal is for everyone to be able to buy a game and play it with friends and colleagues. Organising full workshop may be a different matter. Unless you already have a setup where Playing Lean fits in nicely, you may consider attending an official Playing Lean Facilitator Training.
You see, we now have years of experience using Playing Lean at workshops and conferences all over the world. Wouldn't it be great if you could use our experience to improve your own facilitator game?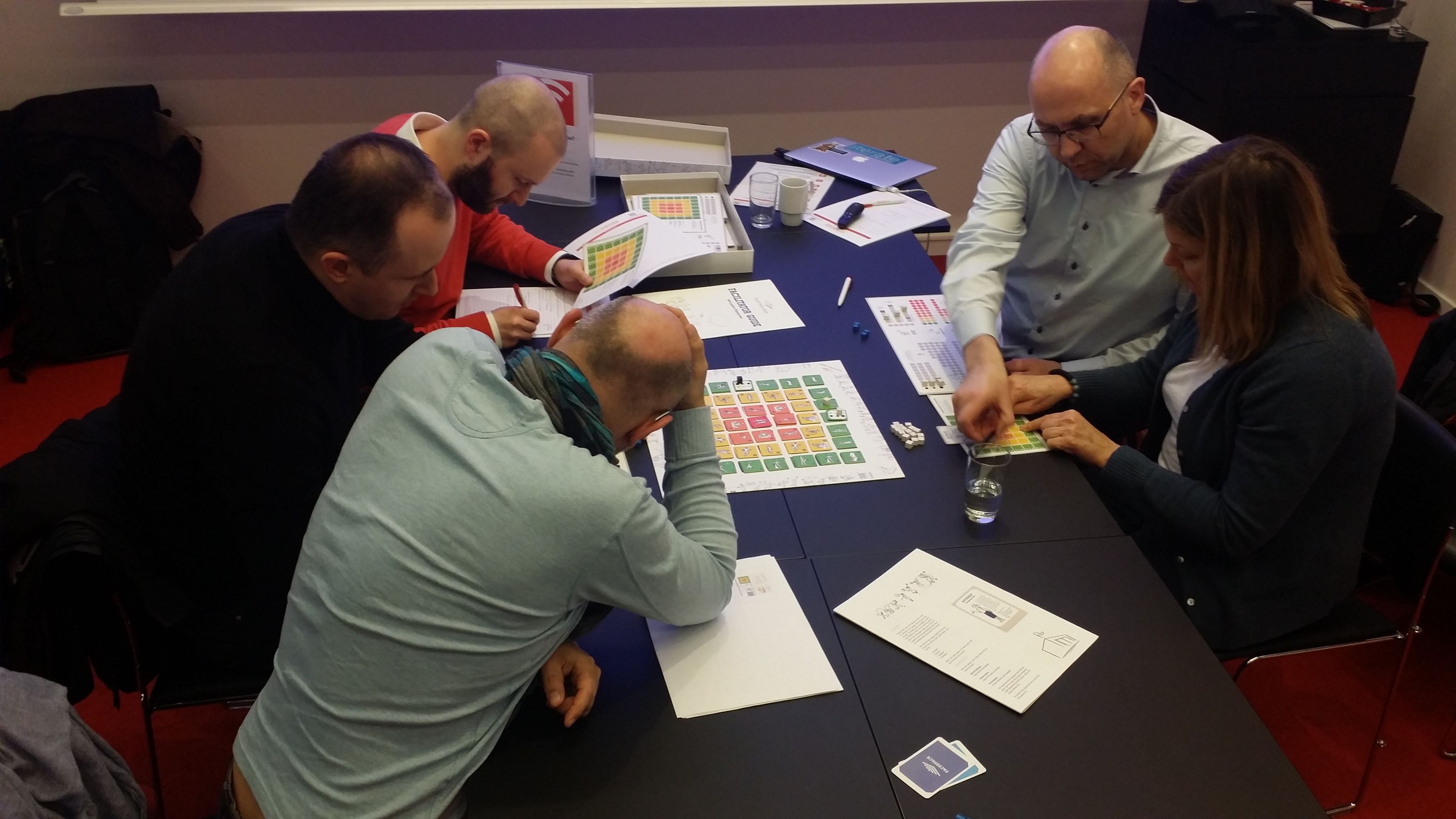 We will give you all our secrets, including how to:
Introduce Lean Startup before starting the game, using the official set of slides that you will get access to. This includes input on how to adapt the presentations to your context, the player's skill levels and the time you have available.

Make attendees focus on learning from the game as well as playing it. This is harder than you might think! We will tell you how to set up the table, how to get attention and how to balance between fun and education. We'll even give you the stories that we use to make the experience great!

Lead the retrospective that follows the play-through, including different options on how to get the most of the post-game experience. We also add in exercises you might consider doing after playing the game.

More than that, we'll let you be the facilitator for a while and give you direct input on your own style!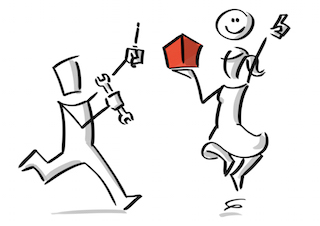 Agenda

09:00 – 09:30 Playing Lean Introduction
09:30 – 09:45 Coffee break
09:45 – 11:15 Playing Lean Workshop
11:15 – 11:30 Coffee break
11:30 – 12:00 Facilitation Theory & Tools
12:00 – 13:00 Lunch break
13:00 – 15:00 Facilitator Hot-seat
15:00 – 15:30 Coffee and retrospective
15:30 – 15:40 Game Retrospectives
15:40 – 15:50 Playing Lean Facilitator Club and Diplomas
15:50 - 16:00 Q&A
Facilitator Club
Attendees also get to join the Facilitator Club, an online community on Slack where facilitators can discuss workshops, opportunities and everything Lean Startup related. Club members get nice perks such as:
Access to workshop materials (presentations, templates, visuals, etc).


Access to marketing materials (product descriptions, flyers, brochures, etc).

Marketing support through our channels.


20% discount on games bought at playinglean.com

You'll be featured in our newsletter and our social media!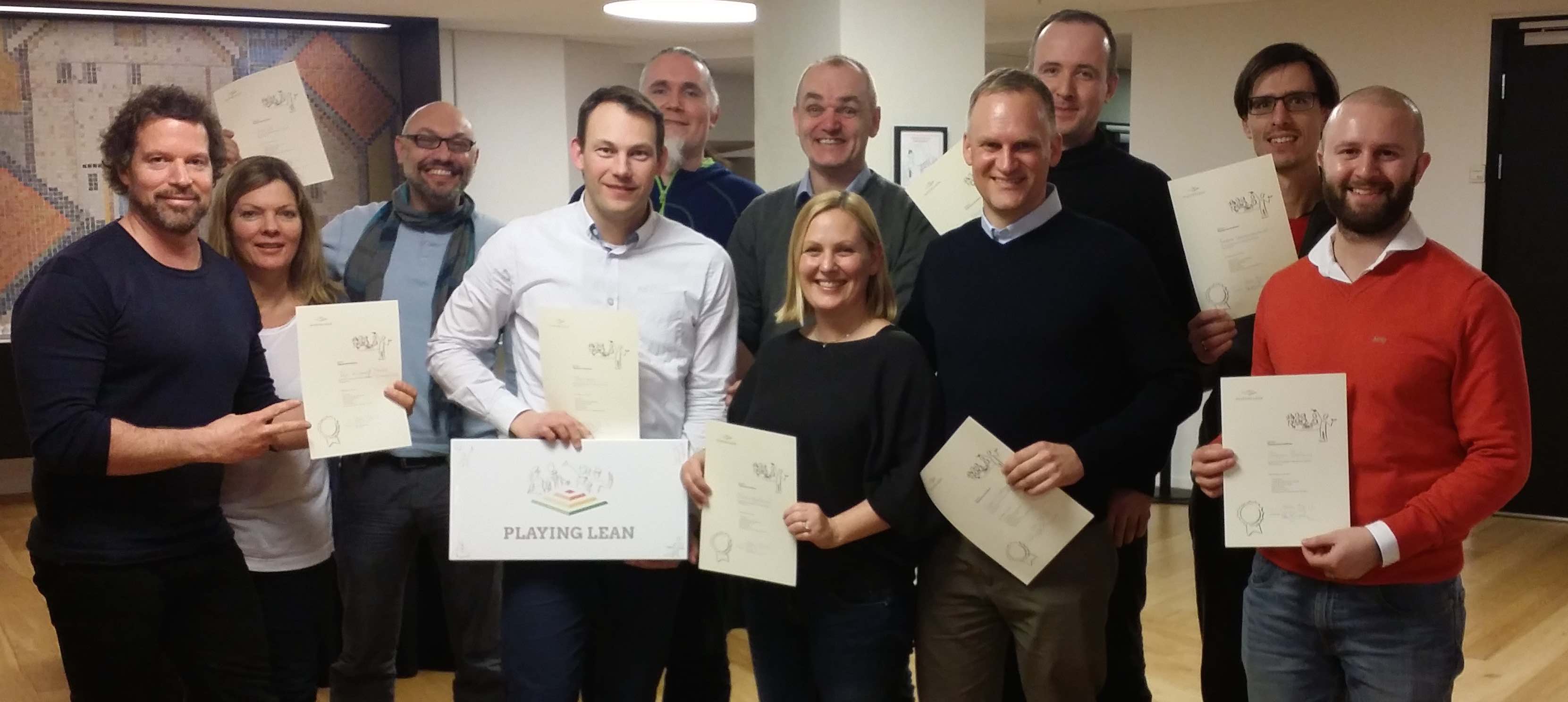 Early Bird Specials

Since this is our first time visiting Australia we prepared 510 AUD worth of bonus items for early birds! Buy the ticket before 15 March 2017 to get the following bonuses:

Brand new Playing Lean Scenario Deck - Ridesharing (50 AUD)


A 45 minute Q&A Skype session with Simen or Tore on how to get the maximum out of Playing Lean for your specific use-case (300 AUD)


A 30 minute Skype session with Bruno on how to use Playing Lean in a Startup Accelerator (160 AUD)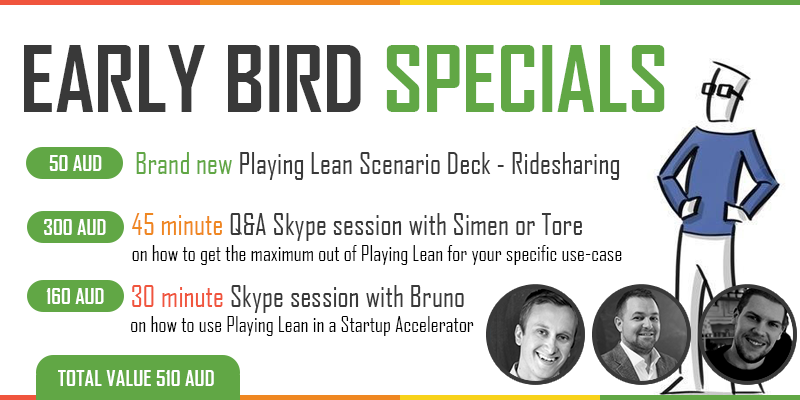 By signing up for this workshop you also sign up for the Playing Lean newsletter.