Description
A live, personal and collaborative inquiry into shame, spontaneity, freedom, self consciousness and our inner critic.
A two day experiential workshop led by Steve Chapman and Simon Cavicchia that uses a variety of creative experiments to help us get to know and better understand our inner critic and the effect it has on realising our full creative potential.
Participants will be invited to participate in a variety of Gestalt Psychology techniques, creative practices, masks, improvisational experiments, mindfulness practices and a variety of other methods to get to know and better understand their inhibiting voice and other ways in which they inhibit their spontaneity.
This workshop is limited to a total of 16 attendees.


To find out more, watch Steve's TEDx talk on learning to dance with the Inner Critic here.
NOTE: This work can be extremely rewarding, liberating and challenging. It requires a degree of resilience and capacity for self support in the face of inner criticism which can be painful to see and experience. We expect participants to be able to support themselves in the face of these challenges and would like to invite you to consider your levels of support before signing up for the programme. If you would like to speak to Steve our Simon before signing up then please contact us.
---
About the workshop facilitators

Simon Cavicchia: Simon is a coach, executive coach, organisational consultant, supervisor and a Gestalt psychotherapist. He has consulted at all levels in organisations working with individuals and groups. He Is currently Joint Programme Leader of the MSc/MA in Coaching Psychology at the Metanoia Institute. He is particularly interested in integrating relational and psychodynamic perspectives on organisational life and consulting, and is committed to continually researching how these perspectives can be used to inform effective practice in organisational settings. He supervises consultants and coaches, and has a psychotherapy practice in London.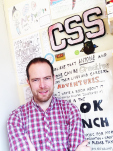 Steve Chapman: Steve is an independent change and creativity consultant, speaker and writer. He specialises in crashing together ideas from the complexity sciences, Gestalt and other more unconventional creative sources to help individuals and organisations navigate their way through change in a way that is more responsive, lively and innovative. He holds an MSc with distinction in organisational change and is visiting faculty on the Ashridge Business School and Metanoia Organisational Development MSc programmes. Steve has trained in gestalt with Simon Cavicchia, Gaie Houston, Professor Bill Critchley and The Gestalt Centre. He has also trained in improvisation with Keith Johnstone (Loose Moose, Calgary), John Cremer (The Maydays, Brighton), Neil Mullarkey (The Comedy Store, London) and the late Jason Chin (iO, Chicago) and in mask work with Steve Jarand, Trestle Theatre and Strangeface Theatre. He is the author of "Can Scorpions Smoke? Creative Adventures in the Corporate World."
===============================================================
CANCELLATION POLICY
As numbers are limited on this programme we have in place a cancellation policy. Full refunds will be given for cancellations made 6 weeks before the event. 50% refunds will be given for cancellations made between 2-6 weeks before the vent. No refunds can be given for less than 2 weeks notice of cancellation The option to carry forward your ticket to a future event wil be given to any cancellations.