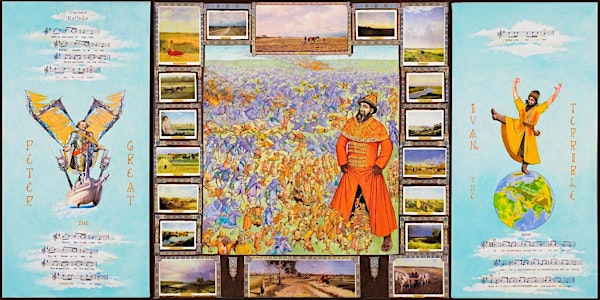 PLAYGROUND OF THE AUTOCRATS: Artist conversation with Anne Bobroff-Hajal
A conversation with artist Anne Bobroff-Hajal whose historically-informed polyptychs are currently on view at the Museum of Russian Icons
About this event
Playground of the Autocrats, an exhibition by contemporary artist and historian Anne Bobroff-Hajal, draws from the visual languages of iconography and graphic art to create a large-scale satirical commentary on Russian socio-political history. On view October 4, 2020–January 24, 2021 at the Museum of Russian Icons in Clinton, MA, Bobroff-Hajal's paintings form stunningly complex triptychs and polyptychs that represent a secular art tradition directly influenced by orthodox iconography, animation, political cartoons, graphic novels, and icons–all of which tell stories in pictures and words.
This event offers the opportunity to hear the artist talk about her creative process and converse with her about the images and ideas that informed the works currently on view at the Museum of Russian Icons.
This is virtual event with Anne Bobroff-Hajal on Zoom, moderated by BRAI Executive Director, Anna Winestein. The Zoom link will be emailed through Eventbrite to registered attendees 24 hours and 2 hours before the start time of 5:30 pm. Registrations received after 3:30 pm will receive the links via email from BRAI shortly before start time. Additionally, we will share links to a video presentation by Anne breaking down the conception and execution of one of the polyptychs to watch before the conversation (if you wish), and other materials so you can get a sense of the works.
Anne Bobroff-Hajal has drawn on animation techniques, icons, and formats such as graphic novels to tell stories of Russian geography and history from Ivan the Terrible and Peter the Great to Stalin and Putin. Satirical commentaries on how Russia's ruling elites have historically taken advantage of their unique geographic situation to amass and maintain power, she means for her art to honor and serve the dispossessed and forgotten.
Says Bobroff-Hajal of her work, "My extensively researched satirical polyptychs about Russia...revel in the crazy-quilt intersection of art with academic history and geography."  
A resident of Westchester, NY, Bobroff-Hajal has a Ph.D. in Russian history and is the author of the scholarly volume Working Women in Russia Under the Hunger Tsars.  Her artwork has been widely exhibited and is held in private collections internationally.  Most recently, Columbia University's Harriman Institute for Russian, Eurasian, and East European Studies had a solo exhibit of her art about Russia titled "Peasants, Clans, and Effervescent Absolutists!" 
Ballets Russes Arts Initiative is a Boston-based non-profit cultural organization that fosters international creative exchange in the visual and performing arts and film, and connects communities in the US and Eurasia. BRAI carries out public programs throughout Massachusetts, the East Coast and internationally, and BR360 Member programs in the Boston area.