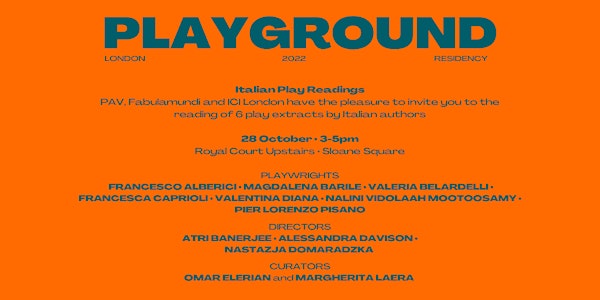 PLAYGROUND - Italian Play Readings
PAV/Fabulamundi and the Italian Cultural Institute London have the pleasure to invite you to a reading of 6 play extracts by Italian authors
When and where
Location
Royal Court Theatre 50-51 Sloane Square London SW1W 8AS United Kingdom
About this event
The Italian Cultural Institute London, PAV and Fabulamundi have the pleasure to invite you to a reading of 6 play extracts by Italian authors on Friday 28th October from 3.00 to 5.00 pm at the Royal Court, Sloane Square, London.
The reading is part of PLAYGROUND, a programme of encounters between Italian playwrights and UK-based creatives.
Over the past two years, R&D workshops and rehearsed readings were held online, facilitating meaningful exchanges across computer screens. However, after two years of remote work, we were finally able to invite the 7 Italian playwrights, who took part in PLAYGROUND workshops, to travel to London for a week. During this time together, director Omar Elerian and scholar-translator Margherita Laera (University of Kent) will facilitate networking opportunities between the Italian contingent and local theatre-makers. The week will culminate in a public sharing of selected extracts from the plays in translation, directed by 3 London-based directors and featuring a local cast of 6 actors.
PLAYGROUND is a project produced by the Italian Cultural Institute in London and PAV/Fabulamundi.
SCENES SELECTION:
BIDIBIBODIBIBOO by Francesco Alberici, translated by Flora Pitrolo
GENTLEMAN ANNE by Magdalena Barile, translated by Margherita Laera
TIPPING POINT written by Valeria Belardelli and Francesca Caprioli, translated by Belardelli, Caprioli and Margherita Laera
GRANDE SPAVENTO by Valentina Diana, translated by Margherita Laera
BLEACH ME by Nalini Vidoolah Mootoosamy, translated by Margherita Laera
CARBONIO by Pier Lorenzo Pisano, translated by Atri Banerjee