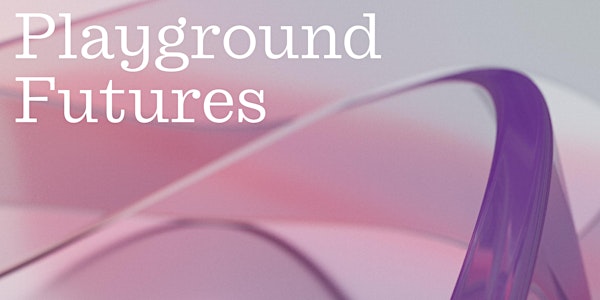 Playground Futures
The power of Futures Design – Envisioning & bringing about ambitious change by prototyping alternative futures
Date and time
Wed, 8 Feb 2023 16:00 - 18:00 CET
Location
Kontrapunkt Nikolaj Plads 2 4. sal 1067 København Denmark
About this event
Playground Futures
Jumping into uncertainty with the power of speculation and design
The future may be many things, but predictable isn't necessarily one.
We're inviting you for a two-hour session addressing the future and identifying probable, plausible and possible outcomes. In light of the accelerating global crises, we need to challenge all possible futures – and this we know for sure as a current reality for every purpose-driven company.
At Kontrapunkt, we believe design has the power to do this. We call the practice Futures Design.
For this enthralling seminar, we've invited the most dedicated futurists to inspire you with their work and perspectives on making the unpredictable future tangible.
Relying on design to provide us with crucial questions about the possible futures enables us to discuss specific scenarios' desirability and, even more critically, prototype new ones.
What happens if we take a proactive approach towards the future and make it our playground?
This event is in-person only.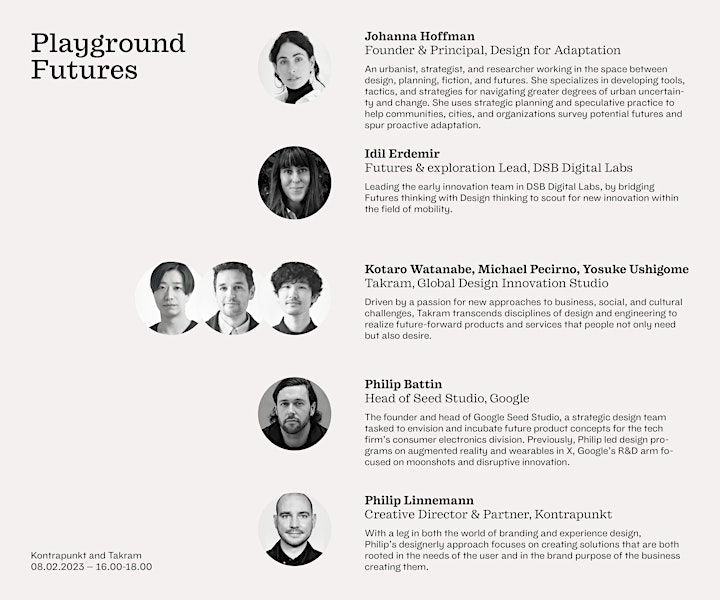 Agenda
15:30: Arrival 👋
Please make sure to arrive latest 15 minutes before the event so we can start the event on time
16:00: Opening remarks
The future is our playground, Philp Linnemann
16:10-17:40: Talks 🎤
Navigating Uncertainty with Speculative Futures, Johanna Hoffman // Design for Adaptation
Creating value by integrating futures thinking in a big corporation, Idil Erdemir // DSB Digital Lab
Narrative as a Vehicle of Imagination, Kotaro Watanabe, Michael Pecirno, Yosuke Ushigome // Takram
Rehearsing the Future , Philip Battin // Google Seed Studio
17:40: Panel Discussion
18:00 - 19:00: Networking 🤝 🥂