About this Event
'Playground for Adults' is an epic, social and hilarious afternoon full of fun games that will make your inner child go wild! 🐒As kids, the opportunities for play were endless. As adults, we rarely get to play and some of us even forget how to. Well, adults deserve play too! This is why:
• Relieves stress & boosts creativity
• Improves relationships & your connection to others
• Keeps you feeling young & energetic
• It's exercising without even knowing it ;)
• It's FUUUUN!
🎈What to expect? 🎈
Expect to take part in a series of fun, curated group games including childhood classics, competition games, chasing games, random games.. pretty much all types of games! Once we finish the games we'll split you up into teams (you can come with your own team if you want) and hand out the challenge list for the scavenger hunt. You'll have about 10 challenges to complete around the city! Most challenges will involve some sort of interaction with strangers. The first team to finish wins a prize! The slowest team also wins a prize. The team with the coolest name might also win a prize.
All this in the company of an awesome group of around 25-30 people that will quickly become your friends. Expect laughter, good vibes and some real human connection! Some games are somewhat physical so make sure to bring comfy shoes and sporty clothing.
😎What does it include? 😎
• 3h+ hours of planned games & scavenger hunt guided by a "play coach".
• Some drinks (juice, water) and nice snacks (fruit, cookies, nuts, chocolate)
• Access to the Berlin Play Group
• Infinite laughs & meeting other awesome 'players'
18+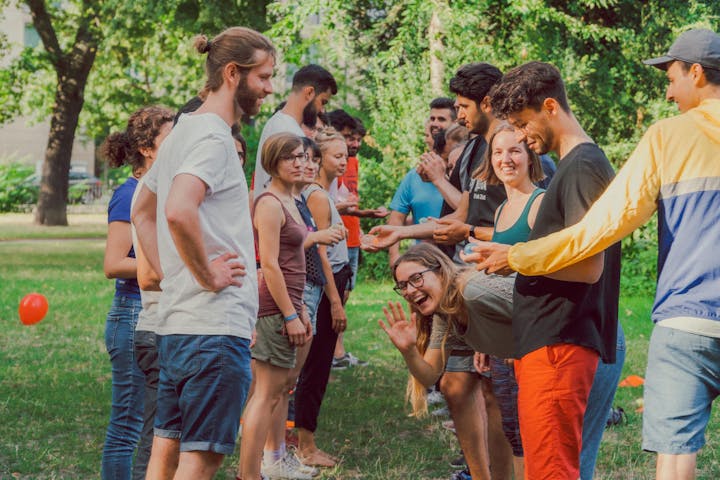 FAQs 🗣
What should I bring into the event?
Comfy shoes/clothing and your best smile!
I'm coming alone, is that ok?
That's totally fine, most people come alone!
Can I bring friends?
Of course :)
Do I have to bring my printed ticket to the event?
No way Jose.
Is it ok if the name on my ticket doesn't match the person who attends?
Yup, that's fine
The city is our playground, come out and play! 🎈