Bring a picnic, enjoy a free concert and face painting, and learn about actions to take to support a livable climate.
About this Event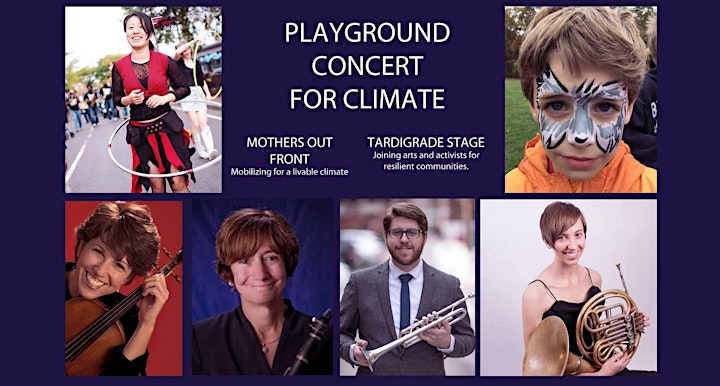 Tardigrade Stage is joining with Mothers Out Front to throw a Playground Concert for Climate. Mothers Out Front members will be sharing their personal stories and ways for people to get involved.
PLEASE REGISTER by getting a free ticket. Help us plan for crowd size, notify you of updates to the lineup, and be in touch if it looks like rain.
PROGRAM (in progress: check website for updates)
Face painting: Shelby Meyerhoff, face and body painting artist
Hula hoops: y.t. ("yours twirly") from the Boston Hoop Troop
Henna art: Mary Crisman
Viola and Clarinet Duo: Rebecca Strauss, Aline Benoit
Solo Viola: Alexander Vavilov
Andromeda Brass Quintet (in trio form): Marina Krickler, french horn. Ryan Noe and Kathryn Driscoll, trumpet
Children's songs with voice and guitar: Mary Crisman
Mothers Out Front activists: Nili Pearlmutter, Andrea Winslow, Erin Taylor, Patricia Nunez
Free gift certificates: Metro Gnome Studio has donated three one-month certificates for Suzuki Babies (early childhood) music classes - we will give them away at the event!
Volunteers:
Gregory Wong, photography
Dan and Marilyn Brielmann/e-Awakening.com: videography
Donations to Mothers Out Front are welcomed. For those who would like a guideline as to amount, donate the cost of a concert ticket for each person attending. Donations will not be collected at the event; all donations should be submitted directly to MOF online.
Want to pitch in?
Tardigrade Stage is a concert series joining arts and action for stronger communities, founded by pianist Barbara Lieurance.
Mothers Out Front is mothers, grandmothers, and other caregivers coming together to make climate change an issue that our leaders can no longer ignore.
We are building a powerful grassroots movement to ensure a swift, complete, and just transition away from fossil fuels and toward clean and renewable energy. We need your help. Together, we can create a healthy climate today and a livable future for all children.