Playcrafting NYC Winter Expo

Thursday, January 29, 2015 from 6:00 PM to 9:00 PM (EST)
Event Details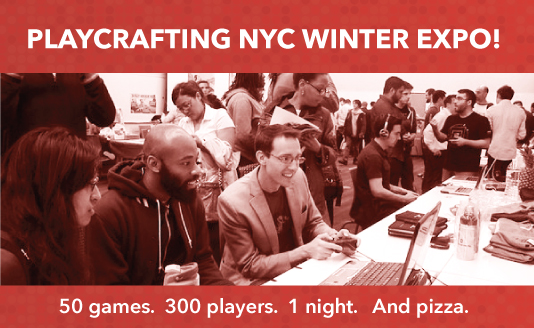 Our Playtest Night has evolved: Join us for our Winter Expo on January 29th at Microsoft!

Fifty game developers will be showing off their latest games one-on-one to a crowd of 300 people. For developers, this is a great opportunity to show off their games (finished or unfinished) and get direct feedback from players. For everyone else, it's a unique opportunity to try out the biggest collection of games made in and around NYC all in one place. Each game gets its own booth as players meet the developers and try out their games. Throw pizza into the mix and you get Playcrafting's biggest event!


---

For Attendees:
You must register on Eventbrite. Please include your first and last name when you RSVP. Your name must be on the list to get past building security. Also, all guests must RSVP on their own. See you all there!

For Developers:
We're still accepting game submisions. Please fill out the online form for your game to be considered for entry. We'll reach out to confirm inclusion. Also, all games included in any of our Expos or Demo Nights in 2015 will be entered into our first-ever game awards at the end of the year!
 
---

Featured Games:

Arcade Basketball Real Cash Tournaments by Toneaphone LLC
Brain and Brawn by Rohit Crasta & David Wallin
Bunny Love by Computer Lunch
Burn It Down by Tapinator
Casino Baseball Game by Sean Sanchez
Cory by Mokuni LLC
Deck of Rhymes by Carmine Guida
Demons with Shotguns by MindShaft Games
Don't Touch The White Zero by Canned Bananas
Elbow Room by Deep Dark Hole
Endanger! by Amerikids USA
Explore! by Horizon Games
EXPOSURE by The Sheep's Meow
Exuent Omnes by Lilavati
Flamingo! by Radiostatic
Flash Dive by Seth Byrd & Ben Reynolds
FlyBros by Bright Brothers
Infinite Orbit by New Beings
Justice Royale by Zapling Studios
Kami Kami by Robotic Potato
The Lamb of Wall Street by CorpOnline
Liege by Coda Games
Mage's Initiation: Reign of the Elements by Himalaya Studios
Match City by Digital Possum
Mushroom 11 by Untame
Musket Smoke by snowpunch
Never Go Home by Goodnight Games
Off-Peak by Cosmo D
QatQi Re by ZWorkbench Inc.
Shoebox Showdown by Leonard Li
Skyhook by Megastorm Games
Sombrero by PixelMetal
Spirit Realms by The Raven & The Widow, LLC
Sticker Swap by Simple Machine LLC
Synthesis by Hart Laboratories
Treasure Adventure World by Robit Studios
Trivia College by Winnergy Apps
Vidar by Dean Razavi
Zarvot by SnowHydra Games 

More to come! We'll be updating the list daily.
 
---

Visit us at www.playcrafting.com | Tweet us at @PlaycraftingNYC



---

This event is in partnership with Hub by General Assembly. Hub helps you discover the best events in tech, business, and design. All events featured on Hub are vetted by community curators and tailored to your career goals. We're thrilled to have Playcrafting's NYC Winter Expo featured on Hub. Click here to download the iOS app!
When & Where

Microsoft
8th Ave. between 41st and 42nd (11 Times Square)
New York, NY 10019


Thursday, January 29, 2015 from 6:00 PM to 9:00 PM (EST)
Add to my calendar
Organizer
Connect. Collaborate. Create. The industry's a tough game. We've turned it co-op. Learn to make games hands-on and in-person from pros in our classes and courses. Discover games at our industry events.

Playcrafting provides you with the tools to get yours off the ground--through tailored educational events, dynamic networking opportunities, and classes to help you crack the code to gaming success. From design to programming to business and beyond, your skillset's about to get even sharper. Get a leg up from our network of pros in powering up your product, impressing the industry, and bringing your A-game to a whole new level.