Description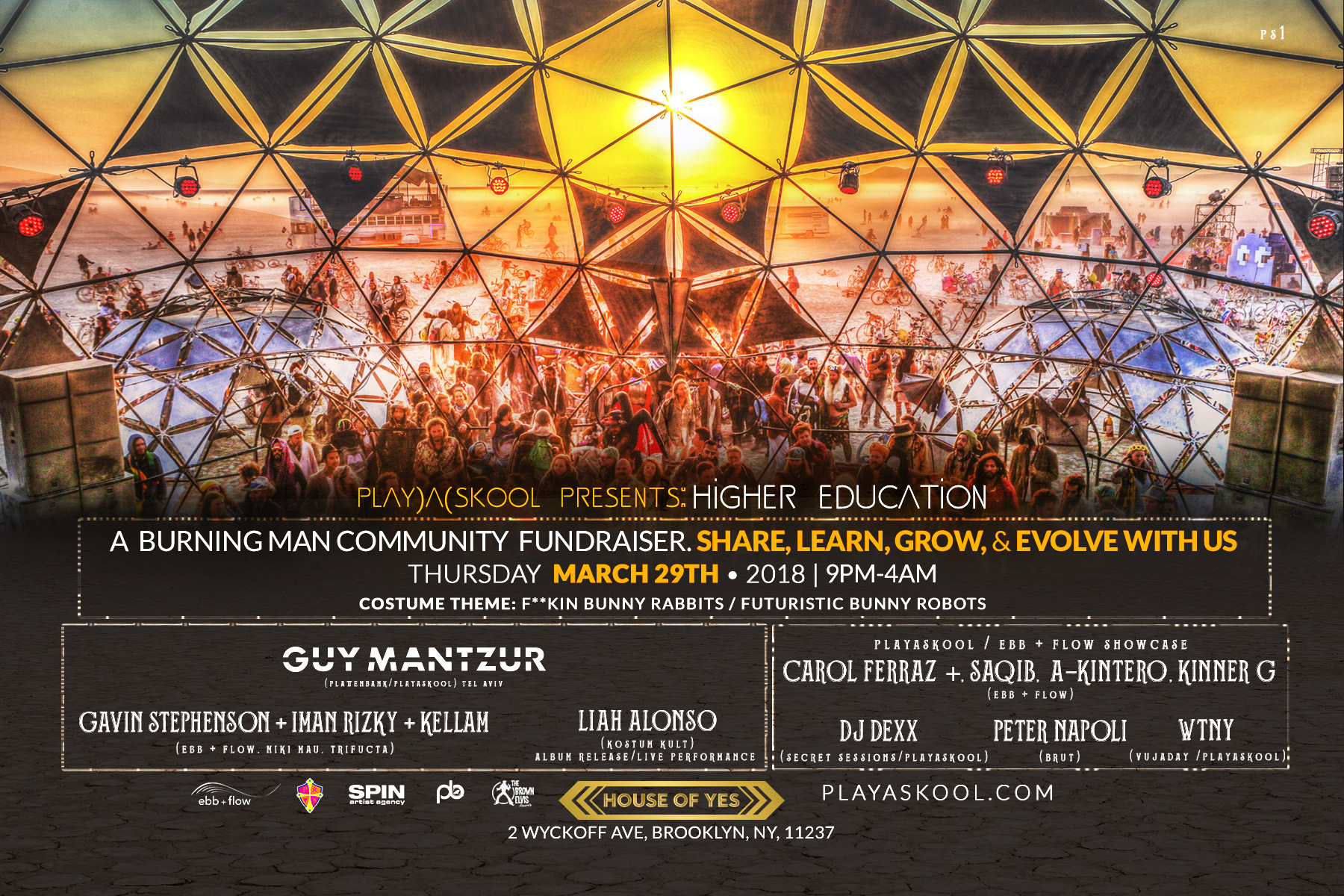 Spring Break is here Skoolers so why not put on your bonnet and bunny ears and join us for our Funkin' Bunny Robots EXTRAVAGANZA ---

we kickoff our new in-year experiences in New York, bringing together a global camp community, old friends and new, together under one roof at the perfectly suited "House of Yes" in Brooklyn… Why?
Because YES is WAY more fun!



This Funkin' Bunny Robot Extravaganza event is to help support programs such as DUST-ed, the Art Car Forum and the NEW, "It's NOT TEDx" created by a global group of TEDx organizers.

Additionally, as a curator of the arts in Black Rock City, PlayaSkool will be bringing back the Incendia Experience in 2018. (

www.experienceincendia.com

) We invite you to join us in supporting these creative pursuits by "doing naughty things for good causes" and put on that hot bunny outfit, tuck it in your bonnet and shake your tail with us as we celebrate in New York City.
In addition, we will have GREAT art pieces and fun raffles during the evening to help support our projects this year.

We will be posting these on our fundraising site soon!



Main Room



We are pleased to announce that international guest DJ for the evening is
Tel Aviv based Guy Mantzur who specializes in creating electronic music that defies over-simple genre classification. Drawing influences from Tech House, Techno and proper Progressive House, he creates his own distinctive musical template that has seen him establish himself as a top DJ/Producer worldwide. He is instantly recognizable through his unique hypnotic melodies and seductive grooves, both in his productions and his DJ sets.

We have lots of love and surprises as well for the night including:
Gavin Stephenson + Iman Rizky + Kellam (ebb + flow, Micky Mau, Trifucta)
Also Featuring
Liah Alonso ( Kostum Kult) - Album Release/Live Performance
Second Room
Playaskool / Ebb + Flow Showcase
Carol Ferraz,Saqib, A-Kintero, Kinney G
Peter Napoli ( BRUT )
Dj Dexx ( Secret Sessions)
WtNY ( Vujaday)
Join us and many Skoolers and friends from around the globe, as we dance, laugh, love and support the people and projects that evoke so much joy and so much community, year after year on the Playa and beyond.

We will be lots of surprises in store including some fabulous

. . . and don't forget those Funkin' Bunny Robot costumes.
*Guy Mantzur
*ebb + flow
*Liah Alonso
*Peter Napoli
21+ | No Re-entry
---
Behave with beauty, connect with intention.
We are obsessed with CONSENT.
Always ASK before touching anyone in our House.
Anyone who cannot follow this simple rule
will be escorted to the sidewalk.
::::::: Community and Accessibility :::::::
This is a space for everyone to feel welcome and loved. Racism, sexism, ableism, ageism, homophobia, transphobia, xenophobia will not be tolerated at our House. All entrances and spaces within the venue are single-level and handicap accessible. There are stairs leading to the upper portions of the stage, for those who wish to dance in the spotlight. Gender neutral bathrooms are easily located throughout the venue.