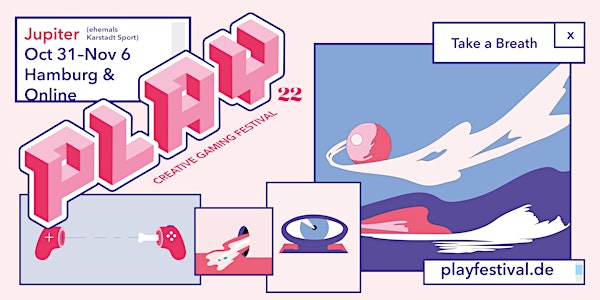 PLAY22 - Creative Gaming Festival
The PLAY - CREATIVE GAMING FESTIVAL invites all enthusiasts for gameculture and interactive arts online and on site!
When and where
Location
Hamburg Mönckebergstraße 2/4 20095 Hamburg Germany
Refund Policy
Contact the organizer to request a refund.
About this event
EN
The PLAY - CREATIVE GAMING FESTIVAL invites all enthusiasts for gameculture and interactive arts from October 31 - November 6, 2022, to explore the creative potentials of games in a hybrid form online and onsite in Hamburg. Workshops, exhibitions, shows, the CREATIVE GAMING AWARDS and playful community formats offer a week of participation, discussion, programming, exploration, and, of course, gaming.
Breathe in. Exhale. This time the whole festival revolves around the theme TAKE A BREATH, focusing on games and forms of play that make us stop, stand still and reflect. What leads us to these moments and helps us to find what we need for a satisfied, relaxed and happy life, to set goals and to focus? Together, we consider how everyday pressures can be faced and how working and living conditions have an impact on the topics, messages and environments of interactive media and art.
PLAY is free! However, you can support us with the Supporter Ticket and donations.
DE
Das PLAY – CREATIVE GAMING FESTIVAL lädt vom 31. Oktober bis 6. November 2022 alle Fans der Spielkultur und der interaktiven Künste ein, die kreativen Potentiale von digitalen Spielen online und hybrid vor Ort zu entdecken! In Workshops, Ausstellungen, Shows, den CREATIVE GAMING AWARDS und bunten Community-Formaten steht eine ganze Woche lang das Tüfteln, Diskutieren, Programmieren, Entdecken und natürlich das Spielen auf dem Programm.
Einatmen. Ausatmen. Dieses Mal dreht sich alles um das Motto TAKE A BREATH. Dabei stehen Spiele und Spielformen im Fokus, die uns innehalten lassen. Was brauchen wir für ein zufriedenes, entspanntes und glückliches Leben? Wie lässt sich alltäglichem Druck und Stress begegnen, wie wirken sich Arbeits- und Lebensbedingungen auf die Geschichten und Welten digitaler Spiele aus? PLAY bietet seinen Festivalbesucher*innen eine Reihe an experimentierfreudigen und spielerischen Formaten, mit denen sie die unterschiedlichen Schwerpunkte des Themas interaktiv erleben und ergründen können.
PLAY ist kostenlos! Du kannst uns dennoch mit dem Supporter Ticket und Spenden unterstützen.