Play NYC 2021 is back on August 7-8 at the Metropolitan Pavilion!
About this event
Welcome Back to Play NYC!
Play NYC - New York City's game convention - is back live and in-person at the Metropolitan Pavilion this August! Now, more than ever, is the time for us to unite through our shared love of games. In its 5th year, Play NYC will once again feature playable games from studios large and small, and from creators old and new. Join us for a weekend like no other on August 7th and 8th in New York City!
Launched in 2017, Play NYC gathers fans, creators, and industry pros for a full weekend of games across all platforms - from PC to Xbox, Nintendo Switch, Playstation, and more to mobile, VR, and even tabletop games.
This year, we're adding some new measures to deliver a fun and safe experience for every attendee. We will require proof of COVID-19 vaccination prior to entry for all attendees. A negative test result taken within 48-hour will be accepted for children under 16.
We've streamlined the space in a number of ways to ensure a safe and fun event for everyone. More information about what we're doing is listed below.
Play NYC is for anyone who loves games. Whether you're a fan looking to play and discover games of all kinds, a creator looking to showcase your playable projects, or a professional in the industry looking to see what makes gaming in New York so special, you don't want to miss out! All ages are welcome as we celebrate games in a way that only the Big Apple can.
Exhibitors
Some of the developers and studios on the show floor. And many more! Check out the full list of exhibitors here.

COVID-19 Safety Measures
To keep you and other attendees safe, please follow these guidelines:
Present proof of COVID-19 vaccination at our registration area. Children under 16 will need to present a negative COVID-19 test result that was taken within 48-hours before entering the venue. We will accept physical and digital proof (i.e. Excelsior Pass). A valid photo ID will be required.
Use hand sanitizer frequently.
Please stay home if you do not feel well, have symptoms of COVID-19, have tested positive for COVID-19, were exposed to someone with COVID-19 within the last 14 days, or do not have valid proof as stated above.
In light of the CDC's recent recommendation for fully-vaccinated people to wear a mask in public indoor settings, Play NYC is requiring that all staff, exhibitors, and attendees wear a mask while inside the Metropolitan Pavilion.
Mask recommendations include:
has two or more layers
completely covers your nose and mouth
fits snugly against the sides of your face and doesn't have gaps
For more information on proper masking, please visit the CDC's Guide to Masks.
We reserve the right to refuse entry if you're not able to follow these guidelines. Tickets are non-refundable.
We will adhere to the latest CDC, city, and state COVID-19 safety guidelines. We've also taken the following measures to further ensure a safe, friendly, and comfortable environment at Play NYC:
All exhibitors, event staff, and volunteers are required to be fully vaccinated before Play NYC.
Timed entry for ticketing options to avoid overcrowding at the venue.
Contact tracing for all event staff and attendees.
The event floor, door handles, and restrooms are sanitized every 30 minutes using 3M's hospital-grade 5L disinfectant.
The HVAC system features upgraded general surgery-grade filtration.
Venue staff is educated and trained on all COVID-19 protocols and guidelines.
Exhibitors are asked to sanitize controllers and other interactive equipment between play sessions.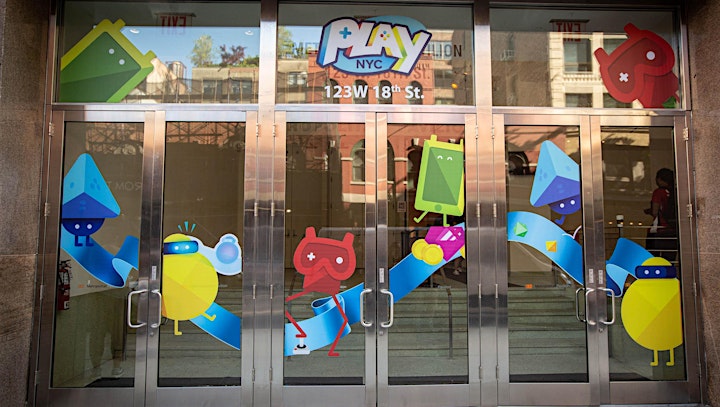 Date and Location
Public Expo Hours:
Saturday, August 7: 10:00 AM - 6:00 PM
Sunday, August 8: 10:00 AM - 6:00 PM
Ticket Options:
Limited Early Bird Full Weekend - $40
Available from June 10th, 2021 through July 3rd, 2021.
Regular Full Weekend - $50
Available from July 4th, 2021 through August 8th, 2021.
Single-Day Access - $30 for Saturday | $25 for Sunday
Available from July 4th to August 8th, 2021. You will have the option to choose 10:00 AM - 2:00 PM or 2:00 PM - 6:00 PM entry.
For group tickets that are more than 10, please contact events@playcrafting.com.
Dev & Pro Access - $100
For industry pros, this pass will go on sale on July 4th. Get access to the full weekend plus our industry-only party on Saturday night, August 7th.
We will ask for your personal information (including home address and phone number) at checkout for contact tracing purposes. Your information will not be used or shared with any other parties.
Location:
Metropolitan Pavilion - 125 W 18th Street, NY NY 10011.
When purchasing tickets, select either Saturday or Sunday as the date. You will be given all ticket options and can purchase for either days or the full weekend.
All attendees will be subjected to a security check by Metropolitan Pavilion's staff. NO WEAPONS OF ANY KIND WILL BE ALLOWED INSIDE.
No outside food & drink will be allowed inside. No pets allowed.
In the interest of fostering an inclusive and safe environment at all of our events, our Code of Conduct will be enforced.
Organizer of Play NYC 2021
Connect. Collaborate. Create. The industry's a tough game. We've turned it co-op. Learn to make games hands-on and in-person from pros in our classes and courses. Discover games at our industry events.

Playcrafting provides you with the tools to get yours off the ground--through tailored educational events, dynamic networking opportunities, and classes to help you crack the code to gaming success. From design to programming to business and beyond, your skillset's about to get even sharper. Get a leg up from our network of pros in powering up your product, impressing the industry, and bringing your A-game to a whole new level.