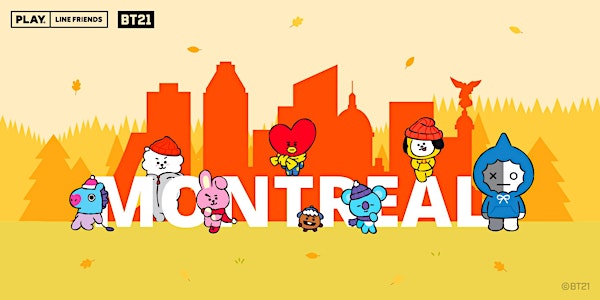 PLAY LINE FRIENDS Montréal Grand Opening Day Raffle
PLAY LINE FRIENDS is Coming to Montréal on Oct 14! Register now and get a chance to win Montréal-exclusive LINE FRIENDS & BT21 merchandise!
When and where
Location
Centre Eaton de Montréal 705 Sainte-Catherine Ouest Montréal, QC H3B 4G5 Canada
About this event
LINE FRIENDS – one of the world's fastest-growing character brands – is bringing extra joy and cuteness this fall with a new pop-up store in Montréal. Join us on the Grand Opening Day of the PLAY LINE FRIENDS Pop-up Store in Montreal! Mark your calendars on October 14, Friday. Doors open at 9 am!
Register now and get a chance to win Montreal-exclusive LINE FRIENDS and BT21 merchandise!
The first 300 customers will receive a FREE GIFT to celebrate the grand opening, while supplies last. Opening day visitors will also have access to other exclusive opening day offers!
LINE-UP BEGINS ON OCT 14 @ 5:30AM
OPENING DAY HOURS: 9 AM-10 PM (Extended Mall Hours)
IMPORTANT:
Entry for the grand opening day will be on a first come, first served basis. Line-up begins on Oct 14 at 5:30 AM
Eventbrite registration is NOT for early store access.
This registration serves as 1 raffle entry. Strictly 1 raffle entry per person applies.
Valid ID will be required upon collection of the prize.
LOCATION
Centre Eaton de Montréal
705 Saint-Catherine St W
Montreal, Quebec H3B 4GL
To stay up to date with PLAY LINE FRIENDS' official launch date in Montréal and exclusive perks, sign up now to be notified!
À propos de cet événement
LINE FRIENDS - l'un des "character brands" connaissant une popularité croissante - apporte encore plus de joie et de mignonnerie cet automne avec une nouvelle boutique mobile pop-up à Montréal. Rejoignez-nous pour l'inauguration de la boutique pop-up PLAY LINE FRIENDS à Montréal ! Marquez vos calendriers vendredi, le 14 octobre. Les portes ouvriront à 9 heures!
Inscrivez-vous dès maintenant et courez la chance de gagner des articles de LINE FRIENDS et de BT21 exclusifs seulement à Montréal!
Les 300 premiers clients recevront un CADEAU GRATUIT pour célébrer l'inauguration, jusqu'à épuisement des stocks. Les visiteurs du jour d'inauguration aussi auront accès à d'autres offres exclusives!
LA FILE D'ATTENTE COMMENCE LE 14 OCTOBRE À 5:30 HEURES DU MATIN
HEURES D'OUVERTURE : 9 h à 22 h (la prolongation des heures d'ouverture du centre commercial)
ATTENTION:
L'entrée pour le jour d'inauguration se fera sur la base du premier arrivé, premier servi. La file d'attente commence le 14 octobre à 5:30 heures du matin.
L'inscription à Eventbrite ne donne PAS accès au magasin en avance.
Cette inscription sert à une (1) entrée pour le tirage. Limite d'une (1) entrée de participation au tirage par personne.
Une pièce d'identité valide sera exigée lors de la remise du prix.
LIEU
Le Centre Eaton de Montréal
705, rue Sainte-Catherine Ouest
Montréal, Québec H3B 4GL
Pour être tenu au courant du lancement officiel de PLAY LINE FRIENDS à Montréal et des avantages exclusifs, inscrivez-vous dès maintenant pour rester au courant!