Play Like a Girl STEM+ Hackathon
Rising 8th and 9th grade girls will work together to innovate social change for girls and women in STEM and sports. #IFTHENSheCan
When and where
Location
@WalmartLabs 860 West California Avenue Sunnyvale, CA 94086
Refund Policy
Contact the organizer to request a refund.
About this event
SAVE THE DATE
Plan to join us for the very first Play Like a Girl STEM+ Hackathon, a social innovation challenge on Friday, July 19.
This event will provide an opportunity for seven teams of rising 8th and 9th grade girls to work closely with positive, female role models and mentors – industry professionals, technical experts and graduate students from local universities – and learn about practical applications of STEM in the sports world and beyond.
Students will be challenged to create a technological solution - an app, social media campaign, website, game etc. - to address barriers to girls' progress in STEM by addressing one of the following three themes:
Elevate women in STEM professionals as role models and ambassadors.
Illuminate the importance of STEM in sports.
Create better portrayals of women in STEM and sports in media.
More details to come.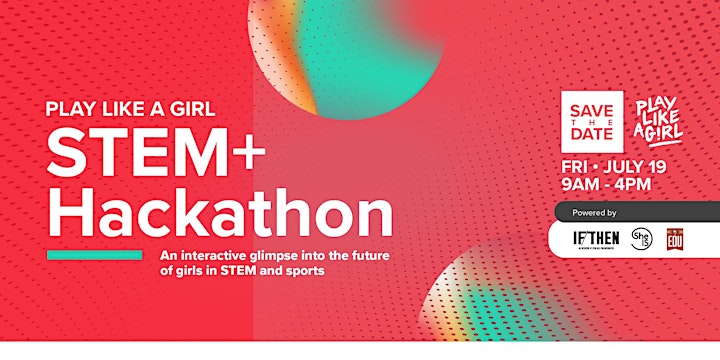 FREQUENTLY ASKED QUESTIONS
WHAT IS STEM?
STEM corresponds with the academic disciplines related to science, technology, engineering and mathematics. We use the plus sign ("+") to denote our recognition and inclusion of additional disciplines including but not limited to art, computer science and research.
HOW DO I SIGN UP TO PARTICIPATE?
To register to participate, please visit www.iplaylikeagirl.org and complete the entry form in its entirety. The registration period will begin May 1. The deadline for entries is July 10.
IS THERE A COST ASSOCIATED?
There is no cost associated with participation.
WHO IS ELIGIBLE TO PARTICIPATE IN THE PLAY LIKE A GIRL STEM+ HACKATHON?
Girls ages 13-15 who reside in California or Tennessee and who will be enrolled in 8th - 9th grade as of Fall 2019. All participants must have a parent's or legal guardian's permission to enter and participate.
HOW DOES THE PANEL OF JUDGES DETERMINE THE WINNING TEAM?
All eligible teams of participants will be judged by a panel of judges appointed by Play Like a Girl, who will use the criteria below to determine a Grand Prize or 1st Place Winner and a Runner Up (or 2nd Place Winner) from among all participating teams of students.
Understanding and expression of the importance of girls and women in STEM: 30%
Appropriateness of solution related to IF/THEN program themes: 30%
Creativity/Originality: 20%
Quality of Presentation: 20%
WHAT ARE THE PRIZES FOR THE WINNING HACK?
There are two major prizes available to be won.
Grand Prize: Each participant prize for the winning team includes a VIP Experience at a Bay Area women's sporting event in 2019 and prize bundle of tech goodies including a Samsung Chromebook, Apple AirPods and 3 additional months of mentoring with tech industry experts if the team continues building the project after the hackathon. The prize pack will be awarded upon completion of the event.
Runner Up: Each participant on the team will receive tickets to a Bay Area women's sporting event in 2019 and an Alexa Echo. The prize pack will be awarded upon completion of the event.