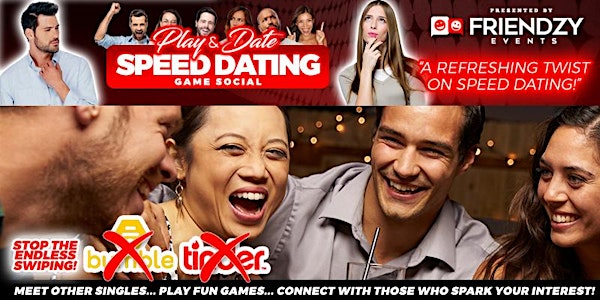 Play & Date Speed Dating Event For NYC Singles!
* THIS IS A PREPAY ONLY EVENT. YOU HAVE TO GET TICKETS HERE IN ADVANCE (NOT AT VENUE). THIS WILL LIKELY SELL OUT SO GET TICKETS ASAP *
Date and time
Saturday, June 3 · 8 - 10pm EDT
Location
The Westbury - Bar & Lounge 20 West 38th Street New York, NY 10018
Refund Policy
Contact the organizer to request a refund.
Eventbrite's fee is nonrefundable.
About this event
** IMPORTANT QUICK NOTE: PLEASE ARRIVE ON TIME. THIS EVENT STARTS PROMPTLY AT 8:00 PM. IF YOU ARE MORE THAN 15 MINUTES LATE YOU WON'T BE ABLE TO PARTICIPATE SO PLEASE MAKE SURE TO ARRIVE ON TIME OR A LITTLE BIT EARLY. THE BAR WILL BE OPEN SO FEEL FREE TO ARRIVE EARLY AND HAVE A DRINK AT THE BAR BEFORE THE EVENT STARTS **
Come on out and check out this unique twist on speed dating. Join us for a unique social event for singles in NYC! Come on out and make new social connections, win raffle prizes and meet other fun singles.
Our friendly host will welcome everyone and then you'll be grouped off into separate tables where you'll get to meet, chat with and play fun social games with other singles in small groups of about 4 or 5 people. Then, similar to traditional speed dating, you'll rotate from table to table getting a chance to meet all the other singles in attendance. You'll be handed a "match sheet" and at the end of the event you'll be able to indicate people you'd like to talk to again in the future. If they also choose you, our host will send you each others' contact information within about 24 hours after the event and you can feel free to set up a date with them.
Let's face it, we're all tired of swiping over and over again on people who may or may not look like or be like the person they're portraying on the apps. A Play & Date speed dating event is a much better way to meet someone because you actually get to meet singles in person and really get to know them.
** Suggested age range is 20s, 30s & 40s **
This is entirely new and revolutionary type of speed dating event! We love the idea of traditional speed dating but sometimes it's hard to come up with things to talk about. That's why at a Play & Date speed dating event you'll have fun, easy games to play to get to know everyone instead of dealing with the usual dating "job interview" type questions. We find that it's a much better way to get to know someone!
WIN PRIZES!!!
You'll enjoy an evening of meeting new people, fun social interactions and games... No skill necessary, just a bit of luck! Our friendly host will be orchestrating the event and making introductions among the group. You'll participate in several games during the evening while getting a chance to interact with all members of the opposite sex. Win a game, get a raffle ticket for chances to win prizes!
THIS IS A PRE-PAY ONLY EVENT. YOU HAVE TO GET YOUR TICKETS HERE IN ADVANCE ONLINE - YOU WON'T BE ABLE TO SIGN UP AT THE VENUE. THE PRICE WILL BE GOING UP TO $35 AS EVENT TIME APPROACHES AND SPACE FILLS UP.
* SEE MORE FUN UPCOMING NYC EVENTS AT WWW.FRIENDZYEVENTS.COM
"What a great time! I got to meet a lot of people and it was seriously fun. The host was so sweet and made everyone feel comfortable and welcome." - Mara, NYC
WHY IT WORKS!
Through the years we've organized many speed dating events. We had a host that would sometimes invite the guests to stay around if they wanted to after the event to play some games. She would bring some fun interactive games and casino type games of chance/luck with her. We noticed something fascinating start to happen! More people would make connections at the games after the event than at the actual speed dating! That led us to creating this event. It's the perfect way to meet people in this busy city!
WHAT GAMES WILL WE BE PLAYING?
They are simple but extremely fun games that don't require much skill... they are mostly fun games of luck and chance to get the crowd mingling and having a good time. The fun games are set up to break the ice, help you gauge compatibility and make quality connections. Some of the games are similar to the most popular party games, others are like casino games that involve rolling dice and some are a little bit different but we assure you... they are really, really fun and you don't need to know how to play anything in particular (ie. we won't be playing blackjack or poker or anything like that). An example game we sometimes like to play is "Dating Feud" which is similar to the popular prime time TV show we all know. In this game you and your dates will be asked fun relationship style questions like, "Name a gift that women love men to give them". You will work together with a small group of singles to come up with what you think is the most popular answer and then you'll find out if you got the top answer. Another game we play is "Would You Rather" where we ask you fun questions like "Would you rather live the rest of your life without ever being able to watch and movie/TV show or would you rather never be able to listen to any song/music again?". You answer the question and then you have to try and pick the most popular answer.
FAQ:
What is the age range? Suggested age range Is 20s, 30s & 40s
How many people will be participating? We usually have between 20 and 30 or so people in attendance. We don't exactly gender balance the event occasionally we have a few more women than men and sometimes we have a few more men than women. Either way we make sure you get to meet a good amount of singles of the opposite gender.
Can I come alone? Yes about 75% of those attending will be coming solo. But you can also invite friends to join you. Everyone must have a ticket to enter.
Is there a dress code? No specific dress code. We just suggest "neat casual"
*****************************************************************
ADVERTISEMENT: Check out the #1 appetite suppressing, fat burning tea at www.Squeegeetea.com
*****************************************************************