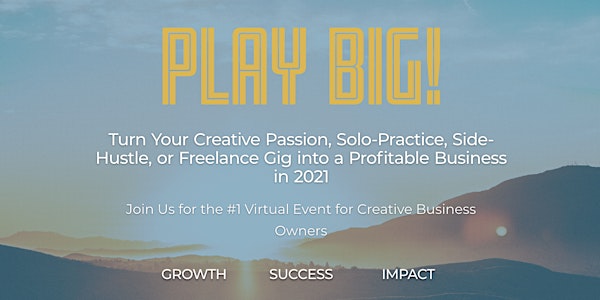 Play BIG! with Creative Successful Entrepreneurs — Special Guest
Turn Your Creative Passion, Solo-Practice, Side-Hustle, or Freelance Gig into a Profitable Business in 2021
By Creative Successful Entrepreneurs
Date and time
February 26, 2021 · 9am - February 28, 2021 · 5pm PST
About this event
Join Us for the #1 Virtual Event for Creative Business Owners
Growth, Success, Impact
Normally $997, your friend has sent you a ticket for only $97!
"Play Big in one word? Empowering… and magical… and inspirational… and yes, that is technically three words." — Alex Stein
You are not alone!
Many of our clients felt this way before they discovered our Creative Business Breakthrough system. We'll show you step by step EXACTLY what you need to do to turn your creative passion into high profits at Play BIG!
I want to transform my creative business, so I can end the "starving artist" struggle and experience success on my terms!!
Register Now: Space Is Limited
Even though this event is virtual, we are limiting attendance to just 100 committed creative business owners, so that we can provide you with the personal attention and individual support that you deserve.
Event Dates: February 26 – 28, 2021
EVENT TICKET: For a limited time, just $97
(NORMALLY: $997)
Dear Creative Entrepreneur,
I think it's fair to say that if you have read this far down the page, you are probably considering attending the Play Big event. And that's good, because if you've read this far, you are probably the exact person I created this event to help move from struggling in your creative business to thriving.
I've done it in my own business, and I've helped hundreds of creative business owners, do it too. – Melissa
About the organizer
About Us...
At Creative Successful Entrepreneurs, we help RIGHT-BRAIN thinkers make a LEFT-BRAIN living.
Our goal is to help creative visionaries and mavericks get their big ideas into the world, where those ideas can make a difference.
CSE founder Melissa McFarlane is a seasoned, internationally-recognized coach with over 20 years of experience in executive, business, and personal coaching. She and her team have demonstrated an uncanny, intuitive genius for removing barriers and cutting through personal and organizational roadblocks to allow real emotional, mental, and practical breakthroughs to occur.