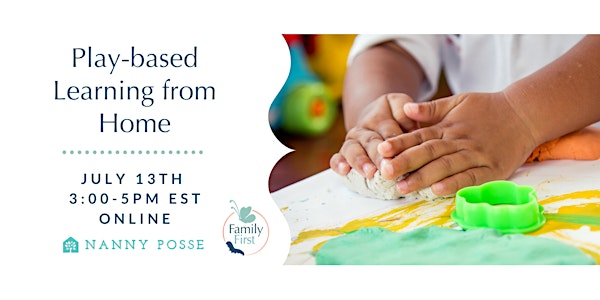 Play Based Learning from Home
Learn all about play-based learning curriculums with Tara Sygrave.
Refund Policy
Contact the organizer to request a refund.
Eventbrite's fee is nonrefundable.
About this event
Nanny Posse and Family First are excited to bring you a workshop based on all things play! Acorrding to O. Fred Donaldson -"Children learn as they play. Most importantly, in play children learn how to learn." Our teams are all kids at heart and believe that play is one of the most important foundations of childhood. Don't miss out on this incredible workshop full of fun.
You may be asking yourself, "What exactly is a play based learning curriculum?" In this workshop you will gain a better understanding of what play based learning is and Tara will help you learn how to implement this learning style into your home. You will need no additional tools or thoughtfully planned out curriculums to implement this style of learning into your lifestyle. So get ready and get excited for one playful adventure.
ALL ABOUT THE SPEAKER
Tara Sygrave was born in Sydney, Australia to two amazing parents who made her the bright, fun, bubbly person she is today. She is happy to share that she was blessed to have had a childhood full of fun, laughter, and magic, which is something she try's to carry out in her role as a Nanny, Governess, and Teacher.
She has always enjoyed entertaining and interacting with children. She completed her Diploma in Community Services (Children's Services) in July 2004 and I was also a graduate of the University of New England, Armidale where she studied and obtained her Bachelor of Teaching in Early Childhood Education in December 2009. She shares that she has been fortunate in her career to have worked as a nanny for 10 years with children of all ages from 0- 13 years, including working with families from different cultural backgrounds, family situations, and needs. In her role, she gained experience working with children with special needs such as Down Syndrome, epilepsy, multiple sclerosis, as well as working with a beautiful child who is a paraplegic. Through this role she also gained experience working with children on the spectrum, autism, processing disorders, newborn care, including working with families who have twins, triplets, and even a family with newborn quadruplets, working with children who are anaphylactic or suffer from asthma and working with a child who had a terminal illness. I was extremely blessed to work with all of these beautiful families where I was hired to carry out proxy parenting at times, as well as work as an individual nanny and work as a team with these amazing families and has taught in several preschools located in Australia an carrying out leadership roles such as Room Leader, Early Childhood Teacher, Educational Leader, and Assistant Director.
CHECK OUT OUR OTHER 2021 WORKSHOPS:
August 21st - Working as an Overseas Nanny (2-4pm)
September - Pediatric Nutrition (Time and Date TBD)
October - Talking to Children About Race (Time and Date TBD)
November 13th - Working with Multiples (10-11:30am EST)
December 18th - Tummy Time Activities (10-11am EST)