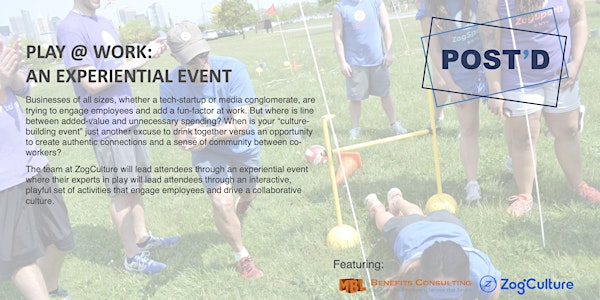 Play at Work: An Experiential Event
When and where
Location
MongoDB 1633 Broadway #38th floor New York, NY 10019
Description
Businesses of all sizes, whether a tech-startup or media conglomerate, are trying to engage employees and add a fun-factor at work. From the low-budget ping pong table to the extravagant company concert or holiday party, companies big and small are competing on play to attract the latest and greatest talent. But where is line between added-value and unnecessary spending? When is your "culture-building event" just another excuse to drink together versus an opportunity to create authentic connections and a sense of community between co-workers?
The team at ZogCulture will lead attendees through a Play at Work: Experiential Event, where their experts in play will lead attendees through an interactive, playful set of activities that engage employees and drive a collaborative culture.
Activities will Include:
Human Bingo - showcasing a ZogCulture favorite, an authentic connection game encouraging participants to interact with new people.
Round Robin Discussion on Play - a brief presentation from the ZogCulture team on how companies can use play strategically to build a healthy and positive company culture. Followed by a round table discussion on how play is being used or could better be used as a tool for connection and build communities at our companies.
Giant Rock, Paper, Scissors Game - you've never seen rock, paper, scissors like this before. Engaging the entire group in play; everyone will compete to be the group champ!
Play Zones & Happy Hour - close the night out with open-play games and drinks for any and everyone to chat over your favorite childhood games.
So, come! Play with us! We can't wait to see you at Play at Work: An Experiential Event.
Featuring: Samantha Roblin, National General Manager and Natalie Simmons, Business Development Associate at ZogCulture.