The BIGGEST Play-2-Earn HYBRID Expo in Asia, connecting P2E visionaries with ecosystem builders through networking, exhibitions, and more!
About this event
When and Where?
The Play-2-Earn Hybrid Expo Asia is happening on Wednesday to Saturday, 10 to 13 August, 2022. As a HYBRID expo, it will be held simultaneously in W Hotel Bangkok and in Metaverse.
GET TICKETS TO THE PHYSICAL EVENT 👉 https://www.play2earnexpo.com/ 👈
Events
Networking and business matching
Key insight through panel of discussions and fireside chats
Game pitch to top accelerators, investors, and gaming guilds to win up to $1,000,000 investment
Icebreaker networking
Prizes
Tokens to be won in daily draws
Whitelist game NFTs to be won in daily draws
Win investments for game creators
All these and more! 😉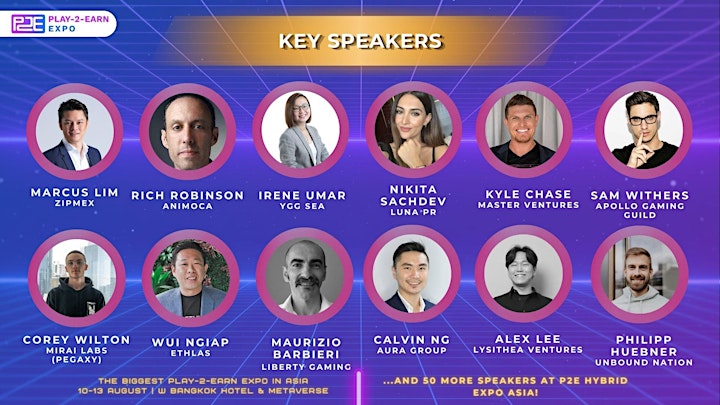 KEY SPEAKERS
Anastasia Drinevskaya, Creative Director of Cointelegraph & CEO of Cointelegraph Communications
Rich Robinson, Entrepreneur-in-Residence of Animoca Brands
Irene Umar, Co-founder of YGG SEA
Nikita Sachdev, Founder of LUNA PR
Prakash Somosundram, CEO and Co-founder of EnjinStarter
Philipp Huebner, Co-founder of Unbound Nation
Marcus Lim, Founder and CEO of Zipmex
Kyle Chasse, Founder of Master Ventures
Corey Wilton, Co-founder of Mirai Labs (Pegaxy)
Wui Ngiap, CEO and Co-founder of Ethlas
Sam Withers, Founder of the Apollo Gaming Guild
Maurizio Barbieri , CCO of the Liberty Gaming Guild
Rudi Harli Setiawan, Executive Lead of Eizper Chain
Calvin Ng, Managing Director of the Aura Group
Alex Lee, Director of Lysithea Ventures
And at least 50 more speakers at P2E HYBRID EXPO ASIA!