Description
Platforms are transforming markets.
Platforms today dominate the business landscape: beyond giants like Google, Apple, Amazon and Salesforce, new entrants like Uber and Airbnb transformed entire industries in just a few years.
Finally today we know that creating platforms and connecting the various entities in peer-to-peer is the best way for creating businesses and organizations that grow exponentially and generate outstanding results.
The platform business model offers key opportunities in new contexts: smaller markets, niches, local markets: designing platforms today is an opportunity for everyone ... thanks to simpler design tools!
Platforms will help you leverage on the community and the ecosystem to create value for your organization: platforms cost less to build respect to traditional businesses, produce more revenues with fewer employees, evolve more easily and have more loyal users.
Description of the Masterclass
After Bologna, Barcelona and Milan the Platform Design Toolkit one-day experience lands in Paris for a Masterclass in English.
You will learn how to use the Platform Design Toolkit: a new and comprehensive set of design tools for platform design.
During the Masterclass, you'll be able to apply the toolkit directly to your challenges: a new product or business you're designing, a new service or a startup idea. If you don't have one clear idea yet, you'll be able to explore a promising market context and make an hypothesis on how a platform can revolutionize it. It's an opportunity to learn new tools and - in the meantime - have a strategic acceleration on your projects.
THIS MASTERCLASS IS A HANDS-ON, PRACTICAL DAY TO LEARN NEW, FUNDAMENTAL DESIGN TOOLS.
During the masterclass we will understand:
what are the transactions in your marketplace

how to create right channels to monetize

what services we need to create to support participants evolution and performance.

The Platform Design Toolkit: the next generation design tools
Born in 2013, the Platform Design Toolkit is used worldwide by successful startups and and social enterprises. Large international groups and public entities are also among the customers that designed platform strategies with Platform Design Toolkit.
European and American Business Schools have used it in their courses and seminars. Designers and entrepreneurs from around the world have used it to shape and improve their business ideas and impact.
You can see some of our adopters here: http://platformdesigntoolkit.com/create/
To better understand the opportunities behind the Platform Design, download the free white paper sponsored by SWIFT Innotribe, the innovation team of one of the most important players in global finance.


---
THE PROGRAM PHASES
Understanding your Ecosystem
We will help you understand the value chain of your market and the roles at play in your ecosystem.
Using the canvases and other additional tools you'll be able to map all the actors in the ecosystem and the relations among them as well as the motivations in exchanging value through the platform: you will learn how to motivate everyone to join and participate, thanks to clear incentives.
Create a complete Platform model
We will create a snapshot of how your platform will provide services enabling the ecosystem participants to exchange value and improve performances. We will envision the channels needed to help value to be exchanged and platform provided services that can help - on one hand - the consumers to get a perfect experience and - on the other hand - producers to make the best of the platform and improve their performances.


---


THE TOPICS
The course will cover the topics of digital transformation and how this has changed the expectations of modern users: platforms will be explained as they represent the solutions to conquer new markets in this chaging context.
We will use practical design tools like the Canvases that are part of Platform Design Toolkit in parallel with key information on trends and technological innovations.
Note: If you do not have a platform project, we will use an existing platform or fiction in the modeling exercises.
---
What to expect from this workshop
at the end of the workshop you will be able to:
recognize the entities and the main role in any ecosystem around a market opportunity

design channels to monetize transactions and help the community-ecosystem produce and exchange value on top of your platform

create a system of support services for improving the ecosystem performances

use a practical and open set of tools (in Creative Commons) you can use dozens of times in your professional activity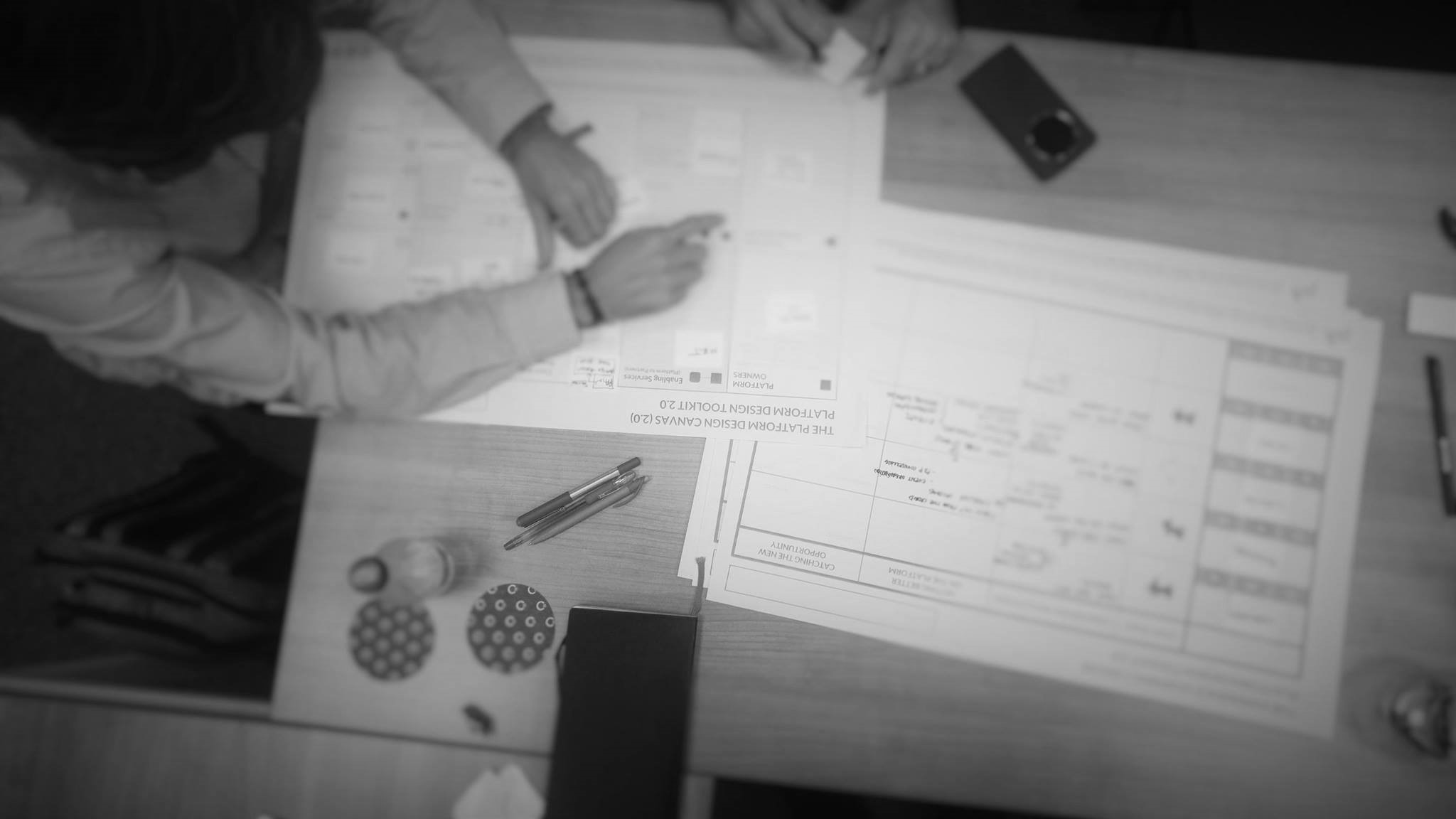 TARGET AUDIENCE
The workshop is structured and designed for
Startuppers who, alone or in teams, want to work to create their platform hypothesis and then quickly start the validation;

Creatives, Designers and Consultants who want to learn how to master a set of simple design tools to design effective solutions in line with our times;

Community Managers of digital platforms or collaborative spaces such as incubators, makerspaces, coworking;

Public officials and social entrepreneurs who want to understand how to increase the social impact of collaborative services with less investment.


FAQ
How should I prepare for the course?
The best way to prepare is to choose an idea of platform that you want to accelerate during the masterclass or a market that is considered interesting.
It is a course for beginners or experts?
This course provides advanced materials - on the creation of new products and services - but does it in a practical way leaving the participants with the tools and the references to use them in the future. Any previous knowledge on the subject of platforms or design is needed.


TESTIMONIALS on the PLATFORM DESIGN TOOLKIT
"In an increasingly networked world we're going to need more tools like the Platform Design Toolkit"
John Hagel - Deloitte Center for Edge Innovation
-
"Platform Design helped us craft our vision and get into YCombinator with a scalable business model"
Tin Hang Liu - OSVehicle CEO
-
"When the hype was the Business Model Canvas and everyone was crazy about it, Simone came up with the toolkit that Sharing Economy entrepreneurs like me had been searching for a long time. I used it to create Sharing Academy and I recommend it now to entrepreneurs in the Collaborative Economy."
Jordi Esteve Llonch - CEO Sharing Academy
-
"We used the method and this led us to the thinking and reasoning that was necessary to clarify many complex issues in our ecosystem. I want to suggest the methodology because we tested it and it works! Highly recommended!"
Andrea Cattabriga - Chairman SlowD
TESTIMONIALS on the PLATFORM DESIGN MASTERCLASS
"A day full of content, continuous stimuli, tailored suggestions. It is an approach that widens the prospects delivering a method for the management of complex ecosystems."

"I came into contact for the first time with the theme of Platform Design. I believe it is now a requirement for those wishing to extend their business or make it more effective."
TICKET INFORMATION
Please note that the workshop is confirmed.
Be sure you select the right option if you're a EU registered VAT holder: you will save 22% VAT in that case and your ticket will be much cheaper.
CANCELLATION POLICY: If you decide to cancel your ticket, you'll be able to ask for a full ticket refund until February the 22nd (one month from the event). No money refund will be offered after that date: you'll be given a free admission ticket for any of the European Platform Design Toolkit Masterclass in English organized directly by the Platform Design Toolkit team in the following months.



The Trainer
Product and Service Designer, strategist and self starter interested in co-design, design thinking and innovation. Simone deals with several large international groups strategy - from telco to retail, from transport to finance - and is advisor to startups that have been selected by leading accelerators and international investors (as YCombinator, TIM's Working Capital, etc...).
Simone is Connector at OuiShare, the largest global organization that promotes collaborative economy and is an internationally renowned expert on the issues of the collaborative economy and peer-to-peer platforms.
Simone also deals with Open Source Hardware and business models of the future of manufacturing: he was chairman of Open Source Hardware Summit in 2014.
He has origirnally designed and implemented the Platform Design Toolkit, the world's most adopted tool for the design of multi-sided business models and platforms.