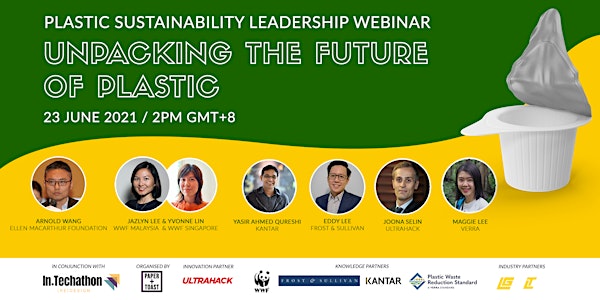 Plastic Sustainability Leadership Webinar: Unpacking the Future of Plastic
Join the leading Plastic Sustainability Leadership Webinar
About this event
Whilst plastic is fundamental to everyday life, plastic waste poses significant risks to ASEAN businesses. Sustainability is no longer optional but a business imperative. The unprecedented volatility brought on by the pandemic unwittingly created an opportunity for business leaders to drive meaningful engagements with environmental, social, and governance (ESG) strategies while keeping the business resilient. How can sustainability affect your business?
Join our leadership sessions along with a selection of subject matter experts sharing knowledge and insights to enable a transition to a more circular plastic future aligning your organisation sustainability strategies to reach your goals.
Who should attend:
ASEAN Business leaders from the plastic value chain (Eg: Brands & Manufacturers)
Businesses implementing sustainability initiatives
Trade associations
Policy makers
Academicians & Researchers
NGOs
Startups/ Innovators
Topics featured:
1. Market Insights & Trends of Plastic Sustainability
2. Consumer Demand Towards Sustainability
3. Extended Producer Responsibility
4. Plastic Packaging Circular Economy Innovation
5. Plastic Stewardship Initiative
6. Open Innovation
Webinar seats are first come first serve. First 100 participants will get exclusive front-row seats to engage with the speakers and ask questions. Webinar will also be streamed across social media platforms in real time.
For more information visit http://intech-conference.com.
About The Speakers
Eddy Lee, Consultant - Visionary Science at Frost & Sullivan
Eddy has more than 5 years of experience in business development, consulting and research across Chemicals, Materials and Nutrition industries in Asia Pacific.
Yvonne Lin, Materials Export at WWF Singapore
Yvonne's role as a Materials Expert aims to guide businesses towards sustainability, by providing consultancy on the material's impact on the environment.
She is well versed in Materials and Environment issues, having graduated from Nanyang Technological University with a B.Eng. in Materials Engineering (2004), M.Sc. in Environmental Engineering (2007) and PhD in Environmental Engineering (2016).
Jazlyn Lee, EPR Regional Coordinator at WWF
Jazlyn drives WWF's initiative on 'No Plastic in Nature by 2030' and responsible for Extended Producer Responsibility (EPR) engagement with businesses and governments in six countries in SEA to build a collective action and systemic approach to address plastic pollution. Prior to her current role, Jazlyn works for WWF-Malaysia to drive corporate and market transformation by working with producers, buyers and government agencies to improve the production and consumption of commodities that affect forests, natural resources and global climate.
Yasir Ahmed Qureshi, Client Partner at Kantar
Yasir has over 17+ years of research experience, partnered with some of the best brands in FMCGs & other sectors. Expert in supporting clients in adding a consumer lens to their annual brand plans. Consecutive 2 years winner of Kantar Gold award [2017 & 2018] & also received Global Bronze award for delivering impact in Client's business in 2017. Yasir is a core team member of APAC Sustainable Transformation Practice & brings a unique blend of expertise and POV from Kantar's global network.
Maggie Lee, Plastic Program Lead at Verra
Maggie Lee is currently Lead, Plastic Program for Verra, an organization dedicated to the development of standards, and Asia Pacific Regional Lead for Global Seafood Traceability for WWF (World Wildlife Fund/World Wide Fund for Nature). Maggie has been managing market transformative projects aiming to enable sustainable sourcing and consumption in the Asia Pacific in her three latest roles at the WWF and the United Nations Environment Programme (UNEP). Maggie's previous environmental work include being the overall coordinator for the UNEP SEA circular project, the strategist for the WWF Plastic ACTion (PACT) initiative, the secretariat for Support Asia for Sustainable Palm Oil (SASPO), and the co-lead for the WWF Responsible Seafood Tool project.
Joona Selin, Business Development Advisor APAC at Ultrahack
Joona is a Manila-based Finnish native, Master of Science in Economics and Business Administration with 9 years international experience in management consulting, business development, and trade and investment promotion in Southeast Asia.
Arnold Wang, China Plastics Program Manager APAC at Ellen MacArthur Foundation
Arnold is responsible for designing the business plan for developing a circular economy for plastics in China, while building up the local momentum for speeding up the transition towards circular economy. He provides support and consultation to businesses on their circular economy strategies for packaging, engage with key stakeholders along the packaging value chain and provides consultation and support to regulation and standardisation.