Eventinformationen
Veranstaltungsort
MVZ Kieferchirurgie Königsallee GmbH
Königsallee 68
40212 Düsseldorf
Germany
This course is for experienced implantologists who looking to learn invaluable skills to improve aesthetic outcomes in implant dentistry
Zu diesem Event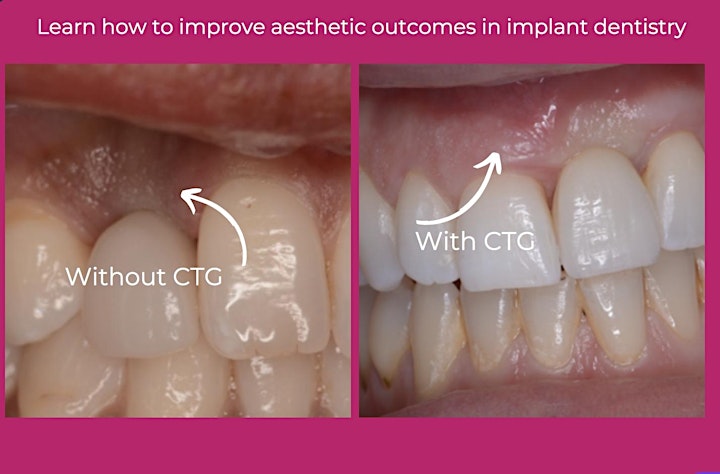 PLASTIC AND RECONSTRUCTIVE PERIODONTAL SURGERY AROUND IMPLANTS IN COMBINATION WITH DENTAL RATIO® IMPLANT SYSTEM
"Unique opportunity to train with true experts who daily challenge out dated concepts and philosophies enabling you to learn cutting edge predictable techniques which will improve your aesthetic outcomes and implant skills"
Information
This is an exclusive International Implantology course for advanced implant training in Düsseldorf, Germany.
The team present research-based, quality cases and deliver lectures in a way which is approachable and welcoming.Information
Research based training methods by specialists
DENTAL RATIO is partnered with Dr. Becher and Dr. Geib who are renowned for their excellence in training. Their aim is to offer outstanding education on advanced aesthetic outcomes in implantology.
This program gives you the possibility to improve both – theoretical and practical skills in a relaxing atmosphere of the city of Düsseldorf, close to the Altstadt and right on the Königsallee!
Who is this course for?
This course is designed for dental practitioners who are interested in improving their knowledge and skills in periodontal and peri-implant plastic surgery.
Due to the exclusivity of the course we only have space for a small group of participants.
Learning content:
This 2 day training course is intended to provide knowledge and practical skills to allow the delegate to recognise and diagnose soft tissue defects around teeth and implants together with practical skills to apply surgical solutions
Didactic lectures
8 hours + hands on teaching sessions
English speaking trainers
Pre-recorded live-surgery
Detailed information and hands-on coaching
Visit to Düsseldorf Altstadt with typical German food Limited group
The Speaker Faculty:
Dr Sebastian Becher
Dr Roman Geib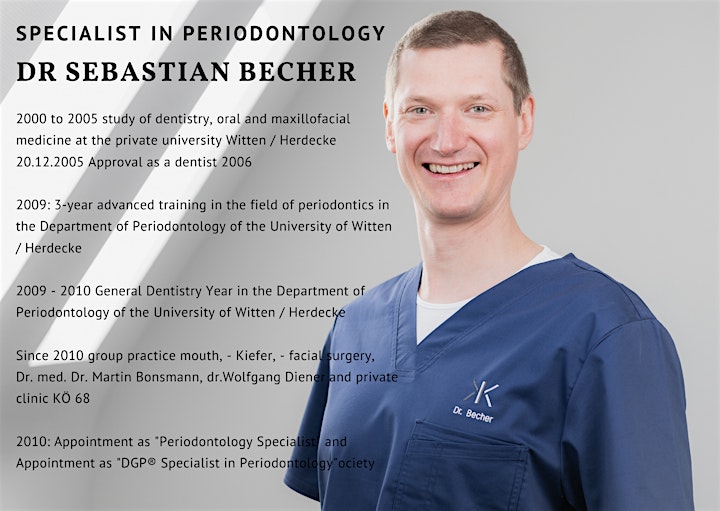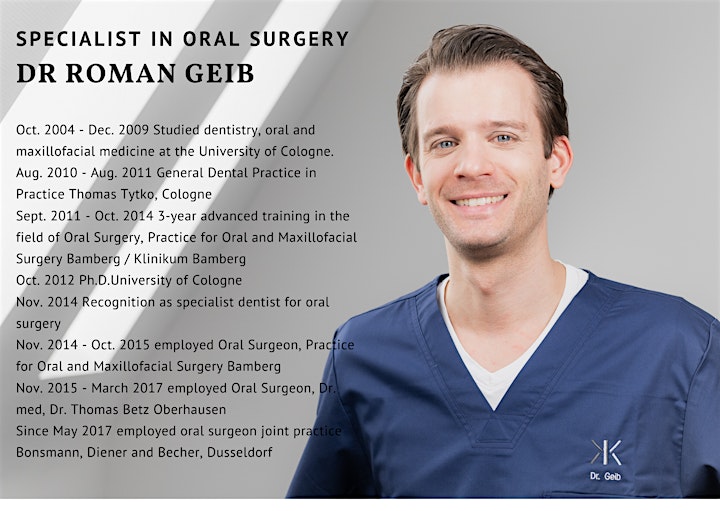 Overview
This course is designed for dental practitioners who are interested in improving their knowledge and skills in periodontal and peri-implant plastic surgery around dental implants.
It includes didactic lectures, case discussions and 8 hours of hands-on surgical teaching session using pigs' heads.
Aim:
To provide detailed information and hands-on training using pig's heads regarding mucogingival surgery around and implants.
Objectives:
Understand the assessment of gingival recession defects
Understand the indications for and techniques required to harvest free mucosal and connective tissue grafts
Understand the indications for a techniques required to perform pedicled gingival flaps around teeth and implants
Understand the application of palatal grafts to tooth and implant soft tissue defects
Understand the instrumentation required for mucogingival surgery including magnification
Understand the application and limitations of mucogingival techniques to dental implants
The two day programme
Day 1
09.00 – 10.30 Visit of the production site: Hager & Meisinger
Bus transfer is arranged from the practice
11.00 – 11.15 Introduction/Welcome
11.15 – 11.30 Coffee break
11.30 – 12.30 Part 1: Evidence based principles and treatment options
Etiopathogenesis of periodontitis
Risk factors for periodontitis
Systematic periodontal treatment
Goals and endpoints of non-surgical therapy
12.30 – 13.30 Lunch
13.30 – 15.00 Part 2: Evidence based principles and treatment options
Biology of periodontal wound healing
Principles of periodontal regeneration
Flap design and minimal invasive techniques
Bone grafts, membranes and proteins
Current clinical concepts in periodontal regeneration
15.00 – 15.15 Coffee break
15.15 – 16.00 Hands on - Introduction
16.00 – 18.00 Hands on – Practical (on pig jaw)
Suturing techniques
Flap design
Minimal invasive surgical technique
19.30 Dinner
______________________________________________________________________________________________________
Day 2
09.00 - 10.30 Implantology in combination with plastic surgery
Guided bone regeneration
Soft tissue management around the implant
10.30 – 10.45 Coffee break
10.45 – 12.30 Implants in the periodontitis susceptible patient
12.30 – 13.30 Lunch
13.30 – 15.00 Plastic and reconstructive periodontal surgery
15.00 – 17.00 Hands on
Graft harvesting (FGG, CTG)
Implant placement
Recession coverage
Tunnel technique
17.30 Cocktail in Altstadt
Booking info
Cost per person is 990 EUR, this includes two course days incl. lunches and dinners. Travel and hotel costs are NOT included and have to be arranged independently.  We can give options for hotels close to the course location. 
After registration you will receive an invoice and with the payment of the invoice your registration will be definitive. You will receive a confirmation of your booking after we receive the payment. As mentioned, the costs are only for the course program and do not include hotel and travel costs. The participants are responsible for booking their own hotel and flight and we take no responsibility for this. Staying longer in Düsseldorf is also on your own account and responsibility. Taking a partner or family is permitted on own costs, however they cannot participate in the program, this includes lunches and dinners. 
Whilst every effort is made to avoid changes to our program DENTAL RATIO reserves the right to withdraw or cancel any course. If for any reason DENTAL RATIO cancels a course, all course fees will be returned in full. We cannot however reimburse the costs of any pre-booked travel arrangements and suggest that you might like to consider travel insurance to cover any significant costs incurred. If you cancel the course booking within 60 calendar days prior to the course commencing, you are entitled to a full refund of the price paid. 30 days 50% refund of the course fee. Less than 30 days you are not eligible for a refund. Cancellation notification must be made in writing via email to info@dental-ratio.com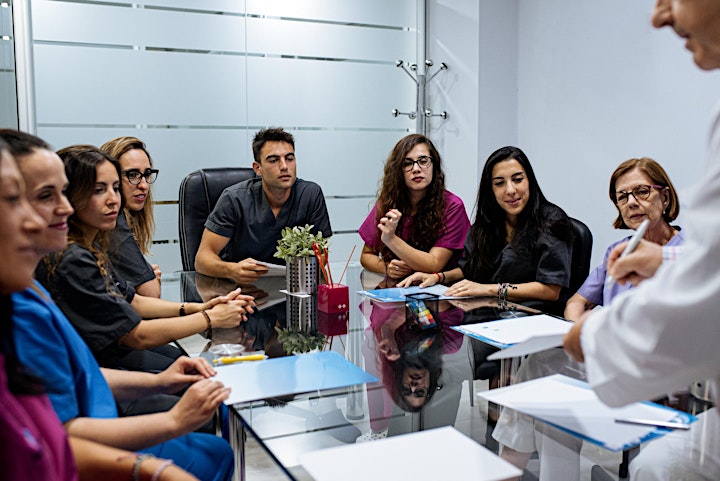 Datum und Uhrzeit
Veranstaltungsort
MVZ Kieferchirurgie Königsallee GmbH
Königsallee 68
40212 Düsseldorf
Germany