Plastic Free Schools Pupil Power Assembly
Join the SAS Education Team for a morning of ocean activism. Bring your whole class, or even better...your whole school!
About this event
We are delighted to announce the return of the Pupil Power Assembly for the third year running! Join us live on the 18th November as we broadcast to schools across the UK for a morning of inspiration and activism.
The only two requirements for joining our FREE Pupil Power Assembly are:
You are a UK based Primary School
You are singed up to the Plastic Free Schools programme…don't panic if you are not already. Click the button below to quickly and easily sign up.
If you are not signed up the Plastic Free Schools, please do this first. Find out more and sign up by clicking here.
WHY THE PUPIL POWER ASSEMBLY?
We know that pupils are the change-makers, system challengers, and the inspirational voices we need to hear in this critical decade for the ocean and climate.
That's why, here at Surfers Against Sewage, we create content that will fuel environmental stewardship, inspire a generation of ocean activists and guide pupils on their path to creating Plastic Free Schools. This Pupil Power Assembly is no exception!
Last year we had an epic 9,000 pupils attend the assembly, showing unprecedented levels of passion, energy, determination and ocean optimism. Join us again and together, we can continue create a thriving planet with thriving people.
That IS Pupil Power
WHAT IS THE PUPIL POWER ASSEMBLY?
The Plastic Free Schools Pupil Power Assembly has been designed to equip pupils with the tools and inspiration to make their voices heard at the highest level and to remind pupils of the wonders of the ocean and why it is so critical to protect it.
In this three-hour extravaganza, we will hear from prominent voices from sustainable industries, wildlife experts, and young activists who have used their voices to drive positive environmental change.
Pupils will get the chance to take part in interactive workshops and as a class respond and communicate with our amazing host for the third year running...Naomi Wilkinson! There are many other exciting speakers to be announced shortly so watch this space.
WHAT DO I NEED TO TAKE PART?
A computer with internet access and a class (or school) of enthusiastic students!
The event will be broadcast live from 9:00am until 12:00pm on Friday 18th November.
REGISTER YOUR WHOLE SCHOOL OR CLASS TODAY
SPEAKERS
We have an epic line-up of amazing speakers. From nature presenters, marine scientists, water sport enthusiasts, youth activists and inspiring charities and companies – there is something in this pupil power morning for everyone!
Joining us from far and wide, we have: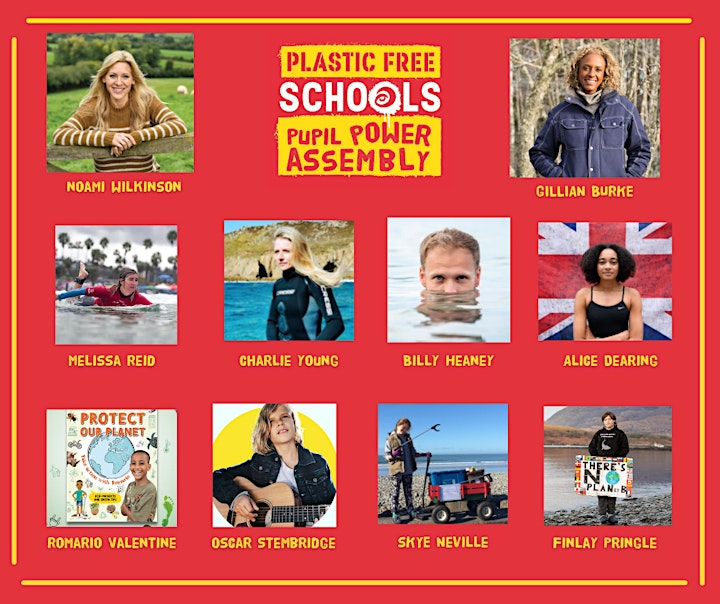 Naomi Wilkinson: Children's TV Presenter
Charlie Young: Marine Scientist
Gillian Burke: Biologist and Wildlife Presenter
Billy Heaney: Zoologist
The Wave Project: Surf Therapy Charity
TeeMill: Sustainable Clothing Brand
Alice Dearing: Olympian Swimmer
Melissa Reid: Paralympic Medalist
Skye Neville: Youth Activist
Oscar Stembridge: Youth Activist
Romario Valentine: Youth Activist
Finlay Pringle: Youth Activist
AGENDA
In this year's Pupil Power Assembly, your students will hear from inspirational speakers and be encouraged to recognise the power of their own voice. It is a high energy morning, jam packed with interactive activities and regular 'Wake & Shakes' to get your pupils switched on and ready for action
See below for a breakdown of how the morning will run:
The morning will be split into four key sessions:
#1 – We're all connected
We're all connected to the ocean no matter who we are or where we live. Session one is all about understanding those connections and what that means for our environment. We'll be taking pupils on a journey from inland UK to the depths of the Atlantic Ocean, to better understand how plastic pollution ends up in the ocean, and what they can do to stop it from getting there.
#2 – Challenging Industry
It's often the branded items we find polluting our playgrounds, streets and wild spaces. In session 2 pupils will conduct a brand-audit within their schools to evidence the problem. Once complete, they'll call out the offenders in a Nationwide peaceful protest. To round off the session we'll be hearing from inspiring industries that have made positive, practical steps to eliminate the use of single-use plastic from their production line, for good.
#3 – Understanding alternatives
Removing single-use plastic is one thing, but knowing what to replace them with is a different kettle of fish. Session 3 is all about getting to grips with the science behind alternatives to single-use plastic by investigating the 'ables', the compostables, the biodigrables the recyclables. Equipped with the know-how, pupils will explore how they can put what they've learnt into practice.
#4 – The power of your voice
In the final session we'll be hearing from inspiring young activists on the ground who have made positive environmental changes in their local communities and round off by pledging our way into a single-use plastic free future.
Testimonials from last year's assembly:
"I just wanted to take this opportunity to say thank you for such a fantastic morning on Friday. We had our whole school (316 pupils - 9-13year olds) participating and they were absolutely buzzing. The standard of the presentation and resources was really high and we all appreciate the hard work that must have gone into planning the event. Can't wait to get started on becoming plastic-free!"
- Seaton Sluice Middle School
"Your Pupil Power Assembly has been a huge success. The children in my class have really engaged with the subject and are now plastic activists! We have litter picked the village, we have written to the Dirty Dozen, we have written to our school lunch and milk suppliers. The children are now bringing less plastic in their lunch boxes, and they refused the \Christmas Crackers this week because of the plastic toys! I feel like I'm winning!"
- Barwick and Stoford Primary School