Get certified in Plasma Fibroblast Skin Tightening treatment and start your new career!
About this Event
Why choose this training?
Help your clients feel and look beautiful through this new, revolutionary, non-surgical beauty treatment
Do work that makes you happy and brings important changes to the beauty industry.
Make from $250 to up to $1600 per single treatment.
​
Get certified in Plasma Fibroblast Skin Tightening treatment and start your new career!
Plasma Fibroblast Training
Plasma Fibroblast Skin Tightening is the next big thing in the beauty industry. This is a revolutionary, non-surgical, non-invasive treatment that allows to eliminate the excess skin tissue that causes wrinkles and sagging skin, and dramatically improve the appearance of scars and stretch marks.
If you're looking for a great opportunity to boost your income for the long-term and bring your clients the best treatment available today, then Plasma Fibroblast Skin Tightening Training is right for you.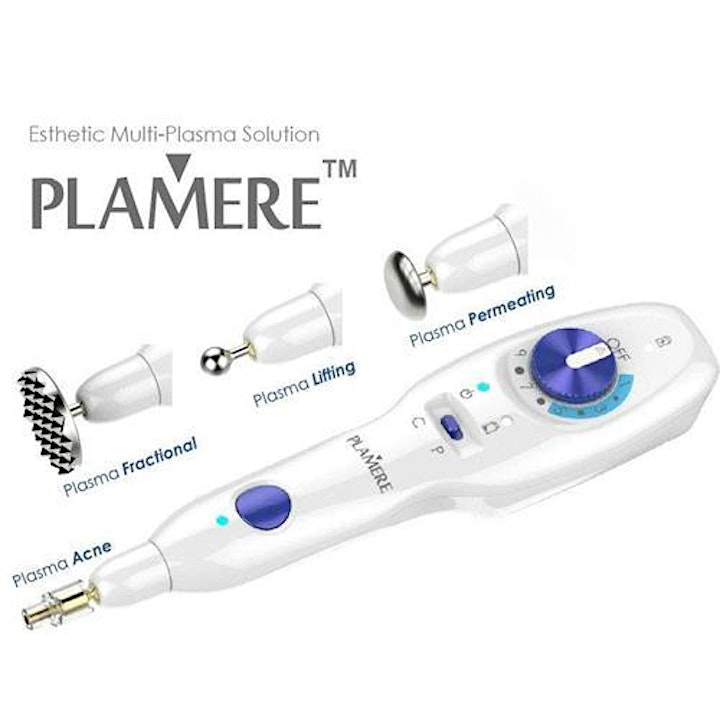 Plamere Plasma Pen is a newest, high-quality, FDA approved device that harnesses the power of plasma, a fourth state matter (Solid, Liquid, Gas, Plasma), to help reduce or eliminate certain skin conditions and concerns, such as wrinkles, fine lines, moles, skin tags, scars and stretch marks, and etc.
So that through the process of ionization, Plamere Plasma Pen is able to create an electric charge or arc. This arc is focused on a target on the surface of the skin, which causes a controlled burn, which dissipates heat throughout the area being targeted. This technique causes the elimination of moles, skin tags and pigmentation, etc. Moreover, the dissipation of heat throughout the skin being targeted causes your body to send fibroblasts to the area and lay down collagen and elastin fibers, which promotes plumping and tightening of the skin.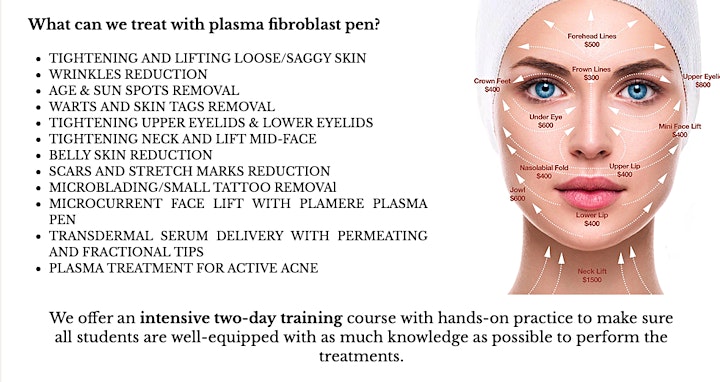 We offer an intensive two-day training course with hands-on practice to make sure all students are well-equipped with as much knowledge as possible to perform the treatments.
STARTER KIT INCLUDES:
PLAMERE plasma pen (the only one plasma pen approved by FDA)
Set of disposable needles
Post treatment cream
Training manual
All legal consent forms
Certificate of completion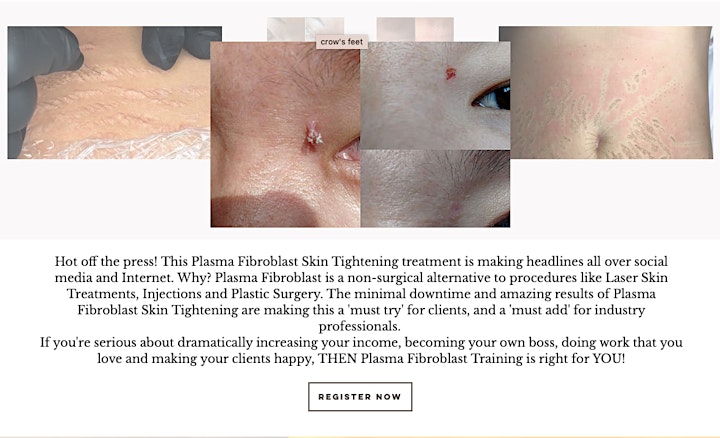 COVID updates: if you interested in PRIVATE class (1-1 with instructor, please call us to discuss available dates, price will be the same)
Call or text us directly +1-929-275-2852