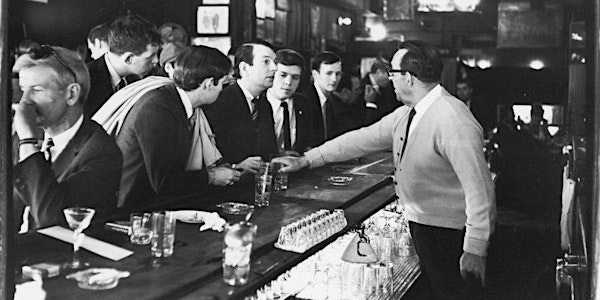 Plaque Unveiling at Julius' Bar
Honors the bar's listing on the National Register of Historic Places
When and where
Location
Julius' 159 West 10th Street New York, NY 10014
About this event
Join the NYC LGBT Historic Sites Project, in collaboration with Village Preservation, at the unveiling of a plaque at Julius' Bar that honors the bar's listing on the National Register of Historic Places. The event will take place on Thursday, April 21, at 6:00 p.m., which falls on the 56th anniversary of the "Sip-In" at Julius'.
On April 21, 1966, members of the Mattachine Society, a pioneering gay rights organization, challenged a regulation that prohibited bars from serving LGBT people by staging a "Sip-In" at Julius', a bar with a large gay clientele. With reporters and a photographer in tow, the activists announced that they were homosexuals, asked to be served, and were refused. This early gay rights action and the attendant publicity helped to raise awareness of widespread anti-LGBT discrimination and harassment.
Julius' was listed on the National Register of Historic Places by the NYC LGBT Historic Sites Project in 2016.
The event will begin promptly at 6:00 p.m. on April 21st and take place outdoors, rain or shine.
Julius' is located at 159 West 10th Street at Waverly Place in Manhattan.
Photo: (Left to right) Mattachine Society members John Timmons, Dick Leitsch, Craig Rodwell, and Randy Wicker being refused service by the bartender at Julius', April 21, 1966 Gift of The Estate of Fred W. McDarrah.
About the NYC LGBT Historic Site Project
The NYC LGBT Historic Sites Project is a nonprofit cultural initiative and educational resource that is making an invisible history visible by documenting extant historic and cultural sites associated with the LGBT community throughout New York City. For more, visit www.nyclgbtsites.org, or follow on Instagram, Facebook, or Twitter.