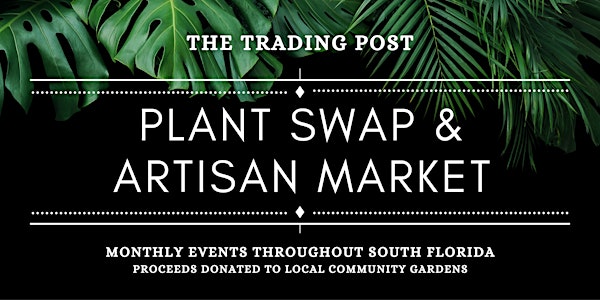 Plant Swap and Artisan Market
You are a plant parent. You care about your community. You want a place where you can meet people like you. Introducing: The Trading Post!
When and where
Location
Pour and Famous 524 W Atlantic Ave Delray Beach, FL 33444
Refund Policy
Contact the organizer to request a refund.
Eventbrite's fee is nonrefundable.
About this event
We're Expanding to Delray Beach!
**Join us for the first ever time during the month of March at Pour and Famous Delray Beach!** Founded in Miami, The Trading Post Plant Swap and Artisan Market is beyond excited to extend its South Florida roots in Delray Beach! Join us every third Saturday of the month at The O.G. Delray for an afternoon of education, networking, giving back, and gettin' friendly. Keep reading for information on plant swap registration, schedule of events, and more!
The Attractions
Our events are equal parts awesomeness and educational. Don't be afraid, we're all doing it together. Just drink the cool-aid and talk about plants, dude.
The Plant Swap
Don't wet your plants in excitement. Actually, you can. We won't tell.
Q&A Panel with Professional Plant Parents
Can't figure out why you keep killing your plants? Listen serial killer, we have just the thing for you. Air your grievances to our panel of professional plant parents to get an expert's advice at your first world problems.
The Artisan Market
We see your reusable tote and grande vanilla iced latte with oat milk and raise you a market curated specifically for the millennial plant parent. From small batch coffee to bespoke jewelry, this isn't your mother's farmers market. This is the blossoming plant collector/young professional's fever dream.
The Sponsors:
Want to help future community events like these take place? Shoot us an email at TheTradingPostFl@Gmail.com for information on sponsor packages and recognition levels. P.S. You rock.
Schedule of Events
Don't miss out on these fun attractions! Screenshot this page so you can look back at it later.
5:00 PM- Market opens and Plant Swap Registration begins
6:00 PM- Registration Closes
6:30 PM- Q&A with Guest Panel
7:00 PM- Plant Swap Begins
8:00 PM- Plant Swap Ends
9:00 PM- Market Closes
The Plant Swap:
The rules of the swap are super simple, but incredibly important. Whether this is your first swap or your fiftieth, take a quick glance over our rules to make sure you're ready for a successful event!
1. Be prepared to leave your plants. If you're bringing it to swap, you shouldn't be upset when you leave without it! Cuttings of super sentimental plants are always encouraged, that way you can share the joy without losing out!
2. Double Check for Pests and Diseases. Leave the pests at home, please! Plant swaps can be a super fun way to interact with your community and network with local plant professionals, so don't ruin all the fun by bringing a pest or disease that could be passed on to the other plants. Do us all a favor and double check your plants before you leave the house.
3. Bring a variety of plants. We see that monstera albo in the corner... bring a clipping! It's completely okay, and quite honestly encouraged, for you to bring a wide variety of plants. We've seen everything from super common to ultra rare, and our panel of plant professionals will help you label each plant to ensure that you receive a proper swap no matter what.
4. Don't be afraid to say hello. Whether its your first swap or your fiftieth, we know it can be intimidating to introduce yourself to other plant parents. Smile, take a deep breath, and remember that we're all here for the same reason. We love plants and we want to meet people like us.
The Artisan Market
Come for the swap, stay for the shop.
Plant parents have lives outside of trading and talking about plants. We get that. That's why we've provided a highly curated market fit for your busy schedule. The fact that you squeezed us in at all is amazing, so why not get some shopping done while you're here?
Our vendor list is constantly changing, so be sure to check us out on Instagram @TheTradingPostFl for updates on this month's local artisans!
March 16th Vendors:
Plants:
Flwr Pao
Green Goddess Aroids
Made by Mya Lyn
Food and Drink:
Beach Bakes by Margoux
The Green Baker
Active Participation Vendors:
GypSeaSoul Creations- Hair wrapping and accessories
HotStuff Charm Bar- DIY plant-inspired charm bracelets, exclusive to The Trading Post
Retail Vendors:
Happy Daze Swimwear
Puka Maui
Shop Anomalousness
SkinSecure
Surf the Look
Frequently Asked Questions:
What is a Plant Swap?
A plant swap is a community gathering for plant parents to trade plants, learn valuable information, and interact with one another in a fun setting!
Is it free?
In the past, our plant swaps have been completely free. As of January 2022, we now request a $5 donation to hold you spot at the plant swap. This donation goes straight to local community gardens and allows people of all ages and backgrounds to experience the beauty of gardening.
Is this a kid and/or dog friendly event?
Absolutely! The Trading Post is an all ages, all species event, so bring those friendly four legged pals, children, and yes even your grouchy husbands. We welcome them all with open arms. This venue has multiple bars, so if you're 21+ feel free to grab a drink or three!
Will there be plants for sale?
Of course! We pride ourselves on providing a professionally curated market staffed with a beautiful variety of local artisans. Whether you need a bar of soap or a cup of coffee, our market is your one stop shop for handmade goods and services.
How can I become a vendor at The Trading Post?
Hey, we're glad you asked! The process to become a vendor is super simple, just fill out the vendor application for your selected date and if you're selected, we'll get back to you! Due to the curated nature of our market, we can only invite one to two vendors of each category and cannot welcome everyone that applies. Please don't take this personal, we're sure your goods are awesome. If you aren't selected for your desired date, apply for the future! We're always rotating through vendors and would love to include you.
Copy and paste this link into your browser to apply to vend with us! https://forms.gle/axUT8YYadn7cS5rN8
Do you need volunteers?
We thought you'd never ask. Our volunteer opportunities in Delray Beach are fun, educational, and most importantly... surrounded by plants! Send us an email at TradingPostMIA@Gmail.com for more information on volunteer opportunities throughout South Florida.