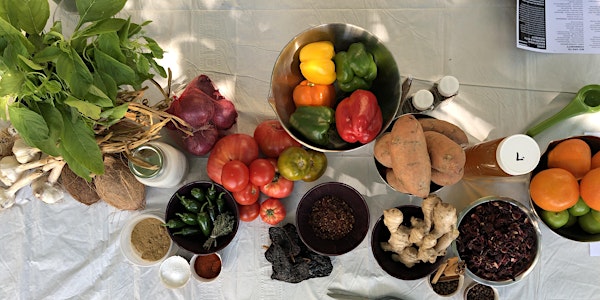 Plant Powered Nutrition for Vibrant Health | GreenThumb GrowTogether
38th Annual GreenThumb GrowTogether Conference
When and where
Location
Poppa and Momma Jones Historic Community Garden 337 Van Siclen Avenue Brooklyn, NY 11207
About this event
Rain date: Thursday, April 21, same time. Tickets will be available until two days before the event. This will allow us time to prepare for the attendees who have registered in advance. Walk-ins and people on the wait list are welcome to attend and observe, but supplies aren't guaranteed.
Explore the powerful role of plants in health and healing in this nutrition and culinary demonstration featuring local chefs from Plant Powered Metro New York. You'll learn how to make easy and delicious plant-based meals from diverse culinary traditions using whole foods, hear the chefs' stories of health transformation, and understand how a diet centered on unprocessed plant foods can help you find better health and overcome common chronic diseases like diabetes, high blood pressure, and heart disease.
Facilitated by Kelebohile Nkhreanye and Gail Mayer (MS, RD, CDN), Plant Powered Metro New York
Kele is the East New York Organizer for Plant Powered Metro New York, as well as a food street vendor, food justice activist, gardener, and community chef. Gail Mayer is a registered dietitian and a PPMNY Nutrition Educator.
Please visit the GreenThumb GrowTogether Conference Guide for a full list of workshop descriptions, facilitators, and other details. The guide is also available as a map.
Established in 1978, NYC Parks GreenThumb is proud to be the nation's largest urban gardening program, assisting over 550 gardens and over 20,000 volunteer gardeners throughout New York City.
The theme of this year's GrowTogether is "Deeply Rooted: Growing Community Connections. Community gardeners from across New York City have been gathering at the GrowTogether conference each spring since 1984 to celebrate the start of the garden season with a day of learning, networking, and reconnecting with friends. Due to the ongoing COVID-19 pandemic, the conference is hybrid this year, and we're spreading it out over the course of two weeks. Part I took place virtually in February (watch the webinar recordings here!) and Part 2 will be in community gardens around the city in April.