PLANT MEDICINE ONE DAY RETREAT WITH BREATH WORK & DRUMMING, PLUS 1:1 COACHI...
Description
WHAT DOES YOUR SOUL WANT YOU TO KNOW ?
IF YOU ARE READY TO:
UNCOVER AND RELEASE THE SUBCONSCIOUS BLOCKS, THAT ARE SECRETLY KEEPING YOU FROM WHAT YOU DEEPLY DESIRE
EMBODY AND OWN YOUR WISDOM FROM THE CORE OF WHO YOU TRULY ARE

DESIGN HIGHER POSSIBILITIES FOR YOUR LIFE AND WORK
ALLOW YOURSELF TO BE GUIDED WITH THE TOOLS OF BREATH WORK, ANCESTRAL DRUMMING
AND PLANT MEDICINE, RAPE' TO EXPERIENCE A SOUL ALIGNED REALITY OF PURPOSE AND PROSPERITY.
THIS COMBINATION OF SHAMANIC HEALING WILL GUIDE YOU TO
DROP AND GROUND INTO YOUR BODY

OPEN YOUR THIRD EYE AND INTUITION

UNCOVER AN EVOLVED CLARITY FOR YOUR LIFE AND WORK
DESIGNED INSIDE A SAFE SACRED SPACE WITH AN INTIMATE COMMUNITY OF LIKEMINDED INDIVIDUALS.
SPEND TIME IN NATURE IN ONE OF THE MOST BEAUTIFUL AND WILD FORESTS IN NYC
BE SUPPORTED WITH A SEASONED GUIDE TO LEAD YOU INTO TAKING THE BEST CARE OF YOUR EMOTIONAL, MENTAL AND FINANCIAL WELLBEING

ENJOY A HEALTHY SNACKS (INCLUDED)
A 1:1 INTEGRATION COACHING CALL WITH MONICA MARIA, POST RETREAT IS ALSO INCLUDED
(VALUED AT $397)

LIMITED TO A SMALL GROUP SO YOU RECEIVE HIGH LEVEL SUPPORT AND ATTENTION.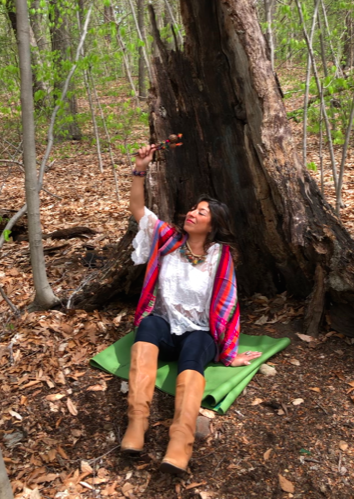 ABOUT RAPE'
RAPE IS ANCESTRAL MEDICINE USED FOR THOUSANDS OF YEARS BY INDIGENOUS PRE-COLOMBIAN TRIBES AND THE PEOPLE OF THE FOREST
A COMBINATION OF DRIED AND GROUNDED ORGANIC TOBACCO AND OTHER HERBS. THIS MEDICINE IS ADMINISTERED BY THE SHAMAN (BLOWN) THROUGH THE NOSE VIA A WOODEN TOOL.
>> DO YOU DESIRE A MORE IMMERSIVE PLANT MEDICINE EXPERIENCE? CHECK OUT THE ALL INCLUSIVE 8 DAY SHAMANIC HEALING RETREAT TO COLOMBIA WIRTH TRADITIONAL PLANT MEDICINE CEREMONIES >>HAPPENING FEB 14-22 2020 >> https://www.monica-maria.com/reemerge
ABOUT MONICA MARIA
Spiritual Teacher, Shamanic Healer and Mentor, Monica Maria guides leaders and visionaries to heal at a profound soul level, reclaim their power and evolve their purpose, passion and prosperity.
Monica Maria has over 12 years of experience with ancestral medicine and 28 years of experience in the personal growth + development field.
She is a Certified Master Reiki Healer, BioDynamic Breathwork Practitioner, Holistic Health Coach and Infinite Soul Records' Reader and holds a Master of Science in Education and Psychology.
Monica is also the Founder of the Earth Wisdom School of The Healing Arts where she offers an Advanced Practitioner Training, Certification and Coaching Program so you can develop your practice and grow your business with ancestral earth based wisdom.
NO REFUNDS
Payment plan available. Email to Inquire: Monica@Monica-Maria.com