About this Event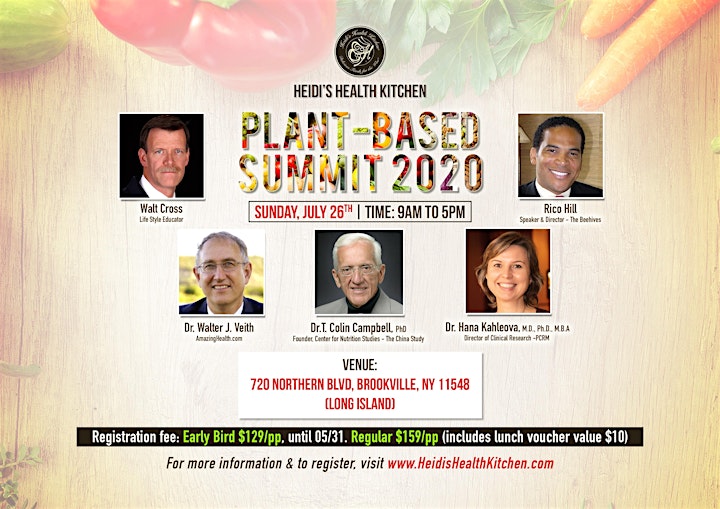 Buy Your Tickets to The Plant-Based Summit on Sunday, July 26th, 2020! You won't want to miss the exciting features available to help you grow healthier, wealthier, and wiser at this Full Day Summit!
Venue: Tilles Center (Krasnoff Theatre) 720 Northern Blvd, Brookville, NY 11548 For Directions, Click Here
Doors open at 8:30 AM. Lectures begin at 10 AM.
- An Exclusive VIP Lunch with the Speakers is available to 50 Attendees. Meet & Greet the Speakers of The Plant-Based Summit while enjoying a Whole Food, Plant-Based Delicious Buffet served by Heidi's Health Kitchen! In addition, VIP's receive a Gift Bag featuring Samples, Products & Coupons. Buy a VIP Ticket to Reserve Your Seat and Exclusive Gifts!
- Or Enjoy a Delicious Plant-Based Lunch ($10 value ) from the Vendor of your Choice (included in Your Ticket)! Several Plant-Based, Vegan Food Vendors will be on-site to offer you a wide variety of Lunch options!
- Shop our Living Way Health Marketplace featuring Food, Dessert, Beverage, and Health Supply Vendors. Buy Desserts, Gifts, Cookbooks, Chaga, Health & Skincare Products and More! 1st 50 Registrations outside of VIP's will also receive a Gift Bag with additional Samples & Coupons.
WATCH Plant-Based Summit 2019 Highlights
*Tentative Schedule for the day*
8:30 AM: Doors Open
9:00 to 9:45 Shop Vendors/Purchase Breakfast/ Stretching Exercises with Dr. David Ephraim
10:00 to 11:00 Lecture 1 Dr. Walter Veith: "Creationism influenced me to a Plant-Based lifestyle"
11:00 to 12:00 Lecture 2 Dr. Hana Kahleova: "Diabetes and Beta Cell Regeneration"
12:00 to 12:45 Lecture 3 Rico Hill: "Collard Greens & Kale - A Love Story"
12:45 to 1:45 Lunch/Shop Vendors/ VIP Registrants Lunch with Speakers
1:45 to 2:45 Lecture 4 Dr. T. Colin Campbell
2:15 to 3:15 Lecture 5 Dr. Walter Veith: "Nutrition and your Mental Health"
3:15 to 4:15 Walt Cross: Natural Remedies Demo
4:15 to 5:45 Shop Vendors
!!!NO REFUNDS! ALL PURCHASES ARE FINAL!!!
Transfer Policy: If you have already Registered for the Plant-based Summit 2020 and cannot attend on the date booked for, the booking(s) are transferable to another person, or your purchase may be applied to a future Heidi's Health Kitchen Pop-Up Restaurant Date, or an upcoming "Cook With US Program". If you need to transfer your booking(s), please email us at Heidishealthkitchen@gmail.com.
Below is "Highlights" Video from our 2019 Plant-Based Summit.