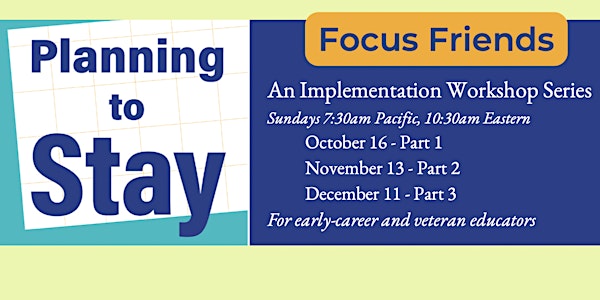 Planning to Stay Focus Friends
Bring your copy of "Planning to Stay," connect with colleagues, ask the author questions, and explore exercises from the book - together!
About this event
"Planning to Stay" requires dedication and focus.
This book-club-meets-workshop-meets-support-group is a way for educators to protect time for themselves. With large and small group discussions, participants can ask questions, share strategies, and get support from colleagues who are also "planning to stay."
Participants receive a free paperback copy of "Planning to Stay: Burnout, Demoralization, Exploitation and How to Reclaim Your Classroom and Your Life... Anyway" Books will be mailed within one week of registration.
Can't make all of the sessions? No problem!
Recordings will be available on demand between sessions, and for two weeks after the 3rd meeting.
Tickets are non-refundable once books have shipped.