Join us for an engaging discussion to learn how to achieve balance and control over how you work and how your career grows.
About this event
The lines between work and life have been blurred for many. The growing pressure to always be "on" at work, and with work-related messages always right around the corner, it can be a challenge to feel like you're really making a difference in your at work.
Bonus Read: 3 Stress-Free Steps to Completing Your Projects
Combined with the fact that most of us hate rules! Many of us shy away from rules and look for ways to live each moment to its fullest, without any restraint. Many of us will carry this struggle for balance into our personal lives; which adds stress and impacts our overall quality of life. For many, the solution to this problem seems simple: become your own boss and start your own business.
In 2020, over 800,000 professionals made the decision to leave their jobs and start their own businesses. While this is a very popular solution to the problem, here are some startling facts.
20% of businesses will fail in the first 2 years
45% of businesses will fail in the first 5 years
65% will fail in the first 10 years
25% of new businesses will make it to 15 years or more
(Source: Investopedia)
Only 1 in 4 people who start a business will make it beyond 15 years. Have you wondered why there are such high failure rates in entrepreneurship? In terms of a long-term career it doesn't sound like a very promising option.
However, there are certain steps that you can take; either as a professional or entrepreneur, to gain more control, balance and freedom over how you work and how much success you achieve.
Join us on Saturday morning's for a career planning conversation and in-depth training session, Planning for Success. In these workshops, we'll overcome the obstacle that keeps a lot of professionals, entrepreneurs and leaders stuck.
Regardless of the path you're on; entrepreneurship or employment, you'll need to master the art of discipline and build a clear plan of action that will get you to where you want to be.
As a prerequisite to The Big Business Blueprint (B3), this strategic planning session will help you map out every step of your plan. You'll define the direction of your career or business, and get to learn from previous attendees, professionals and business owners that have applied the workshop blueprints to their careers.
All attendees of this workshop receive a 5-step guided learning program and downloadable Planning for Success PDF guides.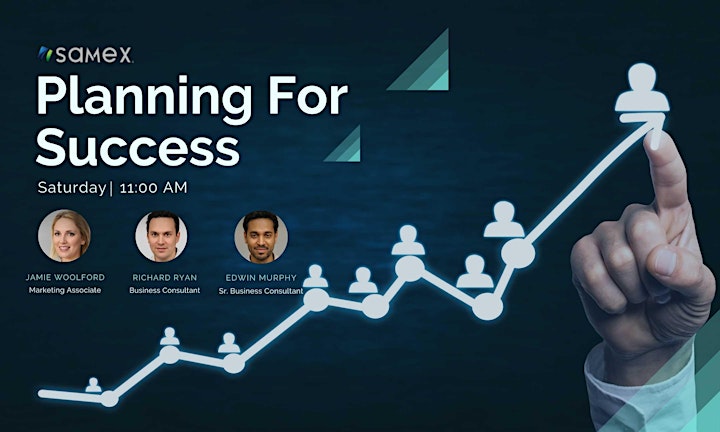 What is The Big Business Blueprint?
In addition to your seat in the Planning for Success workshop event, The B3: Big Business Blueprint ticket, enrolls you an annual membership and a 12-step sequence of workshops, training and mentoring.
B3, The Big Business Blueprint is designed for entrepreneurs and business leaders who are starting a business, or looking to grow exponentially in an executive leadership role in the next 12 months.
Each step represents a pillar, and mastery of each pillar will help in strengthening your business foundations – allowing for sustainable growth.
How does The Big Business Blueprint Work?
On the day of your scheduled Planning for Success workshop, you'll get access to B3, on our active-learning platform. There, you'll be guided through 12 strategic growth workshops over the course of 12 months.
B3 expands on the content of this free Planning for Success event, and you'll have a month dedicated to each of the core strategic growth elements. Business development challenges, and access to brand building and operational management tools.
Through these strategic growth workshops over the next 12 months, you'll understand:
Achieving control of your work and balance in your life
Taking the mantle as a leader
Building a solid brand and positioning yourself for opportunities
Sales and business development for entrepreneurs
Making your first strategic hire
Operations: training your team to be focused, agile project management
Information security basics: Protecting your digital properties
Financial management basics
Forming enterprise partnerships
Building a sales force
Improving and automating customer outreach and support
With 5-day action plans after each workshop. Each event provides strategies and tactics that can be applied to entrepreneurship or to achieve organizational growth as an executive.
You'll also have the option to participate in more in-depth, and hands-on 5-day mentoring programs to gain mastery in each area, (At an additional cost).
What times are the monthly workshops?
Once you've accessed the active learning platform after your attendance in the Planning for Success workshop, you'll be able to schedule your attendance in the mentoring workshops at the times that work best for you. Multiple schedules are available each month, allowing you to achieve balance while strategically growing your business.
Are certificates provided?
Yes. B3 members will receive Certificates of Completion after each workshop to showcase your expertise in each pillar. Along with another Certificate upon completion of the program.
Organizer of Planning for Success: How to Control Your Career Growth
Samex LLC, a 3-time award winning management consulting organization, is providing leaders and entrepreneurs of technology companies with a clear path to the growth of a sustainable business. We do this by providing an active consulting experience (supported by artificial intelligence and automation) to help each employee bring their best selves to work, along with streamlining operational management, sales and lead generation with our software platforms.