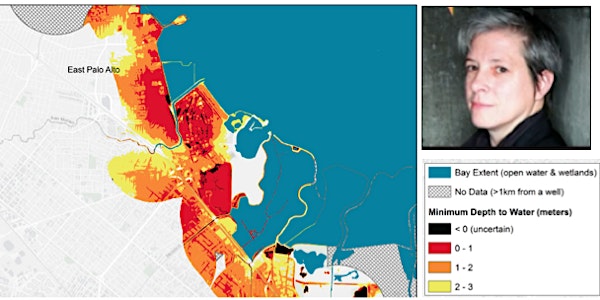 Planning for Rising Waters: Sea level, Groundwater, and the Bay Edge
Location
Mitchell Park Community Center, El Palo Alto Room
3700 Middlefield Road
Palo Alto, CA 94303
Description
Are we ready for floods and other impacts of sea level rise and concurrent groundwater level rise in the Bay Area due to climate change? How will our properties, infrastructure and ecosystems be impacted by these two phenomena and what can we do now to be resilient to these impacts?

The rise of groundwater can lead to increased risks of foundation instability, pipe infiltration and inflow, salinization of wells, soil contaminant re-mobilization and liquefaction. Levees don't address the problems cause by groundwater rise. What more can we do?
We invite you to come listen to Prof. Kristina Hill, U. C. Berkeley, a dynamic speaker and an expert on developing urban design approaches, infrastructure strategies, and habitat restoration strategies that allow coastal regions to adapt to increased extent or frequency of flooding and other impacts of climate change.
This lecture should be of interest to city planners, environmentalists, developers, policy makers, property owners, residents and everyone who wonders what we can do to mitigate and adapt to the rising waters now starting to be seen in the Bay Area.